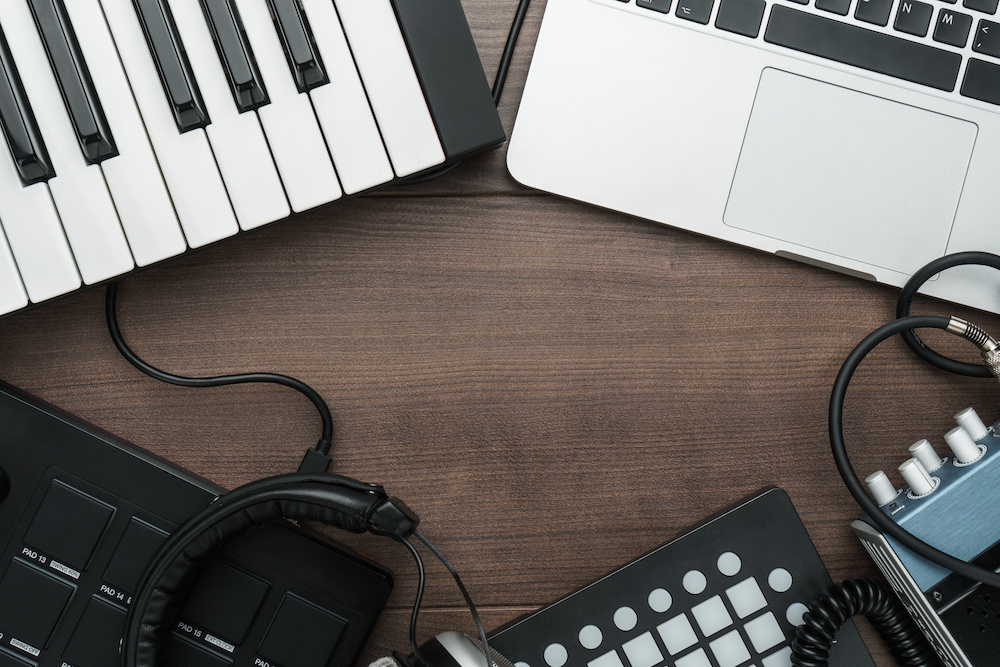 AKAI MPK249 Review
The AKAI MPK249 is marketed as a complete workstation, and it is hard to disagree because that is essentially what it is.
It is all about functionality and efficacy.
Every feature is well-thought-of, including where each control is, its response, and the software included in the purchase.
The backlit keys are also extremely attractive. Plus, the controller itself has an aesthetic appeal that makes any workstation or music studio instantly feel professional.
Learn more about it and see if this keyboard controller is the right choice for your needs with the help of our AKAI MPK249 review.
AKAI Professional MPK249 Keyboard Controller
Music producers now have an all-in-one solution for their music studios and workstations with the AKAI Professional MPK249.
It isn't only a keyboard controller but a handy performance pad as well.
It has many features to tinker and tweak with to create dynamic music that doesn't feel like a machine playing.
AKAI has always been known to be one of the leaders in the keyboard controller industry, and the AKAI MPK249 is not something that will cause shame to the company name.
It's colorful, pleasing to the eye, and pleasing to the hands and fingers that play on it.
The AKAI Professional MPK249 Keyboard Controller is also very functional.
There are many options for expansion, which means that as your musical needs grow, there will be no need to upgrade to another keyboard controller anytime soon.
Who Is This Product For?
The AKAI Professional MPK249 is one of the most versatile USB MIDI keyboard controllers in the market.
As is, even some beginners can make the most of this controller.
Professionals can also opt to use the MPK249 as is or, for even better, complex, and dynamic music composition, you can use the expandable options to widen the capability of the MPK249.
What's Included?
Included in the box of the AKAI Professional MPK249 Keyboard Controller are as follows:
The MKP249 keyboard controller

USB cable, quick start guide

Safety and warranty manual
Below is an unboxing video of the AKAI Professional MPK249 for you to see what you will get from your purchase.
Overview of Features
The AKAI Professional MPK249 Keyboard Controller is chock full of exciting features that will make you want to give a blind eye to the price tag.
Here are its most notable features that you need to know about:
First off is the 49 semi-weighted and full-sized keys with aftertouch, giving it a natural feel and an unprecedented response, making it very fulfilling to play on.
Each of the keys is velocity-sensitive, and the aftertouch helps with dynamics and expressive performance.
You won't feel like you're simply keying in music but actually playing it.
It also features octave up and down controls that you can find onboard to help you play the vast array of melodic ranges.
The controls will also allow you to play bass lines, solo leads, and more.
You can also make use of the pitch blend and modulation on the keyboard.
The AKAI Professional MPK249 Keyboard Controller boasts of genuine MPC functionality.
There are 16 MPC pads, each of which is RGB-illuminated.
There are also four banks available to expand the MPC pads to a total of 64.
The amount of amazing music you can play on the MPC alone is outstanding when expanded to its max capacity.
MPC functions include 16 levels, time division, and tap tempo.
This model also features an MPC Note Repeat, MPC Swing, and arpeggiator for more advanced rhythm and melody manipulation.
The AKAI Professional MPK249 has 24 Q-Link controllers, including knobs, faders, and switches numbering to a total of eight each, and all of which are assignable.
The LCD on the MPK249 is backlit and complements the RGB-illuminated MPC pads.
You can plug the AKAI Professional MPK249 Keyboard Controller into a MAC or PC.
You can also use it with the Apple iPad Camera, but you must purchase the connection kit separately.
There is also one assignable footswitch jack and one expression jack on the keyboard.
Not only is the keyboard plug-and-play, but it also comes with production software included in the purchase.
These include Ableton Live Lite, Akai Pro MPC Essentials, SONiVOX Twist 2.0, and Hybrid 3 by AIR Music Tech.
What's more, the purchase also includes VIP 3.0, which is an award-winning music software.
How To Get the Most Out of the AKAI Profesional MK249
Using your AKAI Profesional MK249 MIDI Keyboard Controller properly will ensure you get the most out of it.
Here's a video for a quick look:
Apart from that, you must also always keep it free from dust and away from direct sunlight and moisture.
Not keeping the AKAI Professional MPK249 Keyboard Controller in storage for a long time will also ensure it lasts as long as expected.
Thus, you must turn it on once in a while.
Alternatives
It's pretty hard to find an alternative to an already great product, and such is the case with the AKAI Professional MPK249 Keyboard Controller.
As great as it sounds from what we've seen on this AKAI MPK249 review, it does carry a hefty price tag and won't be as well-used by most beginners.
AKAI Professional MPK Mini MK2
For users who are new to using MIDI controller keyboards, a more affordable and beginner-friendly version would be the AKAI Professional MPK Mini MK2.
It still looks professional and still comes from the same company that made the acclaimed MPK249 and its superior MPC technology.
You'll still find the same backlit MPC-style pads on the AKAI MPK Mini MK2 but only eight.
Also, instead of 49 full-sized keys, you only get 25 mini keys.
Although a lot less than the MPK249, the keys are still synth-action and velocity-sensitive.
The Mini MK2 is also a lot smaller and lighter than the MPK249, making it one of the best portable MIDI keyboard controllers.
Novation Launchkey 61 MK2
For users who prefer to have more keys than the 49 that the MPK249 offers, the Novation Launchkey 61 MK2 is a great option.
This controller comes from the same company known for Novation Bass Station and the Novation SuperNova.
This USB MIDI controller keyboard has 61 keys and is one of the better-priced 61 key keyboards on the market.
The Novation Launchkey 61 MK2 is also highly praised for its smoothness and maximum compatibility with the Ableton Live DAW.
Roland A500 Pro-R
If budget isn't in question, then another great alternative would be the Roland A500 Pro-R MIDI Keyboard Controller.
The keys have similar features as that of the MK249, but there are 45 assignable controls with this model, including knobs, sliders, and buttons.
What's more, it boasts of the Roland quality, with the brand well known for durability and craftsmanship.
It also features a production pack that comes bundled with the keyboard controller upon purchase.
It works well with any DAW, whether operating on Mac or PC.
Arturia KeyLab 49 MKII
Another highly-priced 49 key USB MIDI Keyboard Controller is the Arturia KeyLab 49 MKII, a great contender in the market.
It comes with two color choices, black or white. It has similarities with the AKAI MPK249 in that it also has aftertouch features on its keys.
There are five expression controls, nine rotary encoders, and nine large faders, not to mention the 16 backlit performance pads.
It is aesthetically pleasing and designed for functionality.
It does come with a higher price than the AKAI and the Roland, but for a good reason.
The build is sturdy and heavy; in fact, if portability is a preferred feature, it will meet your expectations.
Once placed on the table or work desk, it won't move.
Most of the keyboard controller is also made of metal and has a faux wood trim which adds to its classic look.
However, what the AKAI has over this Arturia model is that the latter doesn't work as smoothly with DAWs compared to the AKAI.
AKAI MPK249 Review: The Conclusion
When it comes to choosing a good USB MIDI keyboard controller and you're not on the budget and have the means to spend a good one at the get-go, the AKAI Professional MPK249 is a good choice.
For its price range and what it has to offer, it's a worthy purchase.
Whether you're starting for the first time with a passion for making music or a seasoned pro who already loves to make music, the MPK249 is for you.
For users who want a professional keyboard controller for the first time, the AKAI MPK249 is already a great headstart.
Upgrading to a more expensive controller can then be considered depending on the change of needs or preference.
Beginners who would purchase the AKAI Professional MPK249 can easily learn how to use it, especially with the help of tutorials.
Overall, the AKAI Professional MPK249 is a USB MIDI controller keyboard that's difficult to beat!