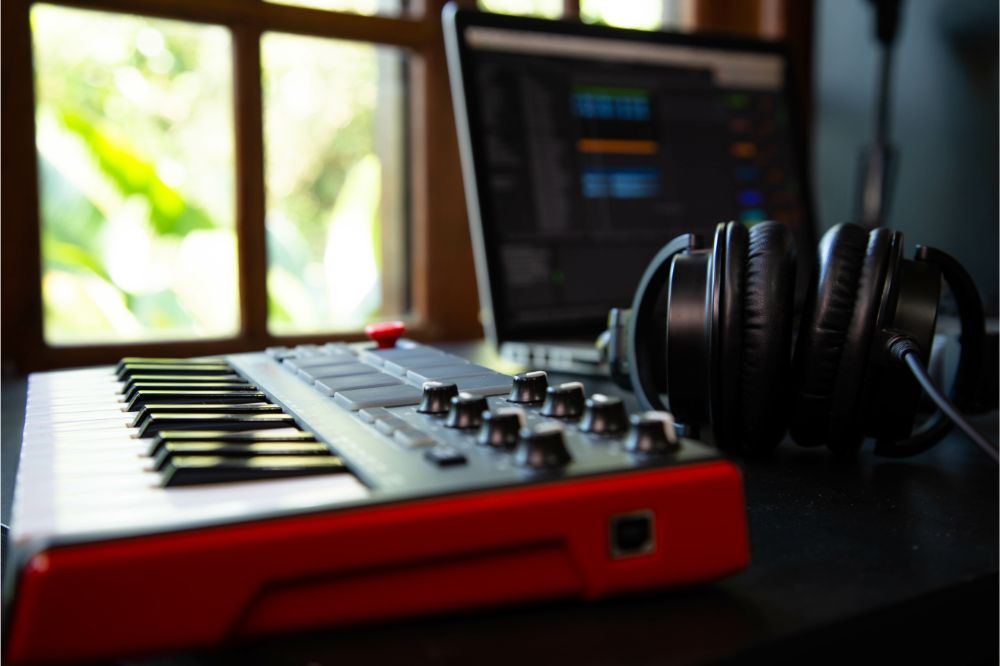 AKAI Professional MPK Mini MK3 Review
Music production can seem intimidating, and the equipment needed looks intimidating.
The AKAI Professional MPK Mini MK3 review is here to tell you that it doesn't have to be.
AKAI is a good and known brand for mini keyboard controllers, and their MINI MK3 will serve as an entry point for budding musicians and producers out there.
What's even better is that professional users can make the most out of this mini keyboard controller.
AKAI Professional MPK Mini MK3 Keyboard Controller
Everything users have heard and have grown to love about AKAI MIDI Keyboard controllers can be found in the Mini MK3.
These include multi-compatibility with many music production applications, compact size for better portability when traveling, dynamic and enhanced keyboards, as well as the pads and assignable controls that AKAI is best known for in years.
Who Is This Product For?
The AKAI Professional MPK Mini MK3 Keyboard Controller is perfect for aspiring music producers.
It's small and has fewer features, taking away what any beginner does not need at the moment.
It also reduces the feeling of being overwhelmed as every tool needed is packed in a compact size.
Professionals can also use the Mini MK3.
The size is also easy enough to carry on travels so you can play and make music at the spur of the moment or when inspiration calls for it.
In fact, the AKAI Professional MPK Mini MK3 Keyboard Controller is so diverse that a singer-songwriter, a beatmaker, or an electronic musician can fully utilize it.
What's Included?
Included in the AKAI Professional MPK Mini MK3 package are as follows:
MPK Mini unit

USB Cable

Software download card

Quick-start guide

Safety and warranty manual
All of these items come secured inside a sealed box.
To have a quick look at these items, here's an unboxing video for you:
Overview of Features
The AKAI Professional MPK Mini MK3 Keyboard Controller's design is sleek, sturdy, and superior for a mini.
It's a great size for travel and makes it easily portable.
For a "mini" device, the AKAI Professional MPK Mini MK3 is chock full of features, and some of the most notable ones are:
The controller has 25 mini keys on improved keybed technology.
Yes, these are not full-sized keys, but thanks to the Gen 2 enhanced dynamic keybed, it can still deliver a piano key performance.
The keyboard has a brilliant OLED that gives immediate feedback of parameters.
It has eight MPC pads from AKAI's flagship MPC series.
They are velocity-sensitive and deliver precise drumming and melody playback.
They also have a Note Repeat feature and Full Level in two banks to make it 16 in total.
You can tweak your music parameters any way you like, thanks to its eight knobs that turn 360 degrees.
This feature allows you to tweak any needed synth controls or add plugins to mix and make great music.
A unique feature of the AKAI Professional MPK Mini MK3 is the four-way joystick that helps control pitch and modulation.
Should you wish to have a sustain pedal in the future, there is already a sustain pedal input jack available.
There is also a built-in arpeggiator, and the unit features a class-compliant USB connectivity.
Included in the purchase of the AKAI Professional MPK Mini MK3 is a Complete Music Production Starter Kit.
The kit includes MPC beats, mini grand, MPC expansion packs, velvet, and AIR hybrid.
Taking a closer look at this software would show more than 1500 sounds to choose from or make use of, including six virtual instruments and sound content up to 2GB.
AKAI was not falsely advertising when they said that "Great music starts here" because it literally can be done with these features and software inclusions.
The MK3 also features a single install feature.
You don't have to unnecessarily get confused with different installation procedures because the MPK Mini MK3 has a single install feature.
That means you will spend less time in technicalities and go right ahead to making their next big hit.
You can also choose from different colors available, although the standard one comes in black and red and the limited one comes in white.
Availability of colors will depend from store to store.
How To Use Your AKAI Professional MPK Mini MK3
Learning how to use your AKAI Professional MPK Mini MK3 Controller correctly will ensure you get the most out of it.
It will also help prevent any misuse that might lead to damages.
Here are two helpful tutorial videos for you:
Alternatives
When it comes to some of the best-selling mini MIDI controllers, the AKAI Professional MPK Mini MK3 is already one of the contenders.
For those who it isn't enough after reading this AKAI Professional MPK Mini MK3 review, below are great options to consider.
Arturia MiniLab MkII Slim-Key Controller
The closest contender to the AKAI Professional MPK Mini MK3 is the Arturia MiniLab MKII.
It is slightly more affordable than the MPK Mini MK3, but still features 25 mini-keys with synth-action and are both velocity-sensitive.
When it comes to controls, the Arturia MiniLab MKII has more.
It has 16 assignable encoders, while the MK3 has only eight. Still, both have eight MPC pads.
The Arturia has velocity and pressure-sensitive pads that feature RGB lighting, while the MK3's pads feature Note Repeat.
For expression control, it has the more common touch strips, while the MK3 has a four-way joystick that needs some getting used to.
Comparing sizes, the MK3 is more compact than the Arturia and lighter as well.
Taking a look at the software included, MK3 has more software included in the purchase.
For those who want to go cheaper, then the Arturia MiniLab MKII is a great option.
However, with only a slight price difference, those willing to invest in the newer MK3 will find that they'll get the best bang for their buck simply because it offers more features.
AKAI Professional MPK Mini MKII Controller
Another option would be to go a generation older with the AKAI Professional MPK Mini MKII.
It is also a powerful contender and only a few dollars cheaper than the MKIII.
It still features 25 keys, eight MPC pads, and a software suite included.
The greatest difference would be that the areas where the MKII can improve have already been done with the MK3.
That includes the addition of an OLED for visual feedback.
Going with the MK3 would still be the best option since it is also the most recent release from the AKAI Mini line.
Donner DMK 25 MIDI Keyboard Controller
If a 25-key MIDI keyboard controller is the only option, another great unit to try would be the Donner DMK 25 MIDI Keyboard Controller.
It comes with eight backlit drum pads, four control faders, and four knobs. It also comes in a gorgeous and classic black color.
Unlike other MIDI keyboard controllers, this comes in an ultra-thin design and even has a unique touch bar.
It is a wonderful alternative for those complaining about the joystick option of the MK3.
When it comes to music production equipment and its compatibility, you won't encounter any problems since it works well with almost all devices.
The design is not only aesthetic but functional, with the six transport buttons all within easy reach.
The Donner DMK 25 also features four programmable presets, making it easier for you to recall your preferred controls.
The price isn't far off from the AKAI Professional MPK Mini MK3, so it's an excellent alternative to consider.
Alesis V25 MIDI Keyboard Controller
If price is an important factor, one of the most affordable alternatives is the Alesis V25.
It is a 25-key USB MIDI keyboard controller. There are four buttons and knobs that are both assignable.
It also comes with a software suite.
It's even a great option for beginners who just want to start with their MIDI keyboard controller journey as it is fairly easy to use.
However, some of the software included in the MK3 are not included in the Alesis V25 package, so you need to purchase them separately.
When added up, the costs of the software plus the keyboard controller would basically amount to the same price.
The Alesis V25 can last you for a while, and then you can get a mini keyboard controller upgrade from AKAI, such as the MK3 or the latest release by then.
AKAI Professional MPK Mini MK3 Review: The Conclusion
It is no wonder that AKAI is a great contender in the world of modern music.
They continue to deliver one great product after another great product, the MPK Mini MK3 included.
It has many impressive features packed.
The saying, "The bigger the better.", doesn't really apply with the MPK Mini MK3.
That's because, with all its features, you can basically do what a 49 or 61 keyboard can do.