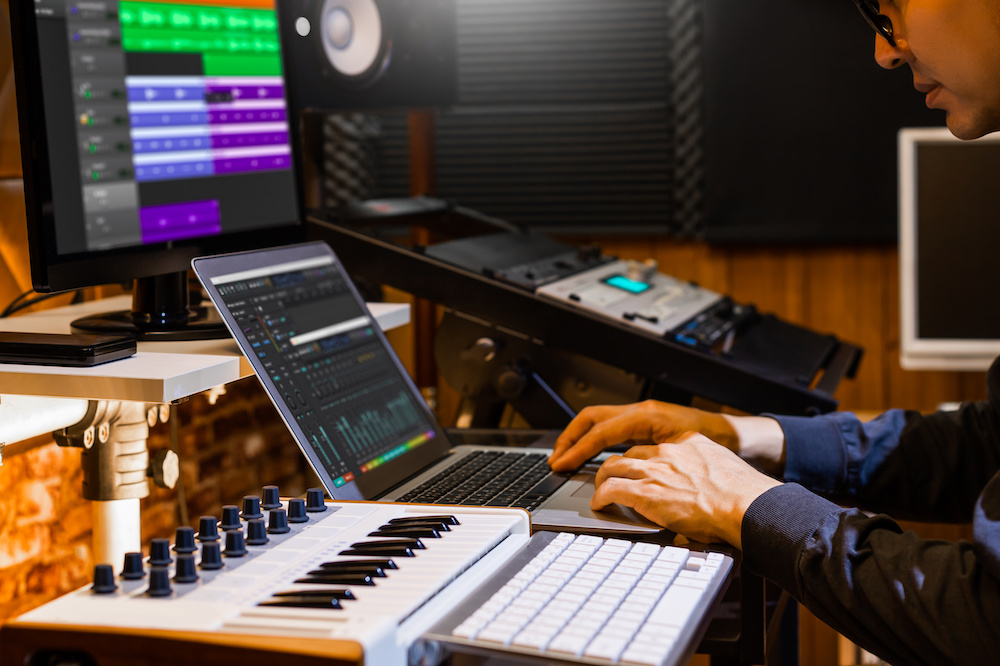 Akai Professional MPK Mini MKII Review
There's a lot to unpack in this Akai Professional MPK Mini MKII review, especially since it's a feature-packed device.
This model is ideal if you're looking for a MIDI keyboard controller with plenty of portable and convenient features.
It's a highly versatile device to have, designed with the everyday musician and producer in mind.
Akai Professional MPK Mini MKII
The Akai Professional MPK Mini MKII is uniquely designed to make using any digital audio workstation simpler.
You'll have unparalleled hardware to software experience that naturally enhances the quality of your music.
It's a fantastic choice with plenty of tactile sensations to help you feel the rhythm of virtual instruments.
The plug-and-play design of this unit is another one of its top-tier features, allowing you to make the most of the device instantly.
It's also one of the best features that makes it a fantastic choice for beginners.
One of the most notable things this device improves is customization with your music.
There are plenty of beginner-friendly MIDI keyboard controllers that don't offer as many user-friendly functions.
With the MPK Mini MKII, you'll have intricate tools, allowing you to manage your lines with little effort.
For example, octave up and down buttons seamlessly increase the melodic range of the device.
We also love how all functions are intuitively placed on the surface, making them easy to access.
Once you've programmed all of your most essential functions, managing your tracks has never been simpler.
You'll also find functional tools, such as note repeat, full level adjustments, and an onboard arpeggiator.
Who Is This MIDI Keyboard Controller Meant For?
It's easy to see that this MIDI keyboard controller is designed for musicians and creative producers looking for a well-rounded tool.
Instead of offering the bare minimum regarding tailored functions and quality components, the MKII is an upgrade.
You'll have access to special software included with your order for producing any type of track or performing live.
Unlike other MIDI controllers, this device is adequately sized for travel.
It's significantly more lightweight than other models as well, making it easy to commute with at any time.
All of the controls you could dream of are built into the unit, so all you need is the keyboard and USB cable for use.
Another unique feature of the Akai Professional MPK Mini MKII is its backlighting.
If you're someone who typically performs in dark environments, like clubs, backlighting is essential.
You'll easily be able to see all of the essential functions for easy navigability.
Most notably, this device is created with every musician in mind, which is why it's an impressive addition to your collection.
The MKII was styled using user feedback to provide an enhanced design from the Professional Mini Play.
Overall, its performance and quality are far above what you'd expect from a similarly sized unit.
What's Included?
As mentioned, all of the intuitive features of the MIDI keyboard controller are built into its small and compact design.
However, it also comes with a USB cable, allowing you to connect the device to your computer.
Fortunately, you'll have access to several phenomenal production software programs, including:
Akai Pro MPC Essentials

Hybrid 3

SONiVOX Wobble

VIP 3.0
One accessory we would recommend purchasing is a carrying case, especially if you travel.
You'll want to ensure you have adequate padding to protect the more sensitive components, like the drum pads.
Alternatively, you could carry the device in a laptop sleeve.
Overview of Features
Let's talked about what this device has to offer in detail.
This device was crafted with user feedback to bring a complete Akai MIDI keyboard controller to the market.
With the release of the Professional Mini Play, Akai made a few upgrades to the style and functionality of this model.
Over five years, they manufactured a new controller with an ample number of conveniences.
Beginners often prefer synth-action keys since they quickly return to their starting position.
Each of the keys in this device is crafted using quality springs instead of weights.
You'll find your movements will be lighter and quicker than with weighted keys for ease of use.
Pitch and Modulation Thumbstick
Instead of having a wheel or putting to adjust the pitch and modulation, this device features a thumbstick.
You'll love the tactile sensation of being able to fine-tune your tracks with the easy adjustments this feature offers.
You can also quickly make significant changes to the pitch and modulation in seconds with the four-way control.
Velocity-sensitive pads are essential for quickly accessing the beats for any track with less effort.
With this model, you'll have eight separate MPC-style pads along with full level and note repeat adjustments.
You'll quickly be able to put down the perfect beat or perform it live with minimal effort.
If you find you need to make quick adjustments to your track, you need assignable knobs.
Fortunately, the high-end Q-Link knobs on this device make it significantly easier to tweak your plugins.
Also, you'll find that assigning specific functions for mixing will take far less time.
In total, there are eight assignable Q-Link knobs that you can customize as needed.
This is one of our favorite functions when working with DAWs.
When maximizing the sophistication of your tracks, you need to get your hands on an arpeggiator.
This built-in function allows you to create complex pre-programmed patterns by switching up and down.
The Akai Professional MPK Mini MKII's arpeggiator allows you to quickly adjust the range, resolution, and mode.
With the opportunity to access dedicated octave buttons, you can quickly customize specific notes in your track.
You'll find two functions, one for adjusting the octave up while the other for turning it down.
It's incredibly beneficial to have instruments that you can bring with you anywhere in the world.
The MKII has a slim and sleek design, similar to the Professional Mini Play, making it ideal for travel.
You'll find the keyboard controller can fit into most backpacks and side bags.
It's important to note that this device needs to be connected to power to work.
Unlike the Akai Mini Play, it doesn't feature standalone operations.
You'll receive a USB cable with your order that you can use to connect the device to a power source.
In the event you want to use a sustain pedal with your new keyboard, you'll find a small port on the device's rear.
The full-size jack allows you to customize the sound and feel of your track further.
Professional-Grade Production Software
As with any MIDI keyboard controller, the software you're given can make or break your experience.
The good thing is this device is compatible with many standalone digital audio workshops.
It also comes with Akai Pro MPC Essentials, SONiVOX Wobble, and Hybrid 3.
As a recent upgrade, the Akai Professional MPK Mini MKII also includes VIP 3.0.
If you're looking for a feature-packed music software program for composers and musicians, VIP 3.0 is ideal.
It has an impressive number of hands-on features for managing virtual effects and instruments.
How To Use It
Learning how to use your new MIDI controller can be a time-consuming step, especially as a first-time user.
The number of functions built into this device causes a significant learning curve.
That said, once you've learned all of the features, it will be easy to customize as needed for Mac OSX and Windows.
Like most other MIDI keyboard controllers, this device is effortless to plug in and start using.
Our recommendation is to download the digital audio workstation of your choice first.
Once the installation is complete, you can then plug the keyboard into the USB port on your computer.
Inside of your DAW, you'll want to select the Akai Professional MPK Mini MKII as the controller.
When this is complete, it should be synced to your program, allowing you to access its features.
It's important to ensure you have all of the most recent drivers and updates installed for seamless use.
Alternative
If you're looking for an alternative to the MKII, we highly recommend the Alesis V25, another budget-friendly option.
With a less expensive price tag and similar features, it could be a better alternative to consider.
Alesis V25 MIDI Keyboard Controller
Some of the most significant components of the Alesis V25 include:
Many musicians prefer square-front keys since they're easier to manage.
You'll also find the keys boast velocity sensitivity, making them relatively effortless to press.
Assignable Knobs and Buttons
In total, there are eight assignable functions you can use to your advantage with this device.
You'll find four assignable knobs and four buttons to interface with your software.
They also feature the added benefit of visual feedback, thanks to backlighting.
Modulation and Pitch Wheels
If you're not a fan of having joysticks on your MIDI keyboard, the Alesis V25 is a great option.
To adjust the pitch and modulation, you'll use a wheel, which can be convenient for quick adjustments.
Akai Professional MPK Mini MKII Review: The Verdict
Our Akai Professional MPK Mini MKII review found it's an action-packed MIDI controller with several customizations.
Its sleek and stylish design makes it aesthetically pleasing with many user-friendly functions.
If you need a travel-friendly MIDI keyboard with tailored options, this is one of our top recommendations.