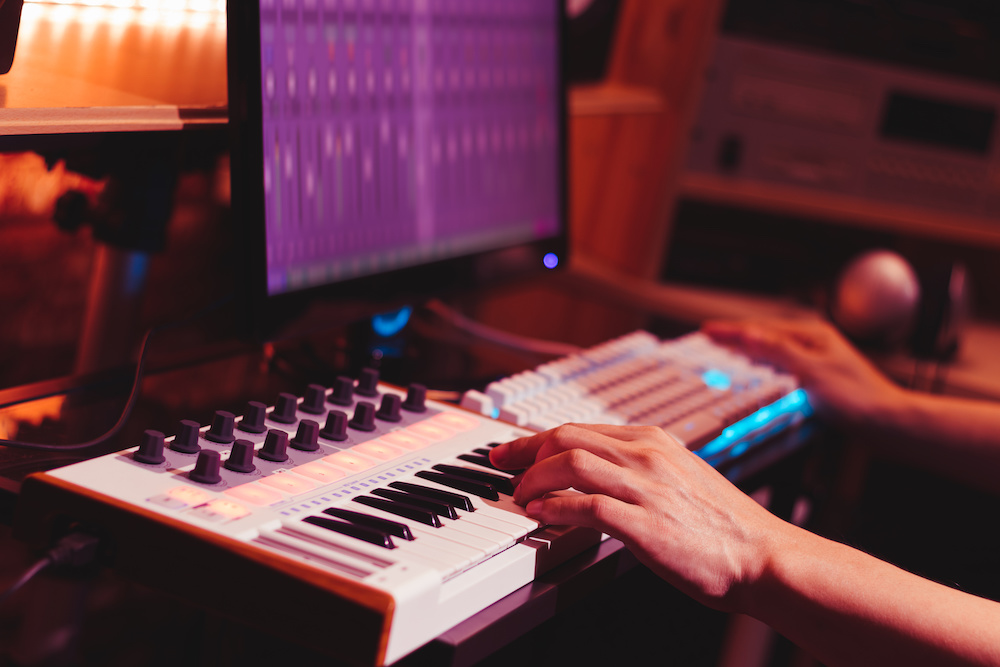 Akai Professional MPK Mini Play Review
Our Akai Professional MPK Mini Play review explores the ins and outs of this functional instrument for everyday use.
It's a great option if you're looking for a professionally styled MIDI controller or a device to try your hands at production.
All of its user-friendly functions make it an affordable and travel-friendly option for creative musicians and producers.
Akai Professional MPK Mini Play
The Professional MPK Mini Play by Akai helps bridge the gap between standalone instruments and digital devices.
With this keyboard controller, you'll have similar functions to a traditional piano and synth, especially since it has built-in speakers.
You'll also have the added benefit of an integrated headphone jack, allowing you to play in any environment discreetly.
Another significant benefit of this device is that it's professionally designed with essential functions.
Not to mention all of the top-tier features are comfortable and convenient for beginners to use.
You'll find several features, including drum pads, 128 instrument sounds, and 25 mini keys.
When it comes to using virtual instruments, finding a MIDI controller as versatile as this device will be challenging.
Not only does it allow for ample creativity and track tweaking, but it also comes with an assortment of software.
It's a genuine all-in-one package that's ready for you to use as soon as you unbox it.
Who Is This MIDI Keyboard Controller Meant For?
Anyone can benefit from the intuitive functions of the Akai MPK Mini Play.
Its built-in speakers and headphone jack make it ideal for standalone play.
You can also connect it to your computer like a generic MIDI keyboard for even more fluidity.
You'll find this device is a significant upgrade from lower-tier MIDI controllers, especially those with minimal functions.
It packs a powerful punch, featuring 128 sounds, ten drum kits, pitch and mod controls, and more.
Anything that you would expect from a high-end controller is available, making it ideal for customization.
One of the most significant and unique features of the Professional MPK Mini Play is its size.
If you've been searching for a portable MIDI keyboard controller designed for travel, this is one of our top recommendations.
It's significantly smaller than other devices, making it easy to carry in your backpack or messenger bag.
Traveling musicians will find it's effortless to bring along, especially since there's only one cable required.
By connecting the device to your computer via a USB to MIDI cable, you unlock all of the power it has to offer.
Also, since all of the software comes with the device, you can quickly preload it onto your laptop for travel.
What's Included?
There aren't any extra accessories you'll need to purchase once you receive your new MIDI controller.
All of its fabulously styled features are built into the unit, and it comes with a USB to MIDI cable.
The only other item we would recommend having on hand is a pair of headphones if needed.
Overview of Features
The Akai Professional MPK Mini Play has a lot to offer, including:
When MIDI controllers first emerged on the market, many musicians noted it would be convenient to play them without a computer.
Fortunately, this device answers that need by offering a standalone design that can also be connected to a digital device.
It's one of the better options for travel, especially if you don't have a computer to move with you.
For how small this MIDI controller is, you'll be surprised to know it still offers 25 keys.
Each of the keys is individually weighted, offering sensitive synth-action play.
For beginners, this key action is highly recommended because it's easy to engage with minimal effort.
When it comes to customizing the creative flow, you'll need plenty of manual adjustments.
You'll fall in love with the pitch and mod controls on the device since you can manage them with a joystick.
You will find it's effortless to make fine-tuned and more significant adjustments in seconds.
When synced with your digital audio workstation, this device is inherently powerful for any genre.
You can program up to 128 sounds at a single time, as well as ten different drum kits.
Another feature that makes this MIDI controller perfect for travel is that you can use it with batteries.
You can decide whether to connect it to your laptop or PC for power or use a more portable power source.
It will take three AA batteries, which are not included in the package.
Technically, you'll find eight physical drum pads on the front of the keyboard for you to use.
However, each pad comes with an extra bank, so you'll have 16 individual programmable pads.
The dual-pad design helps increase the functionality of the controller tenfold.
It's also important to note that each drum pad is ultra-sensitive, making them easy to press.
You'll find a couple of extra functions as well, such as full level and note repeat functions.
Customizing the sound of your drum machine has never been simpler.
Another unique feature of the Akai Professional MPK Mini Play is that it comes with adjustable knobs.
You'll have four physical knobs to use, but they also come with dual banks like the drum pads.
In total, there are eight knobs available to tweak the parameters of your software and internal sounds.
With these functions, you can quickly manage EQ, filters, reverb, and even control the chorus while enveloping controls.
It's always important to consider the software you'll receive when you order a MIDI controller.
This device comes with a few different options, including MPC Beats Software.
You'll find an assortment of top-end features and tools essential for any type of production.
A few other components of the professional software suite include:
Akai Pro MPC Beats

AIR Music Tech Hybrid 3

ProTools First

SONiVOX Wobble (downloadable)

Improved Performance
The Akai Professional MPK Mini Play has undergone some changes to make it more adaptable to modern musicians.
You'll find it has plenty of advanced features, including tap tempo, multiple arp modes, and a built-in arpeggiator.
Creating retro synth lines has never been more straightforward, especially with the mainstay controls.
How To Use It
You'll be glad to know that setting up your new MIDI keyboard will be quick and efficient.
With this device's travel-friendly design, it's recommended you install batteries if you intend to use them wirelessly.
You'll also want to confirm that you received the USB cable in your package so it can connect to your computer.
When setting up the device, you're going to want to decide what digital audio workstation you wish to use.
Depending on the program, the installation steps could differ, for example, between FL Studio and other DAWs.
You'll also want to ensure you download any programs well in advance since the software can take a while to install.
Once you've prepared everything, you simply connect the MPK Mini Play to your computer using the USB cable.
You can then open your DAW of choice and ensure you select the device as your controller for the session.
As soon as that's complete, you can begin recording and testing the keyboard as needed.
Alternative
It's important to consider alternatives before you decide on a single device as your new MIDI controller.
One of our favorite alternatives comes from the same brand, which is the Professional MPK Mini MKII.
Akai Professional MPK Mini MKII
There are a few impressive features to note with this upgraded model, including:
With this device, you'll have access to even more software than the standard model.
You'll be able to download Hybrid 3, SONiVOX Wobble, MPC Beats Software, and VIP 3.1.
If you've found the ideal settings for production, you'll love the integrated memory banks in this device.
You can store all of your favorite software and hardware presets into four different banks for easy access.
You'll find an assortment of dedicated functions on the surface of the keyboard.
There are level controls, tap tempo, and octave up-and-down functions.
Fortunately, there are also programmable functions for heightened customization.
If you have a minimal workspace, you'll fall in love with the slim and compact design of the device.
This feature also makes it the perfect partner for travel because it easily fits into luggage.
When it comes to using the latest technology, you'll want a MIDI controller with upgradable software.
This device is ready for MPC 2.0, allowing you to enhance the functionality of the device.
All you have to do is access the upgrade path online to access several improved features.
Verdict
Our Akai Professional MPK Mini Play review concludes it's a well-rounded MIDI keyboard with unique functions and features.
It offers a high level of customization with the convenience of a slim, travel-friendly keyboard.
With its standalone functionality, you can express your creativity anywhere without the need for a computer.