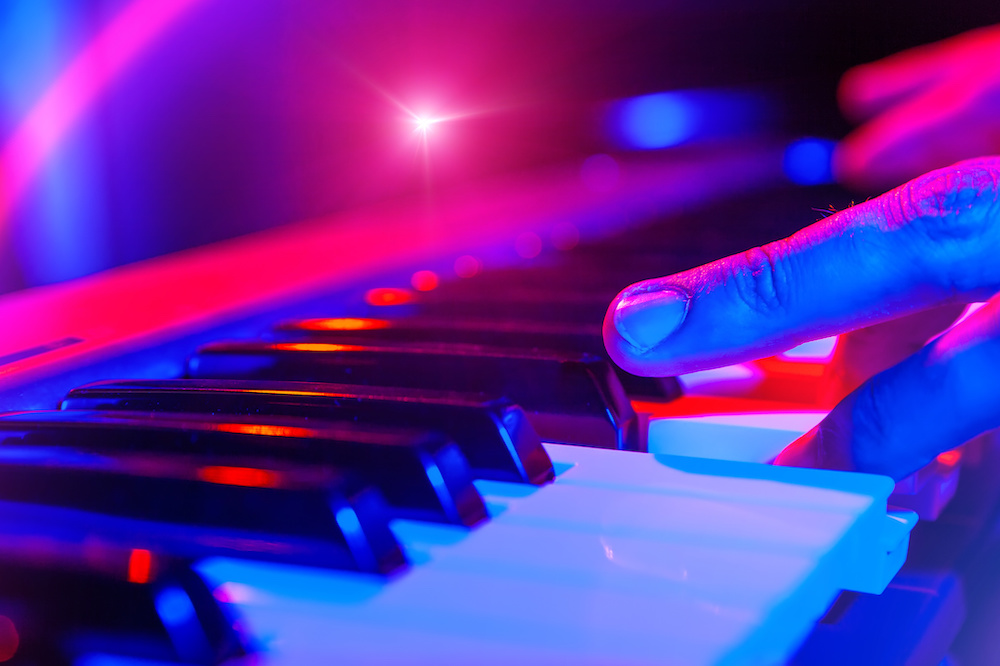 Alesis V25 Review
In this Alesis V25 review, we explore all of the unique features of this MIDI keyboard controller.

It's a highly versatile instrument that enables you to make music from any genre using your favorite production software.

From its sleek and stylish appeal to its intuitive, user-friendly features, there's plenty to explore.
Alesis V25 MIDI Keyboard Controller
The Alesis V25 is a MIDI keyboard controller, which is different from a standard keyboard or a synth.
If you're looking for a multipurpose instrument that enables you to reap the benefits of many different sounds, it's ideal.
Instead of opting for a full-size piano, this MIDI keyboard controller provides more performance features in a smaller package.
The Alesis V25 helps make music production simple, thanks to its beginner-friendly functions.
You'll find an assortment of features, including assignable buttons and knobs, backlit pads, and 25 full-sized keys.
When it comes to playing live or entering a recording session, you'll be prepared for anything.
MIDI keyboard controllers are an essential instrument for any traveling musician, thanks to their smaller size.
You'll have plenty of power packed into a small tool that takes up minimal space in your luggage.
Who Is the Alesis V25 Meant For?
There are plenty of people who can benefit from a MIDI keyboard controller, especially if you want a cost-effective instrument.
Not only will you be able to emulate the sounds of a traditional piano, but an incredible number of other instruments as well.
With high-quality production software, you can play any virtual instrument you desire with one tool.
The Alesis V25 is a significant upgrade from other starter models, especially since it has uniquely designed keys.
You'll also appreciate its numerous functions, including visual feedback and illuminated knobs and buttons.
It's one of our preferred options for live shows because all of the functions are beautifully laid out and easy to access.
Another convenience of the Alesis V25 is that it comes with quality software for every order.
You'll have access to ProTools, as well as First Alesis, Ableton Live Lite 9, and a few others.
When it comes to working with any virtual instrument you could dream of, this instrument is ideal.
What's Included?
When you order the Alesis V25, you'll have everything that you need to plug and play included.
The most important part of the package is the MIDI keyboard controller, which has 25 keys, knobs, buttons, and modulation wheels.
You'll also receive premium software, including:
Ableton Live Lite 9

DB-33

Eleven Lite

First Alesis Edition

Mini Grand

ProTools

Xpand!2
As with any other MIDI keyboard controller, you'll also receive a USB cord, which you can connect to your computer.
This component is one of the most important since it's what will power the device.
Fortunately, the cable is relatively high-quality, so you won't have to worry about purchasing a separate component.
Overview of Features
Some of the things you'll expect from the Alesis V25 are:
The standard Alesis V25 comes with 25 full-sized keys that are also velocity-sensitive.
As you press down, the feedback from the keys makes them more comfortable and easier to use.
You'll also find they're square-front, which helps prevent your fingers from getting caught mid-session.
If you're looking for a larger-sized MIDI keyboard controller, you can choose between a 49 and 61-key model.
The 25-key option is recommended for beginners and traveling musicians since it's significantly smaller.
Along with the velocity-sensitive keys, there are also eight velocity-sensitive backlit pads.
Each of these pads can be programmed for beat production as well as launching clips.
If you need to upgrade your existing MIDI keyboard controller for more technical applications, this feature is ideal.
Apart from the backlit keys, a few other keyboard functions are also illuminated.
The adjustable buttons and knobs feature a light blue illumination, making them ideal for dark environments.
Backlighting is a highly recommended feature, especially if you find it challenging to keep track of functions.
If you've owned a MIDI keyboard in the past, you know how large it can be.
This device is not only smaller in size, but it's also slimmer than expected.
If you have a tiny workstation, this is the ideal instrument to have at your disposal.
You'll find it seamlessly fits onto desks, along with your standard keyboard and computer.
It can also be a convenient backpack-sized instrument to record and remix anywhere.
Mac OSX and Windows Compatible
Instead of investing in a MIDI keyboard that's only compatible with one operating system, this device is versatile.
You'll find it's easy to use with both Mac OSX and Windows, with its plug-and-play design.
Also, all of the included software is functional with both operating systems for easy installation.
As mentioned, there are plenty of assignable functions built into this device.
You'll find four assignable knobs and four buttons that you can program accordingly.
These seamless functions are recommended when it comes to customizing your instrument for your production software.
Accessing the full range of your keyboard is simple with the benefit of octave buttons.
You'll quickly be able to change the octave up and down with separate functions for customized sounds.
As an added benefit, you'll also find modulation and pitch wheels so you can have more creative control.
Aside from the customizable functions, there are also built-in features designed for impressive production.
There are individual buttons for adjusting the volume, closing filters, tweaking parameters, and activating effects on the MIDI keyboard.
One of the most important things to look for when you buy a MIDI keyboard is the programs it comes with.
Some of the highest quality products will feature industry-recommended software to unleash the device's power.
With this model, you'll receive the following:
Pro Tools First Alesis Edition

Ableton Live Lite 9

Eleven Lite

Mini Grand

Xpand!2

DB-33
How To Use It
One of the things you're bound to love the most with this MIDI keyboard controller is how easy it is to use.
It has a plug-and-play design, especially with the correct cable and required software.
You'll need a computer, the MIDI keyboard controller, and a USB connector to get started.
As an optional piece of equipment, you can choose to use a sustain pedal since there's a specific input for this device.
Once you have all of the correct equipment, you plug the MIDI keyboard into the USB port on your computer.
The device will get its power from the computer and automatically sync to your downloaded software.
It's important to note that you'll need to select the V25 as the controller you'll use in your digital audio workstation.
You'll also want to take the time to familiarize yourself with the components of the keyboard.
From there, you can make any audio tweaks necessary for the virtual instruments you'll be using.
The most important features to know include:
Pitch-blend wheel

Octave up and down

Assignable buttons

Assignable knobs

Pads

Modulation wheel

Sustain output
Alternative
The best MIDI keyboard controllers are one of the essential parts of music productions, and they're also trendy.
With that said, there are plenty of alternatives to take into consideration.
One of our favorites is the Akai Professional MPK Mini Play.
Akai Professional MPK Mini Play MIDI Keyboard Controller
A few of the most notable features of this Akai model include:
If you cannot access a computer, you can still use the Akai Professional MPK Mini Play.
It boasts a built-in speaker, allowing you to practice your pieces anywhere with a power connection.
You'll also find a headphone output, allowing you to plug into the device for discreet play.
Instead of plugging the MIDI keyboard controller into your computer, you can opt to use it wirelessly with batteries.
If you've been on the hunt for a small keyboard with similar functions to a synth, this is a fantastic recommendation.
On the Akai Professional MPK Mini Play keyboard's surface, you'll notice eight individual drum pads.
As an added benefit, each pad has an extra bank, giving you the ability to program 16 individual sounds.
It's also important to note that the customizable knobs also have two banks, allowing eight in total.
If you're someone who prefers the feeling of synth keys, the Akai Professional MPK Mini Play is highly recommended.
It has 25 velocity-sensitive synth-action keys for easy use.
The key action is relatively smooth, similar to most starter-level keyboards.
Also, each of the keys springs into action quickly, unlike weighted keys.
Alesis V25 Review: The Verdict
A vital feature of this Alesis V25 review is that it's one of the more versatile beginner-friendly MIDI keyboard controllers on the market.
You'll have access to several customizable features to unleash your inner creativity with every track.
Whether you're working in a professional studio or tinkering with your own music at home, it's recommended.