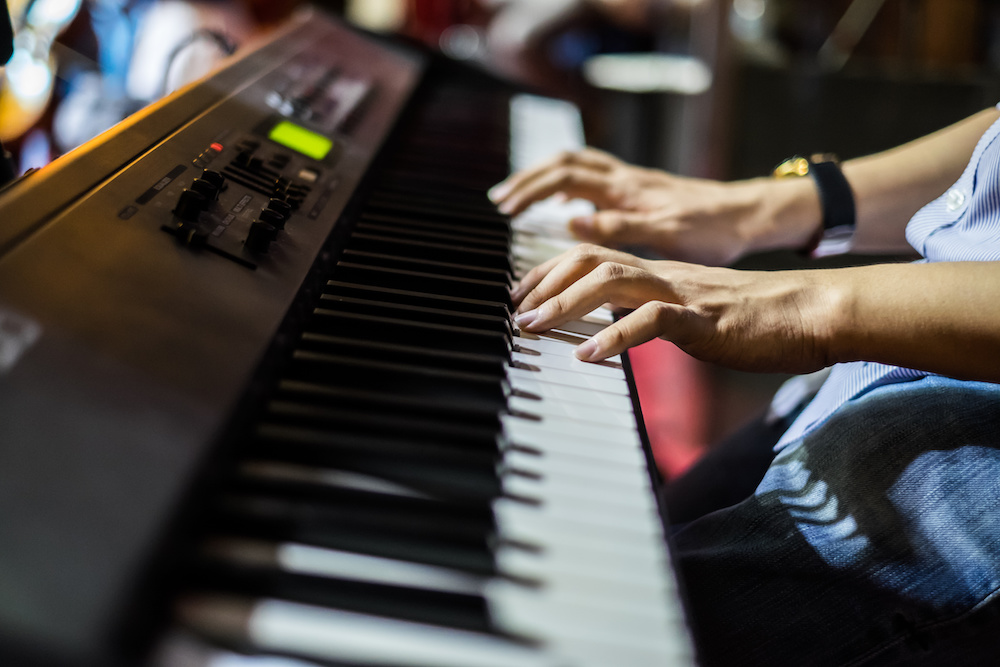 Alesis V49 Review
Budding music producers won't have to wait until the pandemic is over to make great music with the Alesis V49.
This MIDI keyboard controller is a great option for beginners.
While it comes with fewer keys than others, it eliminates the functions that first-time users won't be able to make most of for their first time.
It's the perfect springboard to learning how to make great music at home.
This Alesis V49 review will help you learn about its features, pros, and cons to see if it's the perfect keyboard controller for your needs.
Alesis V49 MIDI Keyboard Controller
Alesis is a company known for making quality yet affordable products for modern musicians to complete their music studio needs.
The Alesis V49 is a 49-Key USB-MIDI keyboard controller.
It is an intuitive and powerful MIDI controller to help make the most of your chosen music app or software.
It also features multiple buttons, pads, and knobs aside from its 49 keys.
The keys are full-sized and velocity-sensitive. It is the perfect number of keys to play two-handed piano parts effortlessly.
The V49 also has an adjustable octave button, enabling you to expand the keyboard's complete melodic range.
It will also allow you to play melodies, bass lines, and chords.
Who Is This Product For?
Professional music producers, aspiring music producers, or even the unassuming music enthusiast can use the Alesis V49 MIDI Keyboard Controller.
It's simple but versatile, which makes it easy for a beginner to use.
Still, it can very much cater to the needs of professional music producers who prefer a simpler MIDI keyboard controller option without the hefty size and price tag.
What's Included?
The Alesis V49 will be delivered in a box that comes with the V49 unit, USB cable, user guide, safety and warranty manual, software downloadable cards, and a downloadable V Editor Software.
However, it does not include an Alesis Sustain Pedal, so you need to purchase it separately.
Here's an unboxing video to have a quick overview of what you'll get:
Overview of Features
Let's learn more about the Alesis V49 MIDI Keyboard Controller by looking at its most notable features.
The Alesis V49 MIDI Keyboard Controller has a limited Melodics offer with every purchase.
Melodics is a desktop app that helps users play and perform using MIDI controllers and their parts, including pad controllers and drums.
Both amateurs and professionals can use the Melodics desktop app.
It is also free to download once you register your Alesis V49 online.
It also comes with over 60 free lessons to help get you started with the Alesis V49 Controller.
Taking a closer look at the controller, the Alesis V49 MIDI Keyboard Controller is a powerhouse all on its own.
You can expand the keyboard's full melodic range with the help of the octave up and down buttons.
You can also use the keyboard to play chords, bass lines, and melodies.
There are four assignable buttons and knobs on the Alesis V49 that you can use to manipulate virtual instruments and effect plugins.
You can use these buttons and knobs to close and open filters, activate effects, adjust the volume, change parameters, and more.
The V49 also features eight backlit, velocity-sensitive keypads, making it visually attractive and easy to configure even in a dark music room.
You can do clips or finger drums with ease because of their fantastic response.
There are also pitch and modulation wheels on the Alesis V49 to create dynamic and expressive music.
The slim design of the V49 makes it an excellent option even for the smallest music studio.
The Alesis V49 is a plug-and-go USB MIDI Keyboard Controller.
Included in the box is a USB cable that you can connect to MAC or PC laptops or desktops.
This USB connection already provides both the power and MIDI functionality of the controller.
With the purchase of the Alesis V49, you have access to Ableton Live & XPAND!2 software.
Both this software enable you to start recording, producing, and performing with your computer.
The Ableton Live Lite 9 is a quicker software to use and helps you make and edit music on the fly.
While the XPAND!2 is a more advanced virtual instrument that adds to the versatility of the V49 with its collection of premium sounds, synthesizers, and acoustic instruments.
Best of all, the Alesis V49 is VIP 3.0 upgrade ready, but this is optional.
With the VIP 3.0 upgrade, you'll have access to a collection of virtual instruments and effects, all in a user-friendly and intuitive format.
How to Set Up Your Alesis V49
Learning to set up your Alesis V49 Keyboard Controller will ensure you get the most out of it.
Below is a video to help you out.
Alternatives
To make this Alesis V49 review more comprehensive and objective, we've looked into four other MIDI controllers that you can consider if you think V49 won't work for you.
Akai MPK Mini Mk2
The most common alternative for the Alesis V49, especially with the double-trigger issues, is the Akai MPK Mini Mk2.
For those who already started with the V49, transitioning to the Akai would be a lot easier.
The Akai MPK Mini Mk2 also has octave up and down buttons.
It also has an onboard arpeggiator that lets you adjust range, modes, and resolutions to create beautiful melodic lines.
Like the Alesis V49, the Akai MPK Mini Mk2 is also a plug-and-go software with a USB-MIDI.
The single USB connection provides both the power and MIDI connection to a MAC or PC.
The Akai also has software included in the purchase.
M Audio Keystation 49 III
Another optional alternative for the Alesis V49 is the M Audio Keystation 49 III.
This USB MIDI Controller also has 49 full-size velocity-sensitive keys, making it feel like natural piano keys.
You can also use the M Audio on both MAC and PC. It also has iOS compatibility.
The M Audio Keystation 49 III also comes bundled with the SONiVOX Eighty-Eight Ensemble, which is great for making great compositions.
The M Audio lacks the keypads that both the Alesis V49 and Akai MPK Mini Mk2 have.
The M-Audio Oxygen Pro 49 may be quite pricey and a higher jump from the Alesis, but its features are outstanding.
All keys are semi-weighted, velocity-sensitive, and feature aftertouch for a true piano feel.
The beatmakers are backlit, all 16 of them, and are also velocity-sensitive.
You will also find that the Note Repeat feature of the M-Audio Oxygen Pro 49 to be quite useful for soundboard triggering, beat production, and clip launching, to name a few.
Like the other M-Audio keyboard controllers, this model also features pro tools included in the package.
It looks professional and great for professional music makers.
For beginners, it may be better off to start with the more basic models, but this is certainly an upgrade to go for in the future.
Roland A-49 MIDI Keyboard Controller
If brand names like Alesis, Akai, and M-Audio are new for you, the Roland A-49 is also a good alternative to add to the list.
It is lightweight and easy to use. Plus, it doesn't have as many customizable buttons as other brands do.
The Roland A-49 only has two knobs and two switches compared to the four to eight knobs found in other models and brands.
It does have the classic Roland look to it, complete with the pearl white and black finish.
You can use this keyboard controller with a Mac or PC and even an iPad.
When it comes to tagging this unit along, it is designed for mobile use, so its lightweight design makes it easy to lift and carry.
AKAI Professional MPK249 MIDI Keyboard Controller
Lastly, the AKAI Professional MPK249, which features 49 semi-weighted keys, 16 pads, and assignable MPCs.
This model from AKAI is also expandable, so you can extend the original 16 MPC pads to accommodate a total of 64 pads.
It also has an inclusive production software package that is compatible with both Mac and PC.
Of course, a model this good comes with a hefty price tag, but it's a good investment for professional users.
Alesis V49 Review: The Verdict
For beginners and those with a limited budget, the Alesis V49 MIDI Keyboard Controller is a great unit to start with.
Thanks to the company's response, the recent firmware update has solved the double-trigger issues that this model seems to have.
While the Alesis V49 may be a bit more expensive than certain similar models from Akai and M Audio, you can still get a plethora of software and capabilities that enable you to make great music compositions.
For its price, the Alesis V49 MIDI Keyboard Controller already has great software included with its purchase, so making music can happen as soon as you open the box and set it up.