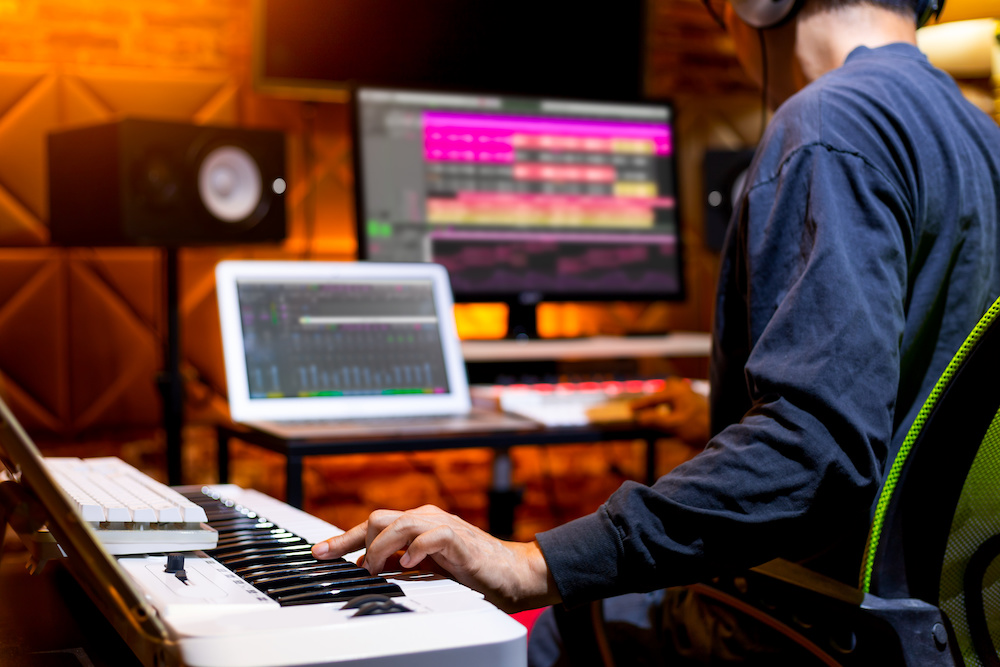 Best 25 Key MIDI Controllers of 2021: Complete Reviews With Comparisons
Setting up your very own recording studio has always been a challenge before the best 25 key MIDI controllers hit the shelves.
Today, you can do away with large format devices, take advantage of quick setups, and enjoy highly portable keyboard controllers.
With a 25-key MIDI keyboard controller as your centerpiece, you can accommodate more peripheral MIDI hardware.
Some find its one-handed play inhibiting, but others recognize that it frees up your other hand for a whole new set of possibilities.
Here are the best 25-key controllers to get you started with your first mobile music production hardware.
Comparison Chart
Arturia DAW Controller 
Nektar 25-Key Midi Controller 
Akai Professional APC Key 25
Korg 25-Key Midi Controller 
M-Audio Oxygen Pro 25
Best 25 Key MIDI Controller Reviews
1. Arturia MicroLab 25-Key MIDI Controller
The Arturia MicroLab 25-Key MIDI Controller hits the mark for a carry-around music production device.
Arturia designed the MicroLab as a simplistic MIDI controller for easy plug-and-play connection with a tablet or a laptop.
Review
The first thing you'll notice is that the MicroLab offers a rugged, functional look with its rubberized case.
This case provides two functions.
First, it makes the controller more robust; second, it works as a cable-tidy, as the included cable wraps around it neatly.
With portability as its most prominent credential, the MicroLab measures 16.3 by 5.12 by 1.46 inches and weighs only 1.71 pounds.
You can bring it with you in your backpack, right with your laptop or tablet.
The keyboard has a high-quality two-octave keybed with very expressive, velocity-sensitive mini-keys.
For an extra feature, the first 16 keys also function as MIDI channel selectors with the Shift button.
The two capacitive touch strips function as pitch bend and modulation adjusters.
They also double as menu navigation controls.
Additional controls include the Shift button, a Hold button, and two backlit Octave buttons.
The Shift button activates the secondary functions of the MicroLab, all listed in blue text under the buttons and touch strips and black text above the first 16 keys.
Shift functions include MIDI Channel selection, Chord Mode, and Analog Lab presets/filters selection.
To engage the sustain function of notes on the keyboard, all you have to do is press the Hold button.
The Octave buttons let you shift the keyboard range up to four full octaves in both directions.
The MicroLab offers an intuitive approach to transposition.
As you shift the keyboard to farther octaves, the backlighting of the Octave buttons will blink faster.
You can re-center the keyboard by pressing both Octave buttons simultaneously.
The side panel of the MicroLab has a recessed USB Type-B connector.
Arturia placed the connector on its side so that you can position the MicroLab directly in front of your laptop with virtually no air space in between.
The included cable has a 90-degree bend on the MicroLab connector end so that it wraps around the MicroLab neatly and without protrusions.
2. Nektar SE25 MIDI Controller
The Nektar SE25 MIDI Controller offers a more portable approach than the Arturia MicroLab without the capacitive touch strips.
It is a keyboard that is both sleek and simple, with expressive minuscule keys that feature a defined and firm feel.
Furthermore, the Nektar SE25 stands out as a valuable option for producers who are on a budget.
Review
Albeit being very affordable, the qualities of the Nektar SE25 punches above its price point.
It is packed with features that make it more inclusive than how it is seemingly compact and lightweight.
The Nektar SE25 measures 13.19 by 3.94 by 0.83 inches and weighs only 0.88 pounds.
These attributes make it the slimmest and lightest option in this compilation.
The Nektar SE25 is an excellent solution for any mobile music creation and production setup.
Its 25 mini-keys are velocity-sensitive, featuring three velocity curves: default, soft, and hard.
The two-octave keyboard also offers secondary functions with labels atop most of the keys.
Additionally, each of the flat and sharp keys allows an added function as MIDI channel selectors.
You will find six buttons on the left panel of the Nektar SE25 labeled as Oct-, Oct+, PB1, PB2, S, and 2.
Pressing the Oct- and Oct+ buttons will shift the keyboard up to four octaves down and up to five octaves up, respectively.
You can re-center the keyboard by simultaneously pressing the Oct- and Oct+ buttons.
The PB1 and PB2 buttons are assignable to any of the six functions under the first red line above the keyboard.
These functions include pitch bend, transpose, volume, pan, track, and patch.
Hold the S button to sustain a note or notes being pressed on the keyboard, or use it to trigger modulation.
Button 2 enables the unique Part Two features of the keyboard.
Part Two features include octave shifting, up or down transposition, two-octave triggering with a single note, interval addition, and sound layering.
You can set up the Part Two presets by programming the keyboard using the keys under the second red line.
The Nektar SE25 uses a single Micro-USB port for data transfers and power draw.
3. Akai Professional APC Key 25 MIDI Keyboard
The Akai Pro APC Key 25 is a feature-packed MIDI controller that provides easier access to plenty of controls without altering the keyboard's primary function.
APC stands for Ableton Performance Controller, designating the Akai Pro APC Key 25 as a highly functioning Ableton hardware.
Review
The Akai Pro APC Key 25 measures 12.25 by 7.6 by 1.6 inches. At only 1.7 pounds, it is slightly lighter than the MicroLab.
Although it is wider and thicker than the MicroLab and the Nektar SE25, it is shorter and would fit perfectly with your laptop into any backpack.
The keyboard on the Akai Pro APC Key 25 has velocity-sensitive keys and a 10-octave range with the Oct Up and Oct Down buttons.
Unlike the keyboards on most of the other models presented here, the Akai Pro APC Key 25 keyboard limits its function to note playing.
With this limitation, you can access all of the notes you need while launching clips and other presets.
The Akai Pro APC Key 25 has an astounding 40 clip launch buttons arranged in an eight-by-five matrix.
Each of the clip buttons represents a single clip slot. The eight columns correspond to eight tracks, while the five rows correspond to five scenes.
In Clip Launch Mode, the buttons change LED colors depending on their current application.
Additionally, the Akai Pro APC Key 25 has eight clip stop buttons aligned with the eight columns and five scene launch buttons aligned with the five rows.
A ninth clip stop button stops all running clips.
The Akai Pro APC Key 25 has eight knobs, normally for controlling various parameters in Ableton Live.
However, you can assign four different modes to all of them, including Volume, Pan, Send, and Device Macro.
Additional buttons include Shift, Sustain, Oct Down, Oct Up, Play/Pause, and Rec.
The Shift button enables several modes for the clip stop buttons by activation through the scene launch buttons.
The various functions of the knobs also activate after pressing the Shift key and one of the four right-end clip stop buttons.
The Akai Pro APC Key 25 has two connectors on its right side.
One is a USB port for data transfer and power draw, and the other is a Kensington security lock slot.
4. Korg microKEY Air-25 Bluetooth MIDI Keyboard
A better take on portability is having wireless connectivity, and the Korg microKEY Air-25 has just that.
With highly mobile devices such as laptops, iPads, and iPhones, the Korg microKEY Air-25 can set you up for several hours of music production.
Review
The Korg microKEY Air-25 measures 15.55 by 5.16 by 2.05 inches and weighs 1.48 pounds.
It is thicker than the Arturia MicroLab, but it is shorter and lighter.
What's more, it provides wireless Bluetooth connectivity and battery operability, both of which are not available to the MicroLab.
With just two AA alkaline batteries, it can continuously operate for an astonishing 30 hours.
The keys of the Korg microKEY Air-25 offer comfortable playtime across two octaves of natural-feeling mini-keys.
Its velocity-sensing keybed allows natural and expressive inputs during performances or practice sessions.
One thing unique to the Korg microKEY Air-25 is its four-way joystick.
Instead of having the two analog wheels present on larger microKEY models, the Air-25 uses the joystick for pitch bend and modulation.
Other hands-on controls include an arpeggiator switch, a sustain/tap arp button, and two buttons for octave selection.
With the Korg microKEY Air-25, MIDI inputs and outputs course through the USB Type-B port or low-energy Bluetooth.
You can choose to use batteries or let the Korg microKEY Air-25 receive power from a connected device.
5. M-Audio Oxygen Pro 25 MIDI Controller
The Oxygen Pro Series has remained a staple in the MIDI controller market, and it has improved to meet countless user demands.
M-Audio equipped the Oxygen Pro 25 with plenty of functions so that it could be the centerpiece of a sound production studio.
Unlike the alternatives, the Oxygen Pro 25 features a perfect balance between all types of MIDI controls.
Review
The M-Audio Oxygen Pro 25 measures 19.3 by 10.4 by 3.3 inches and weighs 5.4 pounds, making it the largest and heaviest product among the options.
If you can sacrifice a bit of portability and a comprehensive device is what you're after, then the M-Audio Oxygen Pro 25 hits the mark.
The Oxygen Pro 25 keyboard boasts top-class, velocity-sensitive, semi-weighted, full-size keys and features assignable zones.
Moreover, each key offers aftertouch, allowing highly expressive inputs and natural-feeling playtime.
You will find white labels right above most of the keys.
These labels represent the secondary function of the keys for editing Chord Mode settings and chord voicing.
Other internal keyboard functions include Note Repeat, Momentary Arpeggiator, Latching Arpeggiator, Tempo, Time Division, and Scale.
While Chord Mode enables the playing of enharmonic or custom chord voicings, Scale Mode eliminates wrong notes for easy music crafting.
The 16 velocity-sensitive trigger pads send MIDI Note On and Off messages or perform other MIDI assignments.
Use them with Note Repeat to produce beats, launch clips, and do other functions.
Assignable Knobs and Faders
The Oxygen Pro 25 has eight assignable knobs and nine assignable faders.
You can use these for controlling virtual instruments, DAW controls, mix plugins, and more.
Pitch Bend and Modulation Wheels
Ergonomically-designed pitch bend and modulation wheels provide every user with the comfort of creating varying sound effects.
The Oxygen Pro 25 includes a single assignable slider that works with a DAW or a virtual preset.
With the built-in display, the Oxygen Pro 25 reminds you of the status of the last accessed control.
You can use this screen to monitor parameter levels while adjusting controls on the keyboard.
Other buttons include Octave -, Octave +, DAW/Preset, Banks, Tempo, Note Repeat, Shift, Arp/Latch, Chord/Scale, and Pad Row play.
To navigate through options on the display, you can use the Select/Scroll encoder, Back button, and left and right buttons.
Primary Transport buttons include Loop, Stop, Play, and Record.
The Oxygen Pro 25 has the most connectivity features among the products presented here.
It has a MIDI Out port, a USB port, and a sustain pedal input jack, all sitting beside the main power switch at the rear panel.
It also includes a Kensington security lock slot.
Which Is the Best 25-Key MIDI Controller?
Remember that even the best 25 key MIDI controllers are not designed to replace the versatility of inputs using full-size keyboards.
You're only getting one so that you can get ideas down quickly anytime and anywhere.
Nevertheless, a 25-key MIDI controller is perfectly capable of being a startup centerpiece for your first music production arsenal.
With that said, we highly recommend the M-Audio Oxygen Pro 25 to provide professional-grade tools for your musical creations.
Among the choices we presented here, it offers a complete, full-spec mix of controls, including full-size, semi-weighted keys.