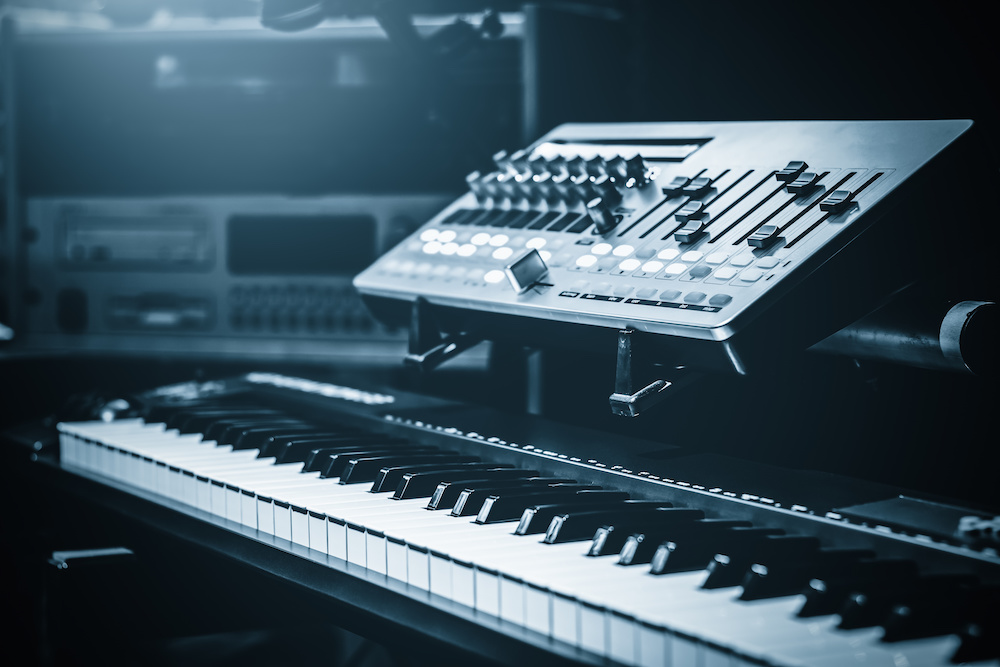 Best 49 Key MIDI Controllers of 2021: Complete Reviews With Comparisons
When it comes to MIDI keyboard controllers, size is a factor that comes with so many implications.
A larger keyboard can mean more controls for some users, but it could also entail reduced portability and a wider space allocation.
On the other hand, a smaller keyboard only offers very few keys, even if it provides maximum portability and better space management.
The easiest solution to getting the most out of both ends of the spectrum is to acquire the best 49 key MIDI controller.
A 49-key MIDI keyboard can provide high ratings for versatility, functionality, and mobility better than any smaller or larger alternative.
The following list contains five of the top-ranking 49-key controllers available in the market.
Comparison Chart
Roland A-49 Lightweight 49-Key MIDI Keyboard Controller
Novation Impulse 49 USB Midi Controller Keyboard
Alesis VI49 MIDI Keyboard Controller
Korg, 49-Key Midi Controller
Novation Launchkey 49 MK3 Midi Controller
Best 49 Key MIDI Controller Reviews
1. Roland A-49
Roland is one of the most popular brands when it comes to developing a vast array of keyboard controllers.
Its A-Series prototypes are exceptionally top-of-the-line, providing multiple options for pros and amateurs alike.
The Roland A-49 offers highly portable and professional action controls.
It is a lightweight, slim-line controller that features a premium-grade keyboard raising the bar for its class.
Review
The Roland A-49 measures 32.94 by 7.19 by 3.31 inches and weighs around 5.51 pounds.
Although it comes in a pearl white finish, this particular product has a matte black finish.
The side panel has a glossy black plate segregating the rest of the controls from the keyboard.
The Roland A-49 has 49 premium-grade, full-size keys, providing four full octaves of piano-style control.
In addition to the keyboard, the Roland A-49 has two knobs, a pitch bend and modulation lever, a transpose button, Octave Up and Down buttons, and a D-BEAM controller.
The D-BEAM controller uses hand gestures for applying various sound effects or controlling several parameters.
You will find three buttons beside the D-BEAM controller: Pitch, Volume, and Assign.
Pressing these buttons will divert the D-BEAM's functionality for the pressed button.
For transposition, the Roland A-49 includes indicator LEDs right beside the transpose and octave buttons.
Additional buttons include a Function button, a SuperNATURAL button, and two sound switch buttons.
Rear panel connectors include a sustain pedal jack, an expression pedal jack, a MIDI Out port, and a USB computer port.
The Roland A-49 draws power from your computer through the USB connector.
If you are using a laptop, the Roland A-49 may have problems with an inadequate power supply.
The MIDI Out connector allows you to attach a secondary MIDI device that can receive messages and commands from the Roland A-49.
You can also use the sustain pedal jack for a footswitch pedal.
2. Novation Impulse-49
Novation Music offers the Impulse Series controller keyboards as its most expressive keyboards.
The Novation Impulse-49 boasts ultra-responsive controls that can perfectly adapt to any instrument you want to play.
It has Novation's High Rate Scan (HRS) technology for capturing every nuance of a user's production inputs.
Review
The Novation Impulse-49 has dimensions of 33.3 by 13.0 by 3.94 inches and weighs around 11.02 pounds.
The Novation Impulse-49 has a metallic gray finish and red accents on both ends.
Its color scheme makes it a unique option compared to the other alternatives available here.
The Novation Impulse comes in 61, 49, and 25-key variations.
While the 25-key model sacrifices the faders, this 49-key model has all the functions of the larger 61-key variant.
The 49 keys of the Novation Impulse-49 integrate a semi-weighted action and aftertouch, making the keyboard ultra-responsive.
With the HRS technology, the device scans the keyboard 10,000 times every second to capture unique inputs.
Compared to other devices on this list, the Impulse-49 packs the most controls.
It has nine 45mm sliders, eight rotary encoders, eight pressure-sensitive drum pads, modulation and pitch wheels, octave selection buttons, and a transport center.
Nine press buttons correspond to each of the 45mm sliders, and a Mute-Solo button sets the primary function of the press buttons.
The central panel offers a multifunction LCD that shows information contextually.
The LCD will give you the most useful information depending on which controls you are currently using.
Below the LCD, you will find six Template Edit buttons comprising Keyboard, Controls, Zones, MIDI Channel, Setup, and Shift.
A data knob beside the LCD functions as a menu navigation tool, and it doubles as a press button for the Enter command.
Below the data knob, you will find plus and minus buttons for use in conjunction with the various menus, especially for navigation.
Addition controls include Plug-in and MIDI buttons for the rotary knobs, Mixer and MIDI buttons for the sliders, and Roll and Arp buttons for the drum pads.
Rear panel connectors include a USB port, a sustain pedal jack, an expression pedal jack, a MIDI In port, a MIDI Out port, and a Kensington security lock slot.
The Impulse-49 draws power through the USB port from a computer or a wall outlet adapter.
3. Alesis VI49
The VI49 is one of the more advanced USB-MIDI keyboard controllers from Alesis.
It lets you manipulate plugins and virtual instruments using hands-on controls, open and close virtual synthesizer filters, adjust mix volume levels, and activate countless effects.
The Alesis VI series comes in three versions: the smaller 25-key variant, the larger 61-key model, and this one.
While all of these three versions have the same left-side controls, the knobs and corresponding buttons vary by number.
Review
The Alesis VI49 measures 37.6 by 12.4 by 4.5 inches and weighs 11.0 pounds.
It is a perfectly rectangular device with a primarily black finish and backlit buttons, most of which resemble the signature blue LED of similar Alesis devices.
The Alesis VI49 features 49 full-sized, square-front, semi-weighted keys, all equipped with aftertouch.
Two backlit analog wheels for pitch and modulation and 16 RGB-backlit trigger pads have a very neat layout on the left panel of the device.
The 16 trigger pads are velocity-sensitive, and the RGB lighting serves as feedback for beat production and clip launching.
Assignable blue-backlit knobs and buttons line the top edge of the Alesis VI.
With the VI49, you will get 12 knobs with a 270-degree rotation and 36 buttons.
On the upper left portion of the keyboard, the VI49 has the Alesis logo with a three-digit LCD and twelve more buttons.
The six lowest buttons in this section are the Transport buttons.
Above the Transport buttons from left to right, you will find two Octave buttons for Octave Up and Octave Down, a Tempo button, a roll button, and up and down buttons for preset functions.
The rear panel connectors include a DC power input port, a power switch, a USB port, a MIDI Out port, and a sustain pedal port.
If you do not want to use a computer in your setup, you can use the DC power input port to draw power from a wall outlet.
However, you have to make a separate purchase for the power adapter.
Alternatively, the USB port doubles as a data transfer connector and a power supply line through a computer.
4. Korg microKEY Air-49
The Korg microKEY Air-49 features untethered portability with its use of Bluetooth and simple batteries.
With the Korg microKEY Air-49, you can enjoy the freedom of having different configurations and completely wireless setups.
The Korg microKey Air Series comes in four different variants, all looking very similar but having different lengths and control features.
Review
The Korg microKEY Air-49 only measures 27.91 by 5.47 by 2.13, and it only weighs 2.21 pounds, making it the most compact option on this list.
If you are looking for a simple, no-fuss keyboard controller, the microKey Air-49 is as minimalist as it can get.
Everything is black, except for the white lower keys.
The microKey Air-49 is extremely slim for a four-octave keyboard that it literally occupies a tiny space.
The microKey Air Series sets the epitome across the board when it comes to highly portable keyboard controllers.
It connects to an iPad, iPhone, Mac, or PC through low-energy MIDI Bluetooth, and it can run for 30 hours with just two AA batteries.
With extreme portability comes reduced controls and features.
If all you're looking for analog wheels and a full four-octave keyboard controller, the Korg microAir-49 pretty much does the job.
It has 49 natural-touch, velocity-sensitive mini-keys, a pitch bend wheel, a modulation wheel, and two octave shift buttons.
For the microKey Air-49, up to three full-octave shifts are allowed in both directions.
You will find a LED indicator in between the two octave buttons.
This indicator blinks blue while waiting to connect through Bluetooth, and it lights up red if connected through USB.
After pairing, the indicator remains a steady blue light.
If the battery level is low, the indicator will light up purple.
The side connector panel holds a switch for choosing between a wired or wireless connection.
Aside from having minimal controls, the Korg microKey Air-49 also has minimal connections.
The side connector panel only has a USB port and an assignable footswitch pedal jack.
5. Novation Launchkey-49 Bundle
The Launchkey Series is Novation's intuitive and fully integrated MIDI keyboard controllers for use in Ableton Live.
It provides unrivaled access to Capture MIDI, arm, track, quantize, loot, and click functions in the Ableton Live app.
You'll also find many Ableton Live compatible devices, such as Ableton compatible controllers.
On another note, Launchkey features standalone operation, which means it's the perfect controller for creating music with or without a computer.
Like the Korg microKey Air, the Launchkey comes in four different variants, but all of the Launchkey models only vary in the number of keys.
Review
The Novation Launchkey-49 measures 31.06 by 10.16 by 3.03 inches and weighs 9.2 pounds.
It features a neat layout with a black finish that emphasizes the keys and the colorful trigger pads.
With the Launchkey-49, you can enjoy creating music with 49 velocity-sensitive piano keys.
You will find a spring-loaded pitch wheel on the left side of the keyboard, along with a modulation wheel and plus-minus buttons for full octave transpositions.
The pitch wheel is spring-loaded so that you can easily return it to the center position just by releasing it.
The octave buttons allow semitone transposition if you press them simultaneously.
Connectivity features include a USB port, a DC power input port, a sustain pedal jack, and a Kensington security lock slot.
The USB port allows connections with MacOS, Windows, and iOS.
If you want to power the Launchkey-49 externally, you can use the DC power input port, but you need to purchase a power adapter separately.
The top panel offers even more controls.
You will find a LED display, two track buttons, nine sliders, nine press buttons, three InControl buttons, eight knobs, 16 pads, and transport controls from left to right.
The two round buttons between the transport buttons and pads are configurable for custom functions in iOS or any compatible DAWs.
The 16 launch pads are also velocity-sensitive.
Final Recommendation
Among the options available here, we choose the Alesis VI49 as the best 49 key MIDI controller.
With all of its features, it provides the best value for money against its alternatives.
It also provides a very clean, well-thought-out arrangement that makes music production a breeze.
While its functions allow professional-grade inputs, the Alesis VI49 can be highly entertaining, even for a beginner.