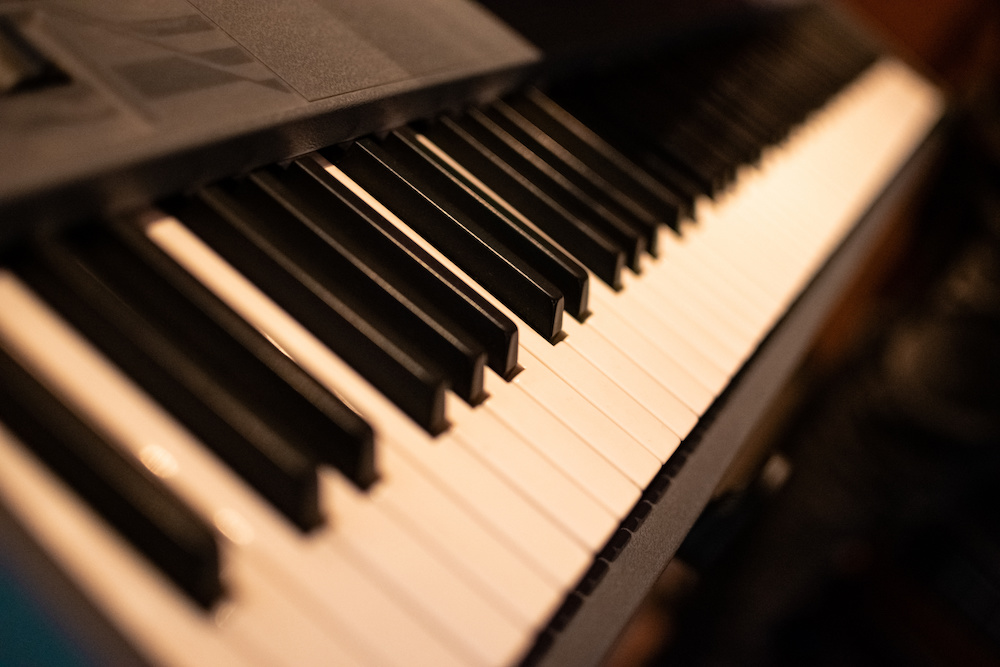 Best 61 Key MIDI Controllers of 2021: Complete Reviews With Comparisons
When it comes to producing a good pitch range with a MIDI controller, it's best to invest in a 61-key keyboard.
These devices are designed to give you both portability and a wide range of sounds.
The only problem is that there are so many different options on the market, which means not all MIDI controllers will be high-quality.
Additionally, some models won't include extra ports, compatibility, or software.
To help you out, we narrowed down the selection to five of the best 61 key MIDI controllers.
Comparison Chart
Alesis VI61 MIDI Keyboard Controller
Roland A-800PRO-R 61-key MIDI Keyboard Controller
Novation Impulse 61 USB Midi Controller Keyboard
AKAI Professional MPK261 MIDI Keyboard Controller
Korg 61-Key Midi Controller
Best 61 Key MIDI Controller Reviews
1. Alesis VI61 61-Key USB MIDI Keyboard
The Alesis VI61 is an updated USB/MIDI controller that allows you to customize your music fully.
This particular model has more pads, knobs, and buttons to enable you to compose your own unique tunes.
Aside from that, it includes semi-weight and velocity-sensitive keys to help produce a realistic sound.
Other features are the addition of Octave Up and Down buttons to help you reach full melodic range using bass, chords, and other melodies.
Overall, it is an excellent unit perfect for intermediate and professional musicians.
Review
With all these improvements from previous models, it is best to see what each feature does.
Here is a quick breakdown of the Alesis VI61 model:
61 Full-Sized Keys and 16 Pads
As the name suggests, it comes with 61 keys.
These aren't your regular synth keys, though; instead, they resemble the size of piano keys.
Because of this, you will have more room to embrace your creativity and not end up playing two keys at the same time.
The keyboard also includes 16 velocity-sensitive RGB trigger pads that produce clips or finger drums.
Additionally, there are pit and modulation wheels to help enhance your performance.
The Alesis VI61 seamlessly integrates with all music software.
Due to this, there is no need to install drivers or use specific software.
All you will need to do is plug in the USB device, and it will automatically sync to any Mac or PC.
Aside from the pads, there are also 16 assignable knobs and 48 buttons.
These allow you to install FX sounds and manipulate them using plug-ins and other virtual instruments.
Other features include adjustable volume, effects, tweak parameters, and open and closing filters.
The Alesis hardware includes Unlimited Busses, Elastic Time, and Elastic Pitch.
Along with that, it also has Offline Bounce and 1GB of cloud storage.
Lastly, it is also compatible with AIR Music Tech Virtual Instruments.
The product includes two premium virtual instruments, the Mini Grand and the DB-33 Tonewheel Organ.
VIP 3.0 Upgrade Ready (Optional)
If you are looking to pair the keyboard with another controller, you can add a premium production VC49 controller.
This allows you to expand your controls to your VST instruments and collection.
Not only that, but you'll also gain access to more virtual instruments, effects collections, and the software will seamlessly integrate with other software.
2. Roland A-800PRO-R 61-Key MIDI Keyboard
The Roland A-800PRO-R is a studio-quality MIDI keyboard that is sure to impress.
This particular model has increased sensitivity and a wide range of dynamics.
Additionally, it also includes easy connections and has side panel ports.
It features a complete digital audio workstation and dynamic pads ergonomically designed to give you access to all controls at your fingertips.
As for the quality, this keyboard is ready for practice or on-stage performances.
The only downside we've found is that it is a bit challenging to set up.
Review
As you can see, this Roland MIDI keyboard is an excellent device that is worth all the hype.
Let us take a closer look at all the features of the A-800PRO-R:
61 Velocity-Sensitive Keys
In this keyboard, you will find 61 highly velocity-sensitive keys that include channel aftertouch.
Each of the keys is rounded, which provides quicker response reactions and enhanced performance.
This also allows you to glissando, plus it eliminates vertical shake and low mechanical noise.
The A-800PRO-R MIDI keyboard comes with over 45 assignable controls: nine knobs, four buttons, nine sliders, and transports.
Aside from this, the controller also provides pitch bends and modulation sticks.
There are eight velocity-sensitive dynamic pads you will find on this keyboard.
Each of these pads triggers a different pre-programmed sound.
Alternatively, you can customize the sounds and program them to use your favorite DAW or virtual instruments.
This model automatically connects to any device via a USB connection.
There is no need for drivers or to install any software so that you can start utilizing this device's potential.
The MIDI controller is highly compatible and works with DAW, Mac, and PC.
This means you can use it with devices running on different operating systems, such as Windows 7 or Mac OS X Snow Leopard.
Roland-Quality Manufacturing
The Roland brand has been crafting keyboards for more than 30 years.
With this in mind, the A-800PRO-R has been specially designed to have a superior key mechanism and increased sensitivity, which produces a better sound.
3. Novation Impulse 61 USB MIDI Keyboard
The Novation Impulse is a precision keyboard that provides you with complete control, making it perfect for professional use.
This particular model consists of a new updated version of Novation AutoMap control software.
The Impulse also features backlit drum pads, roll beats, launch clips, and transport and plug-ins.
Pair this with the free software to Ableton Live Lite and the Loopmasters sample library, and you've got yourself a good deal.
The library has more than four GB of royalty-free samples, making the Novation Impulse a worthy investment for any professional composer.
The only downside is that the automapping is very confusing to put together without using a guide.
Review
What other features does the Novation Impulse have?
Here is a closer look at the Novation Impulse 61 USB MIDI Keyboard's features:
The provision keyboard features semi-weighted keys that have aftertouch.
Aftertouch is essential because it adds a third dimension to your playing, such as vibrato.
On top of that, the keyboard connects to other instruments and software.
Full DAW/Plug-in Control Surface
The DAW control surface includes eight knobs, nine faders and buttons, and an LCD digital screen.
A DAW control will give you complete control over additional plug-ins.
It also gives you instant control of your mixer, transport controls, and other instrument effects.
Novation is compatible with most music software, allowing you to use it with almost any program.
This includes major DAWs such as Reason, Pro Tools, Logic, Cubase, and Ableton Live.
You can also pair it with Automap 4 and other third-party plug-in instruments and effects, such as Native Instruments, Waves, and FXpansion.
Automap 4 Control Software
You will find that the Novation Impulse has an automap control software to help control the knobs, faders, and buttons.
This can be a helpful tool because of the instant mapping of controls while using DAW and plug-ins.
In this model, there are also eight drum pads programmed to be velocity-sensitive with an aftertouch.
They are all backlit with three LED colors, which makes them excellent for performances.
You can use the drum pads to create warping arpeggios, rolling beats, and launching clips.
Impulse is also USB-powered, which means you can connect pedal inputs and MIDI in/out ports to the controller.
The MIDI controller comes with a three-year manufacturer's warranty, which shows how confident the brand is of its product's durability.
4. AKAI Professional MPK261 USB MIDI Keyboard
The AKAI Professional MPK261 is suitable for in-studio play and live performances.
It comes with 61 semi-weighted keys which are all full-sized. This makes the keyboard operate like a professional piano.
To add even more to the performance, it also features onboard Octave Up and Down controls perfect for bass lines, piano harmonies, and solo leads.
We've found two main issues with this model, though.
First, the keys may become stiff; and second, the design is pretty bulky if you want to use it on the go.
Review
So far, this sounds like a decent deal when it comes to performance.
However, let's take a closer look at what the AKAI Professional MPK261 has to offer:
The board includes 61 velocity-sensitive semi-weighted keys.
On top of that, the keys are also full-sized, which makes the keyboard feel like a piano.
The keys are also sensitive enough to pick up every subtle nuance of your performance using aftertouch technology.
The MPC style pads include 16 RGB pads and four banks of 64 pads.
This is perfect for musicians who frequently use loops, one-shots, melodics, or triggering samples.
To help provide you with more stylistic music options, the AKAI Professional has 24 assignable Q-link controllers.
There are also eight control knobs, faders, and switches, which make it easy to use the product with your preferred DAW.
You also get to enjoy virtual instrument mapping, which helps boost your performance.
Studio Centerpiece Effect
The keyboard pairs well with peripheral MIDI equipment by connecting via USB.
You will also find that it comes equipped with five-pin MIDI input and outputs.
As such, you can easily set it up alongside your existing equipment.
The MPC mainstay controls include Time Division, Tap Tempo, MPC Full Level, Arpeggiator, and MPC Note Repeat programs.
Comprehensive Production Software Package
The keyboard comes with two programs, Ableton Live Lite and Hybrid 3, and both are Mac and PC compatible.
MPC 2.0 Upgrade Ready (Optional)
Additionally, the MPC Software 2.0 offers an upgraded pack for your MPK to enhance your capability and functionality.
With it, you will gain access to 128 track sequences, real-time stretching, clip-launching, and so much more.
5. Korg microKEY Air
The Korg 610Key MIDI Controller is the latest convenient and versatile choice for beginners.
It is easy to use and includes all the features any aspiring musician could need in a MIDI controller.
What's more, its small profile is perfect for on-the-go playing.
Upgrades from previous models include extended battery times, high compatibility, and also increased key sensitivity.
Overall, it is perfect for anyone needing a solid portable MIDI controller.
The only downside we've found is that this particular model isn't compatible with iOS 13, which could be a problem for many musicians.
Review
The Korg microKEY makes many promises, but do they all live up to the hype?
Here is a breakdown of the features:
The controller has high compatibility and can connect to iPads, iPhones, and Mac computers.
You will get a solid 15 to 20 hours of runtime using just two AA batteries to run this device.
The controller automatically syncs, and there is no need to install drivers or download any programs.
The plug-and-play design allows you to pair with any USB-compatible device automatically.
The full hands-on controls are added to help customize your performance.
The controls include a pitch wheel, mod wheel, and an octave selection.
Some of the features provide enhanced sensitive controls that play across six different octaves.
Additionally, the velocity-sensing keys also help add natural expression to all your music.
This produces a vibrato and gives you more range in the songs that you play.
For even more features to play with, the controller comes with a USB cable and software, like UVI, AAS, Propellerhead, and Ableton.
FINAL VERDICT
When it comes to choosing a MIDI controller, you never want to settle for less.
Getting a promising MIDI controller can help expand your performance and composing.
That's why you should always consider the controllers and what software you can use the MIDI controller with.
After reviewing these five MIDI controllers, we've found that the best 61 key MIDI controller is the Alesis VI61.
The problem is, it may be a bit too complicated for beginners.
If you are just starting out, we recommend going for the Korg microKEY Air instead.