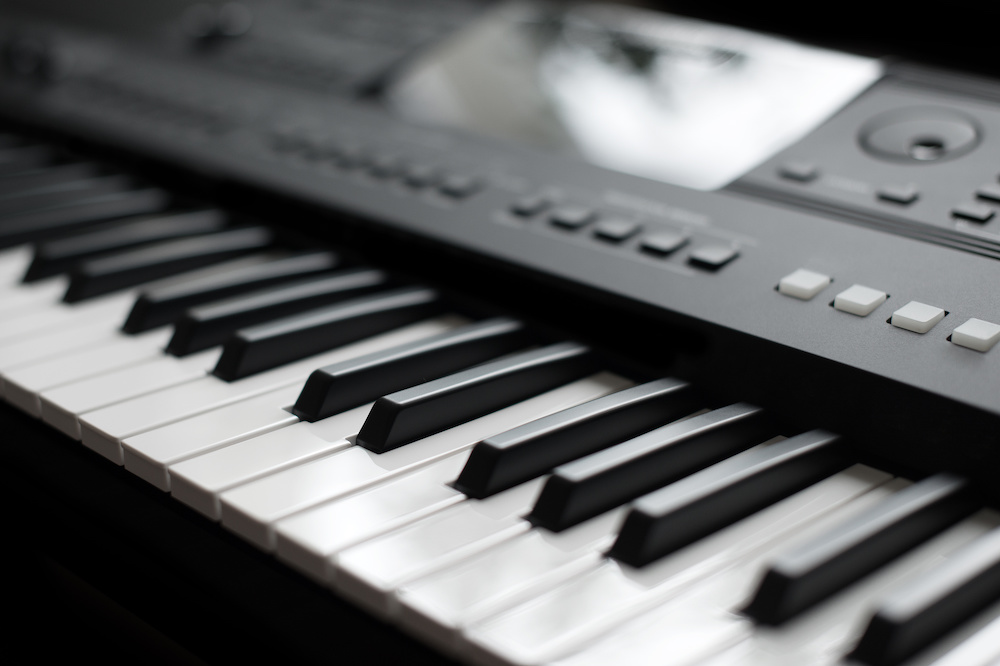 Best Beginner MIDI Controllers of 2021: Complete Reviews With Comparisons
Since we're here to discuss the best beginner MIDI controller, let's talk about MIDI first.
MIDI stands for Musical Instrument Digital Interface, a platform that connects various musical instruments, computers, and related audio devices.
This interface is essential for playing, editing, and recording music as it allows various musical instruments to communicate with one another.
If you want to start a hobby or dive deep into your musical passion, the following top MIDI keyboards can help get you where you want to be.
While some devices offer complicated controls for advanced users, these top-rated products are here for the aspiring musician.
Comparison Chart
M-Audio Axiom AIR Mini 32
Xkey AIR 25 Key Bluetooth MIDI Controller
lotmusic Worlde Panda MINI 
Alesis V25 and M-Audio SP-2
IK Multimedia iRig Keys 2
Best Beginner MIDI Controller Reviews
1. M-Audio Axiom AIR Mini-32 MIDI Keyboard Controller
Founded in 1988 under the name Midiman, M-Audio has become one of the top-rated names in the music industry.
Its music computer interfaces, studio integration solutions, and valuable musical hardware complement a wide array of musical instruments for professionals and beginners alike.
Review
The M-Audio Axiom AIR Mini-32 is a versatile MIDI keyboard controller capable of creating and enhancing sounds for a starter setup.
Released in 2013, the M-Audio Axiom AIR Mini-32 still makes for an excellent entry-level MIDI controller.
Measuring only 15.16 by 7.7 by 1.5 inches, it only occupies a small space in a beginner's studio.
Furthermore, the device only weighs 2.2 pounds, making it perfect for the on-the-go musician.
The M-Audio Axiom AIR Mini-32 has eight pressure and velocity-sensitive MIDI drum pads.
They're easily accessible and allow beats, loops, and grooves.
Enjoy double the capacity of these drum pads using the integrated pad bank switch.
It also has 32 great-feeling mini piano keys for programming synths and chord progressions.
For complete MIDI control, the M-Audio Axiom AIR Mini-32 sports eight encoders, five navigation buttons, and three dedicated transport controls.
All of these knobs and buttons amount to a comprehensive Digital Audio Workstation (DAW), enabling virtual instrumentation and effect control.
MIDI Controller Must-Haves
In addition to the DAW basics, the M-Audio Axiom AIR Mini-32 allows pitch bending, sound sustaining, and modulation for highly expressive outputs.
However, other devices with pitch bend and mod features use wheel controls.
The M-Audio Axiom AIR Mini-32 offers these controls in the form of buttons.
While the M-Audio Axiom AIR Mini-32 only has 32 keys, it boasts a transpose button, allowing you to use higher or lower octaves of the entire note range.
The Axiom AIR Mini-32 uses M-Audio's HyperControl technology.
HyperControl automatically maps the Axiom AIR Mini-32's many controls and matches it with the most commonly accessed functions in many of today's top audio software.
Additionally, the M-Audio Axiom AIR Mini-32 is a Class Compliant device, which communicates with a computer using the built-in operating system.
You won't be needing any drivers unless you don't upgrade your system drivers regularly.
One thing we don't like about the M-Audio Axiom AIR Mini-32 is the absence of a traditional MIDI connection.
The device only offers a MIDI connection through a single USB port.
For available software, the M-Audio Axiom AIR Mini-32 integrates support for the Virtual Instrument Player (VIP), Pro Tools|First, Ableton Live Lite, and Ignite.
2. CME XKey AIR 25 MIDI Controller
If you have a taste for mobile devices, the CME XKey AIR 25 MIDI Controller can be as mobile as it can get.
It sways away from many features available to other controllers, but it focuses on portability and playability.
Review
The CME XKey AIR 25 measures 15.27 by 5.31 by 0.62 inches, but it packs MIDI functionality even with its ultra-slim profile.
It only weighs 1.34 pounds, making it even more portable than the M-Audio Axiom AIR Mini-32.
If you get the CME XKey AIR 25 MIDI Controller, you'll have access to 25 full-sized synth-action keys with a polyphonic aftertouch feature.
These full-sized keys are velocity-sensitive, enabling you to create sounds with varying softness and loudness using every key.
The CME XKey AIR 25 MIDI Controller has a total of six buttons offering added functionality.
Two buttons are for transposing full octaves up or down, and two more allow plus or minus controls for pitch bend.
You will also find a button for modulation and sustain functions.
Plug-and-Play Functionality Across All Platforms
Like the M-Audio Axiom AIR Mini-32, the CME XKey AIR 25 MIDI Controller also features automapping.
Although CME designed it for MacOS and iOS, it also allows a simple plug-and-play pairing with PC, Android, and Linux.
While the CME XKey AIR 25 MIDI Controller can easily function with countless computer programs, it comes with a bundled audio software called the XKey Plus App.
This device also works exceptionally well with major DAWs.
The MIDI input and output controls for this device transfer through a Micro USB port or Bluetooth.
This device offers exceptional Bluetooth connectivity, making it one of the sleekest Bluetooth controllers available in the market.
However, the built-in Bluetooth puts this device at a higher price point even with its limited controls.
If you don't need Bluetooth, this device comes in a more affordable wired version.
You can also check out our MIDI keyboards below the hundred-dollar mark.
In addition to its slim profile and lightweight construction, this device packs a built-in rechargeable lithium battery.
Its low-energy Bluetooth transceiver allows more than 10 hours of battery life on a single charge, allowing you to access or create music even outside the studio.
Furthermore, with its dimensions, you can carry it around inside any regular-sized backpack.
Last but not least, the CME XKey AIR 25 MIDI Controller has a pretty solid construction.
Unlike some of our other options, CME built its frame using brushed aluminum, the same material Apple uses for its MacBooks.
3. Worlde PandaMINI Keyboard MIDI Controller
Worlde is a Chinese-based company creating MIDI controllers, sound modules, electronic organs, digital pianos, and electronic drums.
One of Worlde's entry-level MIDI controllers is the PandaMINI.
Review
While the Worlde PandaMINI already has a successor, it can still play an important role in any beginner's musical arsenal.
The Worlde PandaMINI Keyboard MIDI Controller measures 12.6 by 7.5 by 1.6 inches and weighs a little over two pounds.
The Worlde PandaMINI is a compact MIDI controller with 25 velocity-assignable keys and eight RGB-backlit pressure-sensitive pads.
For a funkier studio experience, the PandaMINI RGB-backlit pads can change between seven colors.
Worlde packs the PandaMINI with a myriad of assignable features.
You can use the eight pads as normal drum pads, MIDI control change (CC) buttons, or Program change switches.
Knobs, Sliders, and Buttons
In addition to the keys and pads, the PandaMINI has four knobs, four sliders, and eight control buttons.
All of the knobs and sliders are assignable, giving you the freedom to choose which keys and pads to assign to each.
The eight control buttons include CC Mode, modulation, bank, program switch, pitch down, pitch up, octave down, and octave up.
You can use the bank button to create up to four banks for a more versatile overall control.
The PandaMINI offers plug-and-play functionality with Windows, Mac, and iOS devices.
It does not require any drivers for installation, and you can enjoy all of its features after a quick setup.
For connectivity, the PandaMINI supports a hot-plug connection and a USB 2.0 interface.
It comes with its own downloadable user interface and offers support for Cubase, Garage Band, FL Studio, Pro Tools, Everyone Piano, Studio One, and Logic Pro.
4. Alesis V25 MIDI Controller and M-Audio SP-2 Sustain Pedal Bundle
Alesis is another reputable brand when it comes to MIDI controllers.
It offers a wide range of professional-grade devices, but it does not fall short on solutions for beginners.
While we include the Alesis V25 MIDI Controller in this shortlist, we also pair it with the M-Audio SP-2 Sustain Pedal.
Review
If you want to start messing around with musical electronics, this bundle can give you great value for your money.
The Alesis V25 is a USB MIDI keyboard controller that measures 24.6 by 9.6 by 4.5 inches and weighs 5.5 pounds.
The Alesis V25 has eight velocity and pressure-sensitive backlit pads for clip launching and beat production.
It also has 25 full-sized, square-front keys, giving the feel of actual piano keys.
Knobs, Wheels, and Buttons
Using the music software of your choice, you can assign functions to four knobs and four buttons.
Additional buttons include octave up and octave down for enabling access to a full keyboard range.
The Alesis V25 is one of the two options on the list with analog wheels for pitch and modulation.
While the Alesis V25 does not have a built-in sustain function, it has a 1/4-inch TS input port.
You can use this port for the included M-Audio SP-2 Sustain Pedal.
The SP-2 offers a genuine piano-style sustain control with its chrome foot pedal, and it doubles as a polarity switch for MIDI CC control.
The Alesis V25 comes with the downloadable Ableton Live Lite, Pro Tools, Eleven Lite, Mini Grand, DB-33, and Xpand!2 AIR Music Tech software.
Choose one from these compatible applications and plug your device into your computer to start your musical creations.
The Alesis V25 draws power through a USB connection, and it supports USB-MIDI connectivity for Mac and PC.
5. IK Multimedia iRig Keys 2 Universal MIDI Keyboard Controller
IK Multimedia also offers a simple approach to musical creations for the absolute beginner.
At its higher price point, the iRig Keys 2 is a more versatile MIDI controller.
Review
The iRig Keys 2 measures 20.4 by 5.5by 2.13 inches, and it weighs 1.92 pounds.
It is more compact and lightweight than the Alesis V25, but it is larger than all the other options.
With the most number of keys, the iRig Keys 2 stands out among the rest having five keys more than the M-Audio Axiom AIR Mini-32.
These 37 keys are velocity-sensitive, allowing you to create louder or softer sounds with every press.
However, like the CME XKey AIR 25, the iRig Keys 2 does not have any drum pads.
Knobs, Wheels, and Buttons
Among all the choices, the iRig Keys 2 is the only device with a knob for controlling the audio volume.
Next to the volume knob, you will find two buttons for transposing the keys to higher or lower octaves.
The device also has two buttons for shifting up and down between programs.
One more button enables four configurable setups, similar to the bank feature on other devices.
At the center of the top control panel, you will find an assignable data push encoder knob.
Four more assignable knobs line the end of the control panel.
These four knobs can have up to eight functions with the help of a sixth button that shifts the knobs to a secondary role for each.
Finally, the device has two analog wheels on the left side, one for pitch bending and another for modulation.
IK Multimedia does not fall short on free applications to use with the iRig Keys 2.
The device is compatible with PC, MacOS, iOS, and Android, and each operating system pairs with several bundled applications.
The iRig Keys 2 includes micro-USB cables for connection to USB-A, USB-C, and Lightning ports.
It also comes with a 2.5mm TRS male-to-MIDI female adapter for its MIDI input and output jacks.
Additional jacks include a 1/8-inch TRS jack for headphones and a 1/4-inch TRS jack for an external pedal.
Final Recommendations
All of these devices can offer any beginner the simplicity of operation and setup.
They all pack easy-to-understand features that can help you start creating music in style.
Anyone looking for a wide range of functionalities for a startup will find that the best beginner MIDI controller is the M-Audio Axiom AIR Mini-32.
However, if you are a full-time Mac or iOS fan, then the CME XKey is a perfect choice.