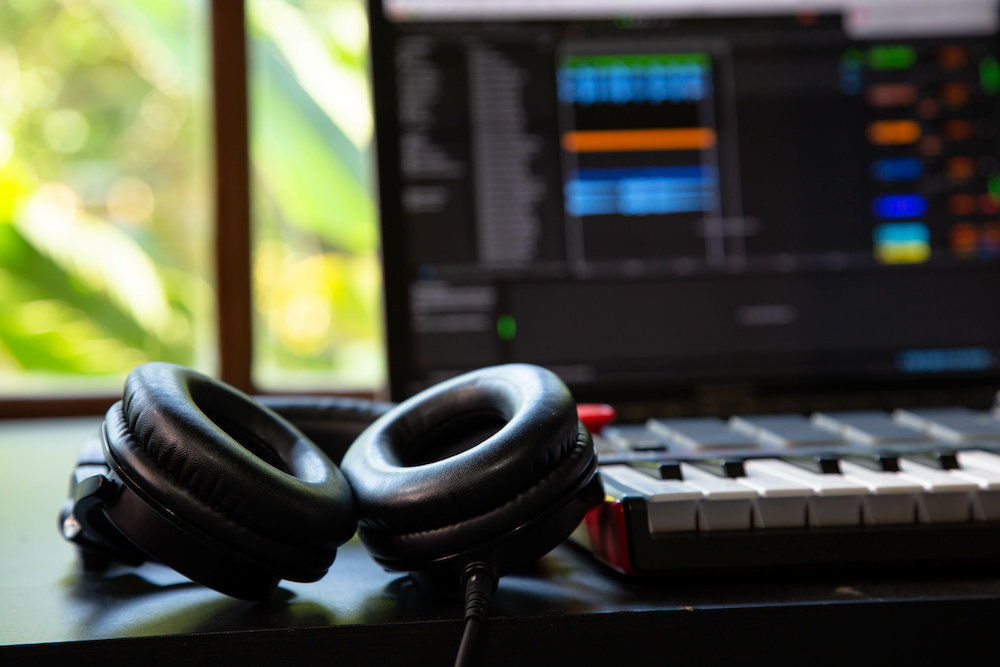 Best Cheap MIDI Keyboards of 2021: Complete Reviews With Comparisons
A MIDI keyboard is the center of any music studio setup, but investing in one can get rather expensive.
Luckily, over the past decade, more and more companies have created affordable options to help motivate beginners like you to make music at your own pace.
While having many cheap options is a welcome benefit, you will have to find one that can produce clean and clear sound and transport that sound safely to your USB device and PC.
To help you out, we've taken the time to try out several options to find the best cheap MIDI keyboards that are guaranteed to work.
Comparison Chart
Vangoa VGK610 Piano Keyboard
Midiplus EK490+ MIDI Keyboard Controller
Korg microKEY 25 USB MIDI Keyboard
Novation Launchkey Mini 25-Note USB Keyboard Controller, MK2 Version
Arturia Keystep Controller & Sequencer
Best Cheap MIDI Keyboard Reviews
1. Vangoa VGK610 Piano Keyboard
The Vangoa VGK610 is an electronic keyboard suitable for young girls.
It features a friendly pink design and labeled buttons to help new players learn how to use a keyboard.
Despite other keyboards from the brand lacking a full set of keys, the VGK610 includes 61 keys that provide a more comprehensive range of notes.
Other additions include more tools to help improve playing, such as a record button and built-in sounds.
Other improvements from other models include enhanced safety using fine artistry to produce soft edges.
Review
While the new model sounds impressive, we still want to take a closer look at the features.
We want to know if the Vangoa performs as well as it claims.
The keyboard includes 61 unweighted mini keys that are suitable for children's hands.
Due to the lightweight design, children will be able to use the keyboard without struggling to push the keys.
Additionally, the lightweight design also makes it easier to practice for extended periods.
The VGK610 also boasts built-in sounds, including 350 timbres and 350 rhythms.
Additionally, you will find that it comes with 30 demos and eight percussions.
There also is an added sustain and percussion button that allows you to play background sounds.
To help you master your craft, the VGK610 features three teaching modes, an instruction manual, and an adjustable rhythm tempo.
The microphone jack lets you plug in your headphones so that you can play quietly.
Keeping your child's safety while playing in mind, the VGK610 features a soft-edge design.
It is also made of environmental protection ABS plastic, making it lightweight and durable at the same time.
The cute pink design is perfect for inspiring young children to play with the keyboard.
Plus, it will greatly complement any young girl's bedroom.
2. Midiplus EK490+ MIDI Keyboard Controller
The Midiplus EK490+ is a convenient and portable MIDI keyboard controller for musicians of any level.
The EK490, which was the previous model, was good but was missing enhanced sound quality.
In comparison, you can expect higher-quality sound from the EK490+ because of its semi-weighted keys that help your music sound more realistic.
Additionally, you will find even more features to help improve composition and performance.
For one, this MIDI keyboard is compatible with Windows XP/7/8/10, Vista, and Mac OS X.
You can also pair it with other music software, allowing you to explore even more techniques.
The only downside is that the speaker quality may not be the best.
Review
The Midiplus EK490+ is already a massive upgrade from previous versions. Hence, it is highly recommended by professionals.
Here is a better breakdown of its best features:
This 49-note keyboard controller has semi-weighted keys that provide a more realistic feel for beginners and intermediate musicians.
It is meant to mimic a standard keyboard so that you can produce high-quality sounds while recording.
Though cheap, this keyboard is made to look professional thanks to its black and yellow tone.
Additionally, you will surely appreciate the LCD screen in between the multi-functional buttons.
Aside from the general MIDI format, you can use this keyboard with many other programs so that you can make professional music.
This keyboard controller features bend wheels, modulation wheels, and octave sliders that go up and down.
Each of the wheels allows you to customize music on the go without the use of complex equipment.
The keyboard runs on a 9V DC power outlet, via USB, or using six C-type batteries.
3. Korg microKEY USB MIDI Keyboard
More than anything, you will like that the Korg microKEY is lightweight, portable, and compatible with most computer-based software.
Due to its portability, it can be your reliable option for music creation on the go.
From previous models, the microKEY includes velocity-sensitive natural touch, which simulates a realistic piano sensation.
Aside from those features, the keys have been adjusted to be optimal for rapid phrase work.
Additionally, it boasts a waterfall-type keyboard that makes it easy to play glissandos.
Overall, this is the perfect pick for individuals looking to compose music.
The only downside is that the keys aren't full-sized, making it difficult to use as a performance keyboard.
Review
With all these excellent improvements, it's best to take a closer look at each feature, primarily since microKEY is known for having a handful of useable models.
Here is a quick breakdown of the microKEY keyboard:
There are 25 velocity-sensing keys that are programmed to mimic the sound of a real piano.
The transport key and mixer control allow you to use any of your preferred DAW or DJ software.
What's even better is that you will find no problems doing so wirelessly.
No Driver Installation Needed
There is no need to install any drivers besides the standard USB MIDI driver already provided by Windows and Mac OS X.
All you will need to do is plug the keyboard into a computer, and it's ready for use.
You can use this model to connect to a MIDI-capable iPad, iPhone, Mac, and Windows devices.
However, you will still need the Camera Connection Kit to connect it to those devices.
Another benefit of the Korg microKEY is that a damper pedal jack comes with the purchase.
You can use it to improve your playability and create longer-lasting vibrations.
The keyboard comes with a joystick and extra tap buttons to allow you to customize your performance.
You can also connect one type-B USB device to expand your custom control center.
The Korg microKEY is available in multiple key setups, such as 25, 37, 49, and 61.
4. Novation LaunchKey Mini Keyboard MK2
The MK2 is very compact and portable, but despite its smaller size, it can give you everything you need to make music on the go.
This particular model features full USB power that is also compatible with Mac and PC.
The MK2 includes professional trigger clips and allows plug-and-play compatibility, making it ideal for intermediate and professional use.
Additionally, this version contains knobs, extra controls, and other DAWs.
Overall, it's a highly complex model that is suitable for music composition.
As such, expect that the software it comes will require a bit of a learning curve.
Review
Even though this unit is recommended for intermediate and professional use, we want to understand what it offers.
Here is a complete rundown of the features and what this model provides:
The LaunchKey MK2 includes immediate integration, connecting to Ableton Live, FL Studio, Cubase, Logic, and even Pro Tools without installing drivers.
Two touch strips allow you to control pitch and mod your sounds.
Additionally, this keyboard comes with Strum Mode, which will enable you to strum chords while playing.
Each key is sensitive, and you'll even be able to connect your pedal for more added expression.
When you purchase this keyboard, you'll also get a free version of innovative software instruments and FX from known developers.
All software that comes with the keyboard is compatible with Mac and PC operating systems.
The software includes Ableton Live Lite, XLN Audio Addictive Keys, V Station, and Novation Bass Station.
Additionally, you'll receive 4 GB of Loopmaster samples.
As mentioned, this keyboard is compact and only includes 25 keys.
However, you will also find 49- and 61-key options available for this model.
This particular model includes both trigger clips and drums pads.
Each of the 16 pads is velocity-sensitive and multicolored, which makes them easier to identify from one another.
There are also eight knobs you can use to play different effects.
New and Extended Warranty
Novation previously only provided two years of warranty but has since then changed it to three years of coverage.
This just goes to show just how confident the brand is when it comes to the durability of the Novation LaunchKey MK2.
5. Arturia KeyStep Controller and Sequencer
The Arturia KeyStep is a portable controller and sequencer all in one that allows you to create music on the go.
Because of its many features, you will find that it is mostly designed for professional use.
This upgraded model includes new sequence length controls, an armed clock behavior, and updated tempo quantizing behavior.
Aside from that, it has updated arpeggiator octave behavior, randomness options, and a new MIDI control center.
Review
We've taken a closer look at the Arturia KeyStep and can conclude that its features exceed expectations.
Do these features live up to previous versions?
The KeyStep includes tools designed for composing music with any instrument.
You can use it with your preferred synthesizer, analog and digital devices, and a whole host of software.
This keyboard features CV/GATE outputs that help you edit pitch and gate signals.
Additionally, the keyboard allows you to edit velocity and aftertouch or even mods.
Utilize the MIDI DIN output to use hardware with different virtual instruments.
Alternatively, you can connect the USB to control plugins and virtual instruments on the computer.
There are three main modes you can use: sequencer, arpeggiator, and controller.
The sequencer mode lets you play and transpose polyphonic sequences of 64 steps and eight notes per step.
The arpeggiator will enable you to play a chord consecutively with eight playing directions.
Lastly, the controller lets you customize a 32 slim-key keybed with velocity, aftertouch, and reactive pitch.
Use the integrated socket to attach a sustain pedal, inputs and outputs, or even send a clock signal.
The MIDI Control Center program will enable you to edit and customize sequences while providing you with the ability to swap templates quickly.
Lastly, you can tweak the performance on the fly by changing velocity curves, altering behavior, and detecting clock signals.
FINAL VERDICT
Now that we've discussed the best cheap MIDI keyboards, you should have a better idea of what you're looking for.
Many of the keyboards on this list are compatible with specific software and devices.
It's important to choose a MIDI keyboard compatible with all of your equipment, or you won't be able to use it.
What's more, you should also choose one that correlates to your level of piano playing.
The highest-rated one on this list is the Arturia KeyStep Controller and Sequencer.
It is highly compatible and provides all the extras you could want to compose your own music.
Despite all that, it may not be suitable for beginners.
If you're new to this scene, you might want to check out the Midiplus EK490+ MIDI Keyboard instead.