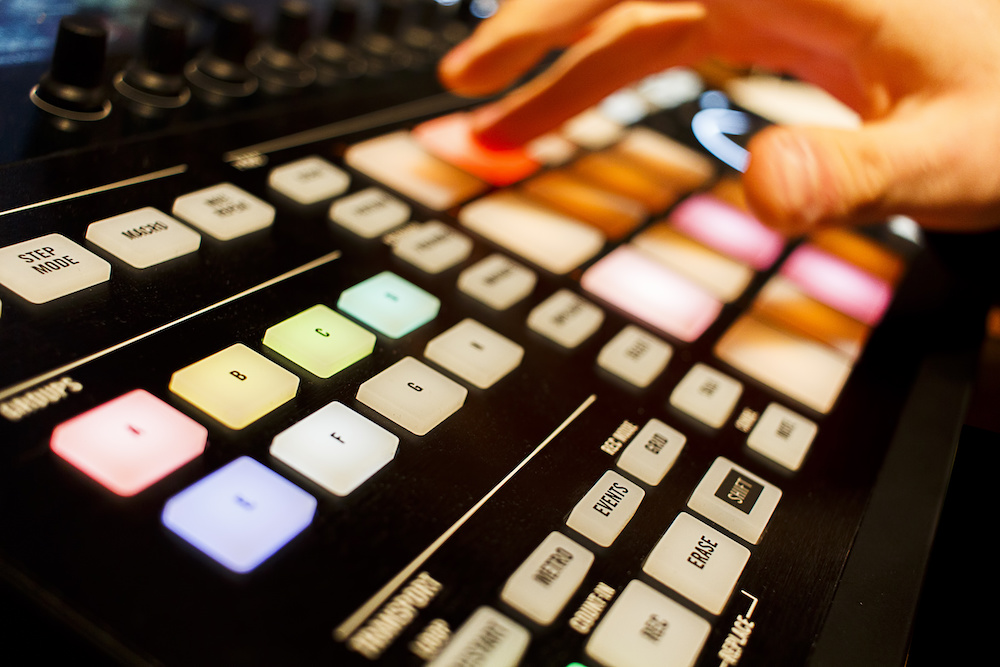 Best MIDI Controller for Lightroom of 2021: Complete Reviews With Comparisons
Out of all our articles for MIDI keyboards and controllers, this compilation is a bit of a segue.
Instead of presenting devices for audio production, manipulation, and recording, we will be tackling the best MIDI controller for Lightroom.
Over 90 percent of image editing with Adobe Lightroom involves adjusting parameters like highlights, exposure, contrast, brightness, and shadows.
With Lightroom, you make parameter adjustments using digital sliders that you will have to control using your mouse.
Wouldn't it be better if you could use physical controls to change these parameters?
This compilation will help you narrow down your search for the best MIDI device that would work well with Lightroom.
Comparison Chart
BEHRINGER MIDI Controller (XTOUCHCOMPACT)
ammoon EasyControl.9 World Portable Midi Controller
Korg Midi Controller (NANOKONST)
AKAI Professional MIDImix
BEHRINGER USB Controller (XTOUCHMINI)
Best MIDI Controller for Lightroom Reviews
1. Behringer X-Touch Compact
The Behringer X-Touch Compact offers physical controls for managing settings in a very comprehensive device.
You can pair it with your computer and use it for tweaking image parameters on Adobe Lightroom.
With the right mapping software, you can enjoy image editing without painstakingly triggering on-screen controls with a mouse.
Review
The Behringer X-Touch Compact is a MIDI controller that offers professional optimization with Lightroom workflows.
It measures 15.4 by 11.9 by 3.9 inches and weighs 8.2 pounds.
Given its wide-ranging features for sound production and audio manipulation, the X-Touch Compact is quite heavy for a portable device.
If you are working on a laptop or a tablet, it may limit mobility with your highly portable devices.
You can map the plethora of Adobe Lightroom parameters to the multitude of physical controls available to the X-Touch Compact.
All you need is the MIDI2LR freeware or any available convenient optimization software, such as LrControl or PFixer.
The X-Touch Compact's physical controls include 16 rotary/push controls, each with a LED collar, 39 LED-backlit buttons, and nine 100mm, touch-sensitive faders.
With the software of your choice, you can map all of these controls to your commonly used Lightroom parameters.
Connectivity and Power Draw
The Behringer X-Touch Compact uses a USB Type-B port for connection with a computer.
Unfortunately, Behringer did not design its control editor software for OSX.
If you want to use the X-Touch Compact for Lightroom in OSX, you will have to configure its Lightroom controls through the X-Touch Editor on a Windows PC.
Additionally, two USB Type-A ports at the back panel allow additional MIDI controllers for control assignment expansions.
You will find four more connectors on the back panel, but these are primarily for audio data transfers and pedal attachments.
The remaining connector is for drawing power from a wall adapter, which is interchangeable with the USB connection.
2. Worlde EASYCONTROL.9
The EASYCONTROL.9 is the brainchild of Worlde, a Chinese-based company designing and manufacturing audio equipment.
This model is one of the most portable MIDI controllers designed by Worlde.
With the EASYCONTROL.9, any creative adjustments with images in Lightroom are possible with some control tweaking.
Review
The EASYCONTROL.9 measures 13.6 by 3.9 by 0.8 inches and weighs less than a pound.
Nevertheless, it packs in many assignable controls that are easily mappable to Lightroom parameters using the Worlde Easy Control Editor software.
The assignable controls of the EASYCONTROL.9 include nine knobs, nine sliders, and 17 buttons.
With four banks, you can assign up to quadruple the number of assignments for the physical controls.
Like most MIDI controllers, you will find extra controls that may not be usable or mappable for Lightroom parameters.
Extra controls on the device unmappable to Lightroom include two buttons, a program change knob, and a general control slider.
Connectivity and Power Draw
The EASYCONTROL.9 has a USB Type-B port for connecting with a Mac or PC.
It also draws power through this USB port.
Don't like working with some of the complicated parameters in the Worlde Control Editor Software?
In that case, you can use the MIDI2LR freeware instead.
3. Korg nanoKontrol Studio
The Korg nanoKontrol can give you stress-free control of image-editing parameters in Lightroom using the Korg Kontrol Editor software.
It is a compact MIDI controller ideal both for desktop or mobile applications.
With the Korg nanoKontrol Studio and Lightroom, you can edit an image from start to finish without having to touch your mouse.
Review
Want a MIDI controller with comprehensive controls yet still maintain mobility? The Korg nanoKontrol Studio is an excellent option.
It only measures 10.94 by 6.29 by 1.29 inches and weighs only a pound, making it smaller and lighter than the Behringer X-Touch Compact.
You can fit it in a backpack with your laptop or compatible mobile device.
The nanoKontrol Studio has a refined and stylish all-black design with LED-backlit buttons.
Its full array of controllers has been primarily designed for DAW control and DJ performances.
However, it can be a photographer's reliable companion, too.
The Korg nanoKontrol Studio features 45 buttons, eight knobs, eight sliders, and a jog wheel.
All these controls are assignable to Lightroom parameters, except for some of the buttons that only work as transport controls for audio production.
The only obvious downside for control mapping is the small spacing between the buttons.
Since it has a lot of controls, getting used to having multiple assignments will take some time.
In such cases, you will want to label each of the controls.
The nanoKontrol Studio only offers nano spacing between its buttons, which means your labels should be as small as they can get.
Connectivity and Power Draw
While control layout and spacing could be a disadvantage, the nanoKontrol Studio provides a plus in connectivity and power supply features.
It can connect wirelessly to a PC, Mac, or iOS device using Bluetooth powered by two AAA alkaline batteries.
When staying put with a desktop PC or Mac, you can also opt to use the included USB cable for wired connections.
One of the most popular computer applications that can seamlessly map the Korg nanoKontrol Studio controls to Lightroom on a Mac is Knobroom.
You won't have to read any manuals, and all you need for making control assignments is the Korg Kontrol Editor.
4. Akai Professional MIDIMix
Akai Professional combines portability and durability in the MIDIMix, a lightweight and compact MIDI controller that seamlessly maps computer settings.
The Akai Pro MIDIMix has plenty of similarities with the Korg nanoKontrol Studio, but it comes at a much more affordable price point.
Review
The lower cost stems from the lack of Bluetooth connectivity for this device.
It may be as portable as the nanoKontrol Studio, but it does not allow wireless operation.
The Akai Pro MIDIMix measures 9.4 by 7.9 by 1.2 inches, almost the same dimensions as those of the nanoKontrol.
However, it is heavier at 1.5 pounds.
What the nanoKontrol packs in buttons, the Akai Pro MIDImix provides through twist knobs.
It has 24 knobs that can turn 270 degrees as well as nine faders and 16 buttons.
Two buttons allow bank assignments so that you can triple the configurable controls.
Two more buttons may not allow controls for Lightroom, depending on the software you use to map them.
The controls on the Akai Pro MIDIMix have enough spacing between them, making the placement of more legible labels possible.
Connectivity and Power Draw
The Akai Pro MIDIMix connects with Mac or PC and draws power through a single USB port.
All you need to tweak your physical controls is the MIDI2LR application.
Another added feature is a Kensington security lock slot.
The other options presented here do not have it, and it could be an excellent feature if you're always editing images on the go.
5. Behringer X-Touch Mini
Behringer offers a more portable solution to image editing hardware than its X-Touch Compact.
The X-Touch Mini features the advantage of generic MIDI controllers for easy function personalization.
While you can use it with LrControl or PFixer, it works pretty well with just the MIDI2LR app.
Review
MIDI controllers are primarily set to control parameters on digital audio workstations.
As such, using them for image editing software such as Lightroom can sometimes be tricky.
When using the MIDI2LR app to configure the X-Touch Mini for Lightroom, the initial setup may be complicated.
It would be easier to look for sample configurations online and then adjust the settings to your liking once you get the hang of it.
The good thing about the X-Touch Mini is its sturdy build.
Compared to the EASYCONTROL.9, which looks flimsy, it is portable and lightweight but feels very durable.
It measures 12.8 by 4.0 by 1.9 inches, and it weighs 1.1 pounds.
The X-Touch Mini has eight control knobs, 16 buttons, and a single slider.
You can assign adjustable Lightroom parameters to the knobs, including exposure, temperature, contrast, vibrance, saturation, and shadows.
On the other hand, you can map the buttons for cropping, spot removal, luminance, gradient assignment, brush selection, effects, and many others.
We like how Behringer leaves enough space between the buttons.
That way, you can print out a single label overlay from, which you can cut holes where the buttons will pop out.
Doing this will take away the difficulty of sticking individual labels for each of the controls.
Connectivity and Power Draw
For connectivity, the X-Touch Mini has a single USB 2.0 Type-B port.
All your physical control inputs travel through this connection as it draws power from your computer to the X-Touch Mini.
Why Use A MIDI Controller for Lightroom?
So far, Lightroom is one of the best programs for image manipulation from Adobe, Inc.'s arsenal.
However, working with Lightroom with your mouse can be very frustrating, especially when making minuscule adjustments to parameters.
Whoever thought of using the physical controls of the best MIDI controller for Lightroom has been a blessing for many artists, photographers, and image editors alike.
Instead of bending image parameter curves with a click and drag of a mouse, you can experience a more hands-on approach to image editing.
Editing in Lightroom with just a mouse requires opening parameter tabs and windows that may cover the image you are editing.
What's more, you only see the changes after making the adjustments in submenus or alternate tabs.
With a MIDI controller, you can simultaneously tweak image properties using a combination of knobs and sliders, just like what Lightroom already has on screen.
Another advantage of editing in Lightroom with a MIDI controller is that the changes happen on display in real-time.
Wrapping Up
After careful comparison, we recommend the Korg nanoKontrol Studio as our best bet for Adobe Lightroom.
It works perfectly well with the MIDI2LR application, and it also has the Korg Kontrol Editor that works seamlessly with Lightroom.
Two of its prominent advantages unavailable with the other options include compatibility with iOS devices and connectivity through Bluetooth.
If you don't need Bluetooth and you're fine with fewer controls, the Behringer X-Touch Mini is your next best option.
Its knobs and buttons are enough to cover the important parameter adjusters in Lightroom.
What's more, the superb layout is a plus for those who would like to label assignments.