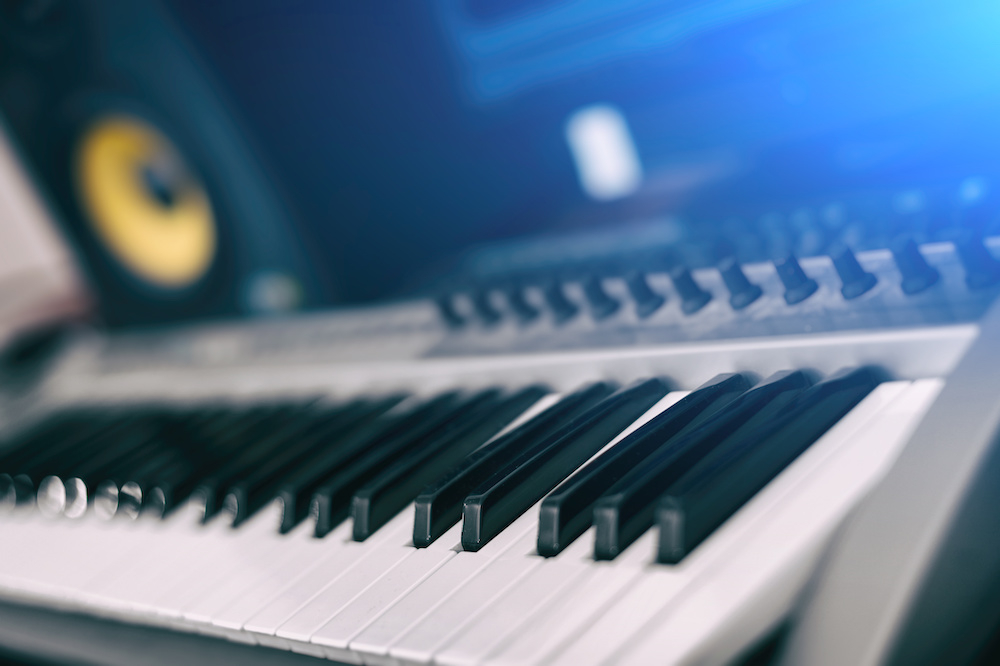 Best MIDI Controller for Reaper of 2021: Complete Reviews With Comparisons
Reaper is a constantly evolving digital audio production application for computers.
With it, you can create music using a highly flexible feature set coupled with renowned stability.
While Reaper offers so many options to work as a standalone digital audio workstation, it can do better with a compatible MIDI controller.
The best MIDI controller for Reaper amplifies its features and enables more expressive inputs from a creative musician.
In this compilation, we will be discussing five top-rated MIDI controllers for use with the Reaper application.
If you need one, check out the feature offerings here to narrow down your search.
Comparison Chart
Novation 49SL MkIII
AKAI Professional MPK225
IK Multimedia iRig Keys 37 
Arturia KeyLab MKII 61 
Nektar DAW Controller P6
Best MIDI Controller for Reaper Reviews
1. Novation 49SL MKIII
A professional-grade application such as Reaper can work better with a similarly competitive MIDI controller.
The Novation 49SL MKIII offers human user interface (HUI) compatibility with Reaper and many other digital audio workstations (DAWs).
Review
The highly-regarded 49SL MKIII offers a compelling feature set for a plug-in-based MIDI keyboard controller.
For its comprehensive controls, it is quite compact compared to other similar devices from other brands.
The device is quite heavy, but its comprehensive feature set more than makes up for it.
It measures 32.17 by 11.81 by 3.94 inches, and it weighs 14.99 pounds.
The 49SL MKIII features 49 velocity-sensitive, synth-style, semi-weighted, and individually sprung keys.
These keys lie on a keybed with RGB LED backlighting, enabling stage performances in the dark.
Eight continuous rotary knobs, eight sliders, 16 assignable buttons, and 16 RGB-backlit velocity-sensitive drum pads are just the obvious programmable controls you will find on the 49SL MKIII.
You will also find four launch buttons, six dedicated Transport controls, two transpose buttons, two Track buttons, and five RGB TFT LCD screens.
The 49SL MKIII also has RGB-backlit pitch bend and modulation wheels.
The built-in sequencer allows the use of 64 sessions, having eight tracks each with eight patterns per track.
With the system sequencer, 16 steps are allowed per pattern for 128 per track.
The sequencer allows real-time recording of notes with velocity and automation and auto-quantizing of notes to steps.
Furthermore, it allows automation of up to six events per step, and you can automate all assignable controls with up to eight automation lanes.
The 49SL MKIII offers a mouthful of connectivity features on its back panel.
You will find the main power switch, a DC power jack, a USB Type-B socket, three DIN MIDI sockets, three pedal jacks, and seven 3.5mm TS jacks.
Each of the three MIDI sockets allows connections for MIDI In, Out, and Out2/Thru.
The three pedal jacks are for Sustain, Expression, and Footswitch.
One of the 3.5mm TS jacks is for a Clock Out connection.
The remaining six jacks are for two Control Voltage, two Gate, and two Modulation connections.
The rear panel also offers a Kensington lock slot on its end opposite the several connectors.
2. Akai Professional MPK225
If the Novation 49SL MKIII seems too complicated for your taste, the more manageable Akai Pro MPK225 might just be what you need.
With the MPK225, you can expect seamlessly deep integrations with popular computer audio software, including Reaper.
Review
The MPK225 is fully packed with a wide-ranging interface for operating effect plugins, virtual instruments, and DAWs.
Nevertheless, it is another compact, high-performance keyboard controller.
It only measures 19.25 by 11.75 by 3.63 inches and weighs 6.09 pounds, making it easily transferrable between a home studio and a stage setup.
The MPK225 has a keyboard with 25 velocity-sensitive keys controling a 10-octave range using the Octave Up and Down buttons.
To the left of the keyboard are the pitch bend and modulation wheels.
Four Mode buttons include Preset, Edit, Global, and Program Change.
For even more functions, use the assignable controls, which include eight encoder knobs, four switches, and eight trigger pads.
You will also find ample use for the five dedicated Transport buttons and four Pad Bank buttons.
Additional dedicated control buttons include Tap Tempo, Arpeggio switch, Latch, Time Division, Control Bank, and Note Repeat, Preview, and Loop.
The compact MPK225 also has an LCD screen that displays menus, options, parameters, and settings.
You can navigate and change the settings on display by using the value dial and the cursor buttons.
The value dial features a press function that doubles it as an Enter button.
Rear Panel connectors include a DC power input jack, a USB port, a MIDI Out port, a MIDI In port, and input jacks for Sustain and Expression.
You will also find the main switch on the rear panel.
Right above the main switch, the MPK225 has Akai's signature power adapter restraint.
You can use this restraint to secure the power cable to avoid accidental power supply disconnection.
3. IK Multimedia iRig Keys37
For a more mobile approach to music production, check out the IK Multimedia iRig Keys37.
While it works well with Reaper on Mac and PC, you can use the iRig Keys37 with mobile devices.
Moreover, the iRig Keys37 takes up a lot less space, even for non-mobile studio setups.
Review
The iRig Keys37 only measures 19.8 by 4.72 by 1.57 inches, making it the most compact device among the options here.
It only weighs 1.46 pounds, enabling owners to carry it with them wherever they go.
Its MIDI controls and extremely low price make it a go-to device for musicians who want to keep a budget and use the Reaper app effectively.
The iRig Keys37 features effortless utility with its 37 velocity-sensitive mini-keys and old-fashioned pitch bend and modulation wheels.
It has two buttons for Octave Up and Down, efficiently transposing the three full octaves to lower or higher notes.
You will also find an assignable data knob with a primary volume function, a SET button for four configurable setups, and PROG Up and Down buttons for switching between programs.
Since the iRig Keys37 focuses on portability, it omits controls available to other controllers, such as trigger pads, sliders, and multiple knobs.
The iRig Keys37 only has two connectors: a data port that doubles as the power supply connection and a sustain pedal input jack.
You can use the data port to connect to a Mac, a PC, or a mobile Android device.
4. Arturia KeyLab MkII 61
The Arturia KeyLab MkII 61 offers a solid design and a layout and control upgrade from its smaller cousin, the KeyLab Essential 61.
While it is bigger than the Akai Pro MPK225 and the iRig Keys37, the KeyLab MkII offers more controls and connections.
Conversely, it has fewer functions than the Novation 49SL MkIII, but it comes at a more affordable price with its already comprehensive feature set.
Review
The KeyLab MkII 61 allows a refreshingly straightforward setup and operation, both as a sound source or a universal controller.
Its function as a sound source for the bundled Analog Lab is a good selling point, but its universal controller functionality is also quite extensive.
It features 10 presets for some of the most popular recording software and provides six DAW overlays for Ableton Live, Logic Pro X, Reaper, and other applications.
Arturia skillfully packs all the controls in a device measuring 37.6 by 11.69 by 2.09 inches and weighing 18.15 pounds.
The 61-note keyboard justifies its size and weight, and it is not even as large as the Panorama P6.
The central display and control panel of the KeyLab MkII 61 presents three buttons for its three control modes: Analog Lab Mode, DAW Mode, and User Mode.
Other controls let you adjust the settings or navigate through the options under each of the modes.
You might as well enjoy the bundled Analog Lab, but you will need to set the KeyLab MkII in DAW Mode if you want deep integration with Reaper.
This KeyLab MkII has 61 velocity-sensitive keys on a high-quality keybed.
It also has 16 RGB-backlit performance trigger pads, and its control bank has nine faders and nine rotary knobs.
There are nine Filter/Select buttons and three control buttons that vary in function depending on the currently selected mode.
Octave, Chord, and Transpose buttons activate the KeyLab MkII's various pitch control and chord functions.
You will also find Pitch and Mod wheels for controlling the pitch bend and modulation sound parameters.
The KeyLab MkII also has a 10-button DAW Command section and a six-button Transport control section.
The KeyLab MkII can send control voltages and triggers using the Pitch Out, Gate Out, Mod1, and Mod2 connectors.
Additionally, it can send and receive MIDI messages through the MIDI In and Out ports.
Three Aux Pedal Inputs allow the attachment of continuously variable pedals of footswitches.
Two more pedal inputs are for Expression and Sustain pedals.
A modular synthesizer can send Control Voltage messages through the CV In port, which can be used as a CV-MIDI or CV-USB converter.
Use the USB port to send and receive messages to and from a computer or simply to draw power from a computer.
If you do not want to use a computer, you can use the DC power connector to supply power to the KeyLab MkII.
The main power switch sits on the rear panel with all of the connectors.
5. Nektar Panorama P6
The Nektar Panorama P6 is an impressive device coming from a relatively young company.
You will like that it has a dedicated communication protocol that integrates well with the Reaper and other DAWs.
Review
The P6 features a successful and effective implementation, as all of its features have been well thought out, and its controls are fairly easy to learn.
With a clean layout and generous spacing between controls, the P6 is quite large.
It measures 39.63 by 13 by 3.75 inches and weighs 17 pounds.
While it is a tad lighter than the KeyLab MkII 61, it is larger than any of our four alternatives.
The Panorama P6 has 61 semi-weighted, velocity-sensitive keys with aftertouch functionality.
The keyboard offers five velocity curves and a fixed option, and it allows octave transposition using the Octave shift buttons.
You will find two analog wheels for pitch bend and modulation.
Preset controls include 16 encoders, nine faders, 10 assignable LED buttons, 11 dedicated Transport buttons, and 20 preset locations.
The P6 has 12 velocity- and pressure-sensitive trigger pads with seven velocity curves.
One thing unique to the Panorama P6 is its 100mm ALPS motorized fader.
The Panorama P6 holds back on connectors compared to the KeyLab MkII.
It only has pedal inputs for Expression and Sustain, and the sustain pedal input doubles as a footswitch input.
The device has a MIDI Out port and two USB ports.
Keep in mind that the two USB ports have to be connected to a computer if you plan to use the motorized fader.
Alternatively, you can use one of the USB ports to draw power from an external source, such as a power bank.
Which MIDI Controller Is Best for Reaper?
If you're looking for comprehensive controls and connections on a keyboard, the best MIDI controller for Reaper is the Arturia KeyLab MkII 61.
It packs five full octaves in a high-quality keybed with velocity-sensitive keys, and it includes overlays for Reaper and many other apps.
However, if you need something more portable but with many controls, the 25-key Akai Pro MPK225 should do the trick.
Some of the more compact MIDI keyboards may offer better mobility, but you should check if they support the Reaper app.