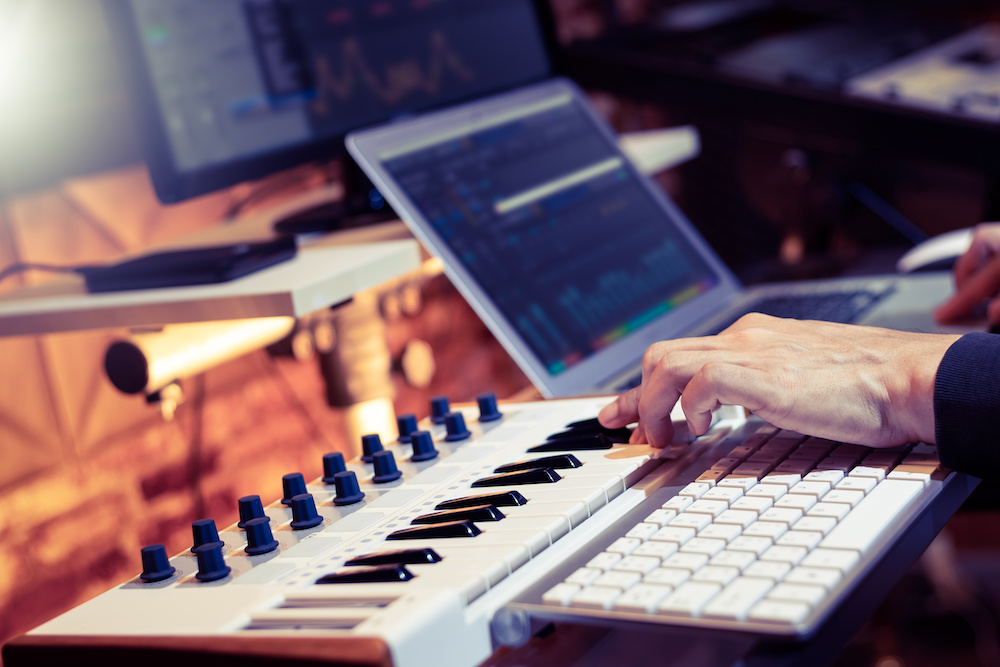 Best MIDI Controller for Reason in 2021: Complete Reviews With Comparisons
While MIDI controllers help capture raw signals through notes and velocities, a DAW program helps edit and change it according to your preference.
That means if you capture a sound and don't like it, you can easily change it with different DAW integrations.
Among the most used in the scene is Reason.
The best MIDI controller for Reason supports entire music sequences and helps develop process and mix sets easily in the pre-production phase.
Why Do I Need a MIDI Controller for Reason?
Do you really need to invest in a MIDI controller?
Although you can easily use Reason or any other DAW interface without an integrated MIDI controller, this device can significantly amplify your workflow.
For instance, a MIDI controller with Reason will naturally manage your workflow by mapping against Reason's settings and parameters.
This way, you will cut back on time spent figuring out Reason's interface and invest more time producing great music.
Additionally, a MIDI controller with Reason also comes in handy when you are experimenting with ideas and progressions that you would want naturally adjusted.
Without a MIDI controller, you will need to manually edit your soundtracks with Reason to achieve the consistent and natural feel you are looking for.
Comparison Chart
Arturia KeyLab 49 MKII Keyboard Controller 
Novation Launchkey 49 USB Keyboard Controller 
Korg nanoKONTROL2 Slim-Line USB Control Surface
M-Audio Keystation 49
Roland A-300PRO-R 32-key MIDI Keyboard Controller
Best MIDI Controller for Reason: Brief Reviews
1. Arturia Keylab 49 MKII Keyboard Controller
The Arturia Keylab 49 MKII Keyboard Controller provides exciting opportunities to diversify your musical experiences.
It not only ensures high-quality playability but also accommodates synth editing and supported DAW control.
Review
The sleek and sturdy aluminum body of the Arturia Keylab 49 MKII Keyboard Controller makes it look good and ensures longevity at the same time.
The aluminum case may be heavier than its predecessor, but its robust nature outperforms many levels of durability.
We found that this controller has a fully integrated keyboard with playback pads that supports DAW transport, commands, and entry with the Analog Lab-3 software.
The fantastic semi-weighted Pro-Feel keybed ensures superb sensitivity across all velocities, ensuring crisp music production.
You will find that this controller is superior to others in terms of connectivity options, allowing you to easily load a variety of custom presets.
There are five different pedal connectors, too, ranging from sustain and expression to multiple assignable auxiliaries supported by pedal sensing technology.
When it comes to power connectivity, it has a built-in USB input and supports PSU, which you will need to purchase separately.
The integrated anti-ground loop USB splitter in this controller is rather intriguing.
This high-performing system lets you connect the controller simultaneously to a USB charger and a standard computer for enhanced versatility.
2. Novation Launchkey 49 USB Keyboard Controller
The Novation Launchkey 49 is a reasonably-priced device with high-functioning features integrated with Reason.
You will love its user-friendly interface specifically designed to enhance overall utility for novice and seasoned musicians alike.
Review
One of the most attractive features of the Novation Launchkey 49 is that it allows effectively mapping your produced sounds with Reason.
This function is supported by the device's "InControl" technology, which ensures maximum control over sounds and effects.
With this, your music production journey becomes simple and user-friendly with Reason.
Although the controller works brilliantly with Reason, it also supports a variety of external and internal software bundles for further exploration.
In terms of construction, the controller supports synth weighted keys that are also velocity-sensitive.
These springy keys bounce back quicker than others, ensuring a fast response rate.
Moreover, the high level of velocity sensitivity in the keys helps achieve a more natural feel, such as that of a conventional piano.
There are also 16 RGB velocity pads that create an interactive sound production experience by providing colorful feedback and producing expressive drum beats.
3. Korg nanoKONTROL2 Slim-Line USB Control Surface
The lack of a conventional keypad in this controller does not hinder its performance nor utility.
In fact, it is perfect for users who seek additional control with Reason for things like drum programming or parameter automation.
Review
More than anything, we love how every single control in this device is configurable through the supporting Korg Editor software.
It boasts a range of customizable and general functioning knobs, faders, and buttons for users to play with and produce unique music pieces.
In terms of build, the controller has a sturdy yet compact and lightweight body, making this device portable and perfect for traveling musicians.
Unlike other controllers, this one is special because it doubles as a Mackie Control device.
It cuts back on the time required for setting up by providing you with maximum control over the DAW transport and mixer channels.
There are also numerous knobs, faders, and switches to support each of the eight customizable channels that offer a variety of functions.
These functions range from leveling to panning and even record switching between mute and solo performances.
You will find that this controller is all about enhanced functionality by creating a smoother workflow.
For instance, the advanced marker parameter system lets you set different markers for your arrangement so that you can easily transition between them.
Additionally, there is a track select system that helps you easily move between different channels in clusters of eight when in Mackie control mode.
4. M-Audio Keystation 49
The M-Audio Keystation 49 is best known for its extremely simple and user-friendly interface.
It is the perfect controller for musicians not looking for pads or excessive controls on their keyboard.
Review
You will love the 49 full-size, comfortable, synth-action, velocity-sensitive keys on the M-Audio Keystation 49.
These keys provide musicians with a solid touch feeling while playing and composing tunes.
The built-in intuitive control system is designed to accommodate multiple music sessions by helping you conveniently navigate the different controls.
Without needing any additional trackpad or mouse, the keypad has a plethora of functional and necessary controls to easily move between.
For instance, the controls on the left are dedicated to USB-powered supporting pitch, modulation, and octave features.
Similarly, there is also a dedicated volume slider that is not only customizable but also supports users through live performances.
In terms of power, the controller is Mac/PC-compliant.
It has a simple USB-powered interface that reduces any added hassles of supporting adapters.
Moreover, it ensures you can easily plug and play on the go, as the USB connection supports both power and MIDI transmission.
This controller is not only limited to computer users but also compatible with iPads and iPhones, allowing you maximum convenience during travels.
5. Roland A-300PRO-R 32-Key MIDI Keyboard Controller
The Roland A-300PRO-R 32-Key MIDI Keyboard Controller is an all-rounder when it comes to providing maximum utility without compromising convenience.
The controller features a variety of assignable controls integrated with Reason to support the tunes and sounds made by the velocity-sensitive keys.
Review
If you are looking for a MIDI controller that offers users maximum control over the music that they produce, this is a great option to consider.
The Roland A-300PRO-R controller comes with a variety of programmable controls that are supported by Reason.
These assignable controls help support music production on many levels.
Most importantly, they help streamline workflow by making them super-efficient.
The velocity-sensitive keys may not offer a full piano-like experience, but their semi-weighted characteristics ensure the next best thing—solid sounds.
You will particularly love the placement of the eight-velocity sensitive dynamic pads on the keybed.
These are specifically placed within easy reach of the musician so that you can edit your music live while playing.
There is also a supportive hold control that latches the pads in a certain setting for prolonged usage.
Moreover, you can easily assign additional functions to the pads, such as aftertouch, velocity, or controller data to enhance the expression of the music.
What Should I Consider in a MIDI Controller for Reason?
If you plan to purchase a MIDI controller for Reason, there are several factors you must consider to help you achieve maximum results.
Here is a preliminary list to get you started:
1. Compatibility With DAW
DAW compatibility is one of the most important things to consider when opting for a MIDI controller for Reason.
This is because many controllers often include deep integration rather than compatibility with popular DAWs.
On the other hand, you will find that some are designed specifically to integrate with any particular DAW.
There are very few controllers produced specifically to integrate with Reason.
Additionally, controllers that ensure open integration to any DAW often find it difficult to integrate with Reason and may need additional custom mapping.
Therefore, before you invest in a MIDI controller, check its compatibility with different DAWs so you can easily set it up with Reason.
2. Keyboard Strength
Deciding on the preferred number of keys or keyboard strength should be another feature to consider before buying a MIDI controller for Reason.
Despite the number of keys, you will find that you can easily integrate Reason into any supporting MIDI controller.
Yet, to enhance your experience, we suggest evaluating the purpose of your intended device.
For instance, we found that simple tunes or chord progressions can be easily accommodated using a smaller keyboard.
On the other hand, for more elaborate tunes with depth and stance, a bigger keyboard with 69 keys or more would be suitable.
This is because, with a larger keybed, you have more room for sound integration and would not need to consistently manage the shifting of octaves.
3. Multiple Additional Controls
While many often evaluate the utility of a controller against its number of keys, we found that supporting controls play an equally important role.
There is a whole range of MIDI controllers only made up of controls and buttons because these devices for things like drum programming.
Since Reason is most famously used by producers with a pre-production music style, having additional controls will enhance your music quality.
Depending on what you plan to use your MIDI controller for, most musicians prefer having additional control options for versatility.
4. Key Weight
There are primarily three types of keyboards found in MIDI controllers.
The most commonly used semi-weighted keyboards are built with weights and springs to support velocity sensitivity to a certain degree.
On the other hand, their fully weighted counterparts have a very piano-like feel and are, therefore, mostly preferred by professional pianists.
Finally, there are also some keyboards with synth action.
These are not only extremely lightweight but also have a super-responsive key rate.
How Do I Connect a MIDI Controller to Reason?
Before you can integrate your MIDI controller with Reason, you need to establish a stable connection with your computer or laptop.
You can easily do this via USB connectivity, most commonly found in MIDI controllers today, or other options, such as DIN-MIDI I/O.
Once you have connected your controller to a sporting laptop or computer, you must install all its integrated configurations and drivers.
By installing these drivers, you will be able to easily manage your MIDI connection through Reason's Control Surfaces Menu.
Here is a comprehensive guide featuring multiple ways to help you set up any MIDI controller with Reason.
Which MIDI Controller Is Best for Reason?
The best MIDI controller for Reason will support musicians who prefer user-friendly pre-production because of the device's self-contained nature.
That said, we found the Novation Launchkey 49 to be the best controller in this line-up because of its beginner-friendly and extremely supportive interface.
The plethora of controls and knobs will allow you to develop entire musical sequences with maximum support and mapping controls.