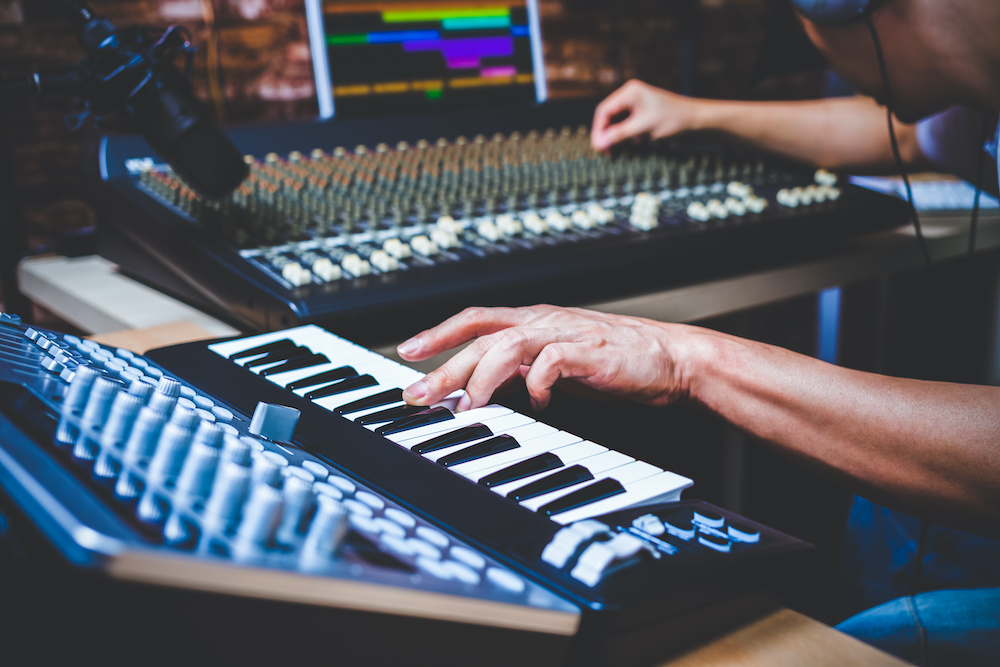 Best MIDI Keyboard for FL Studio of 2021: Complete Reviews With Comparisons
The best MIDI keyboard for FL Studio will have plenty of versatile options.
Then again, as one of the most popular DAWs, finding a specific MIDI controller can be challenging.
Below, we've carefully selected the top models that offer perfect registration with FL Studio.
Comparison Chart
Akai Professional MPK Mini Play 
Native Instruments Komplete Kontrol M32 Controller Keyboard
Arturia MiniLab MkII 25 Slim-Key Controller
Nektar Impact GX49 49-Key Midi Controller
midiplus AKM322 32-Key MIDI Keyboard Controller
Best MIDI Keyboard for FL Studio: Brief Reviews
1. Akai Professional MPK Mini Play
If you love the MPK Mini, you will enjoy the MPK Mini Play because it is based on the same image.
This newer model has over 128 built-in sounds as well as a built-in speaker.
With this, you get a ton of great features that you will love putting to fair use for quick and effortless fun.
Review
Users will find a four-way joystick for optimal control as well as eight backlit drum pads.
You will have access to four knobs, two of which can control eight various parameters for real-time tweaking.
What makes this unit ideal is that it requires three AA batteries rather than connected via USB.
With that said, you can take advantage of its plug-and-play compatibility using a USB to MIDI cable.
The two-in-one design makes it ideal for artists searching for a portable and standard MIDI controller.
The addition of the audio output jack allows you to master your tracks in peace by connecting headphones.
You can also connect speakers using the same jack for a more enveloping sound experience.
Another improvement to the Akai Professional MPK Mini Play is its software, which has been recently upgraded.
With the new MPC 2.0 upgrade, you will have enhanced functionalities, like 128-track sequencing.
Users will be able to take advantage of advanced MIDI editing, VST compatibility while used as a controller, and real-time stretching.
This device offers unlimited support with Mac and PC devices and connects seamlessly to DAWs, including FL Studio and Ableton Link.
Also, there is extra software included—Wobble from SONiVOX and Pro Tools.
Artists will also have Hybrid 3, which is ideal for mastering retro synths, modern leads, and a ton of other fantastic features.
You'll also love making your grooves and beats with the eight pad banks that hold up to four samples per pad.
We love the fact that this unit operates as a standalone instrument, so you can start making music even without a DAW.
2. Native Instruments Komplete Kontrol M32 MIDI Controller
The Komplete Kontrol M32 is known as the smallest keyboard ever designed by Native Instruments.
It boasts 32 easy-to-use keys with optimal playability while still maintaining the compact design of the instrument.
When used in combination with innovative software, you will have seamless integration and endless opportunities.
Review
The intuitive design of the Komplete Kontrol M32 is one of its most significant selling features.
You will effectively be able to manage an assortment of effects, samples, and loops, as well as any virtual instruments.
There is plenty to dissect with this model, including the custom Native Instruments keybed and its push encoder.
With the push encoder, you will have four-directional functions for one-handed control.
Artists will love the touch strips, which helps to add a more hands-on approach to musical expression.
Moreover, there are a ton of pre-mapped knobs for you to use to your advantage.
The eight touch-sensitive knobs are pre-mapped for easy playability in an assortment of plug-ins.
With that said, they are best used with Komplete and NKS plug-ins.
If you are in the market for a portable MIDI controller, this is one of the better models to consider.
The device is USB-Bus powered, so you won't have to worry about an AC adapter.
Like most MIDI controllers, you plug it into your laptop, and it is ready to pair with your favorite DAW.
You'll love the OLED display, which adds a more modern touch to the controller's aesthetic.
All of your functions will be visible, helping to make it easier to browse for sounds.
Also, you will love the display for dealing with parameters, as it offers real-time feedback.
On the far left of the keyboard, there is an assortment of other functions for enhanced creativity.
If you are using Maschine, be sure to take advantage of the "Ideas" button.
This function allows you to access your patterns and scenes with a single push quickly.
FL Studio users will love the integrated features that help you get the most out of your DAW.
You'll find the set tempo, level adjustments, loop braces, play and pause, record, and more functions built-into the controller.
Each of the buttons is marked, so you can guarantee you have access to quick controls when needed.
If you want to test out a different DAW, there's plenty of software that comes with the Native Instruments Komplete Kontrol M32.
You'll be able to unlock over 6100 sounds and 10 GB of content from Komplete Kontrol, Maschine Essentials, and Ableton Live 10 Lite.
Several other software that you will receive include:
Monark
Reaktor Prism
Scarbee Mark I
Komplete Start
Sounds.com (Two-month free access)
A free voucher for the NI online shop
3. Arturia MiniLab MKII MIDI Controller
The Arturia MiniLab MKII MIDI Controller is a well-rounded addition to any studio.
Artists and producers looking for a modernized device will fall in love with the fundamental features it offers.
There are plenty of exciting features and unique capabilities that make this MIDI controller a fun option.
Review
This controller is one of the best MIDI keyboards for FL Studio because of its tactile control and integration.
With seamless DAW integration, you will have an easier time pairing physical and digital functions.
Over time, artists will begin to experience a deeper level of sound exploration to make the most of their sessions.
When you invest in a MIDI controller, you want something user-friendly with a small learning curve.
This device is easy to use; all you have to do is plug it into the controller via USB and pair it with FL Studio.
The simple integration gives you immediate control of the workflow with intuitively designed controls.
You get access to 25-keys to effectively interact with your music, as well as eight performance pads.
Each of the pads is designed with RGB backlighting, which adds a cool professional style to its aesthetic.
You will also have two touch strips, one for Pitch Blend and the other for Mod, for even more customization.
On the rear of the MIDI keyboard, you will find a sustain pedal input, which is perfect for artists on the go.
The 16 rotary encoders are perfect for accessing the true potential of your virtual instruments as well as mixing in real-time.
One of our favorite features is how lightweight yet rugged the keyboard feels, making it perfectly safe for travel.
Both the keys and the touchpads are velocity and pressure-sensitive, which provides a dynamic experience.
There's also the opportunity to switch between two pad banks, so you can take advantage of 16 drum sounds or clips.
The controller's software is also exceptional (Ableton Live Lite, AnalogLab, and Grand Piano Model D).
4. Nektar Impact GX49 MIDI Controller
The Nektar Impact GX49 MIDI Controller combines power and control into one compact unit.
It is fully adaptable to both Windows and Mac operating systems with complete integration with DAWs.
To add to its functionality, it is the perfect size for travel and fit near your studio computer.
Review
Compared to other MIDI keyboards on this list, this model boasts 49 notes with four octaves.
With 49 keys, you will have a more traditional piano experience, which can be preferred by many artists.
You'll also have a pitch-bend wheel, modulation wheel, and footswitch socket for even more versatility.
Fortunately, the two-octave buttons are multi-colored, which makes it easier to distinguish while playing.
Using the components, you can either go up or down four octaves with glowing LEDs alerting you to its current status.
When put against other models, this unit seems to have the most seamless workflow for quick production.
Another significant feature of the controller is its transpose buttons, which have been recently upgraded.
You'll be able to adjust the tone by +/- 12 semitones for a more customizable experience.
Also, you can reprogram the buttons to accommodate a Global MIDI Channel and send specific messages.
For another tailored setting, artists can take advantage of the potentiometer, which is fully assignable.
You'll finally have access to control any MIDI parameter as well as control the mixer volume.
Transport buttons are another essential feature to discuss, as there are plenty built into this controller's interface.
There are seven buttons in total, which allow for two programmable functions, each for a total of 14 options.
They offer a ton of controls, such as setting locators, tracking navigation, launching windows, working with patch navigation, and more.
Regardless of the device you prefer to use to make music, you'll find it the best MIDI controller for FL Studio.
It not only connects to Windows and Mac operating systems but Apple iOS, as well.
Since the Nektar Impact GX49 MIDI Controller is low-powered, you can quickly hook it to an iPad with a USB camera connection kit.
5. Midiplus AKM322 MIDI Keyboard
The Midiplus AKM322 MIDI Keyboard is an excellent option for a mid-size keyboard controller.
It capitalizes on all of the essential functions you would expect from a reliable device for plenty of control.
You'll likely appreciate its sleek styling, which is quite similar to any standard MIDI controller.
Review
If you are someone interested in a basic MIDI controller, this option is ideal for you.
The Midiplus AKM322 MIDI Keyboard has 32 velocity-sensitive keys that are a good upgrade from a 25-key controller.
You'll also find pitch and modulation wheels that are precise and easy to master.
Artists will have access to one endless encoder and three adjustable rotary knobs on top of versatile transport controls.
With the transport controls, artists can engage play, stop, record, overdub, marker, metronome, and other functions.
You will also have built-in support for adjusting scenes up and down as well as playing and stopping clips.
The on-board arpeggiator is essential with its multiple modes and an innovative internal and external MIDI clock.
Another unique feature of the Midiplus AKM322 MIDI Keyboard is its chord programming.
When in Chord Mode, you can access the most common chords for streamlined production.
Scale Mode is a functional feature that provides four different scales so that you can manage the sound of your keys.
The second layer of control is always preferable with MIDI controllers, and this model has two performance scenes.
Artists and producers looking for a plug-and-play MIDI keyboard are bound to be impressed, as this unit doesn't require drivers.
Do You Need a MIDI Keyboard for FL Studio?
FL Studio is a fantastic program because it adapts to every artist's style and capabilities.
You do not need a MIDI keyboard to use it, and you can use your mouse and keyboard to input notes.
With that said, having a MIDI keyboard offers a more realistic playing experience.
Is It Easier To Make Beats With a MIDI Keyboard?
Having the best MIDI keyboards for FL Studio can make it much easier to create and manage beats.
They have a unique feature known as a performance pad, which allows you to sync specific drum and bass tones to each key.
With a simple press, you have hands-on control over bass and drums that deliver a heart-thumping component to your tracks.
What MIDI Keyboards Do Producers Use?
There are a ton of MIDI keyboards that are fully adaptable to the needs of producers.
A few examples include the Native Instruments Komplete Kontrol M32, the M-Audio Oxygen 25, and the Novation Launchkey 25 MK2.
Should I Get a MIDI Controller or a Synth?
Deciding between a MIDI controller and synth will depend on your expectations.
MIDI controllers are ideal for in-studio use, as you'll need to invest in other equipment for live performances.
For example, rack synths, pre-loaded instruments on computers, and other modules are required.
The best MIDI controller for FL studio won't be a standalone instrument, as it can't produce its own sound.
You will need to connect them with a DAW to produce music, while a synth is a standalone option.
Synthesizers are a great option for musicians searching for a device that produces a piano-like experience.
Another significant difference is in the sounds both pieces of equipment make.
Synthesizers are somewhat limited to the sound they have pre-programmed into the hardware.
MIDI keyboards can play an unlimited number of virtual instruments.
Is Ableton or FL Studio Better?
In regards to features, FL Studio is a far better option than Ableton.
You'll have an impressive number of items to explore, which is a significant advantage.
It has a streamlined user-interface with sleek features and an innovative design for all users.
However, it has a significantly larger learning curve than Ableton, which can be intimidating to beginners.
By investing your time into FL Studio, you'll be able to explore its bountiful components, like the piano roll, high-quality resources, and more.
Final Verdict
The best MIDI keyboard for FL Studio is undoubtedly the Native Instruments Komplete Kontrol M32 MIDI Controller.
It has some of the most professionally-designed components as well as access to prestigious software programs.
Its intuitive interface has a learning curve but can be quick to master for professional and personal use.