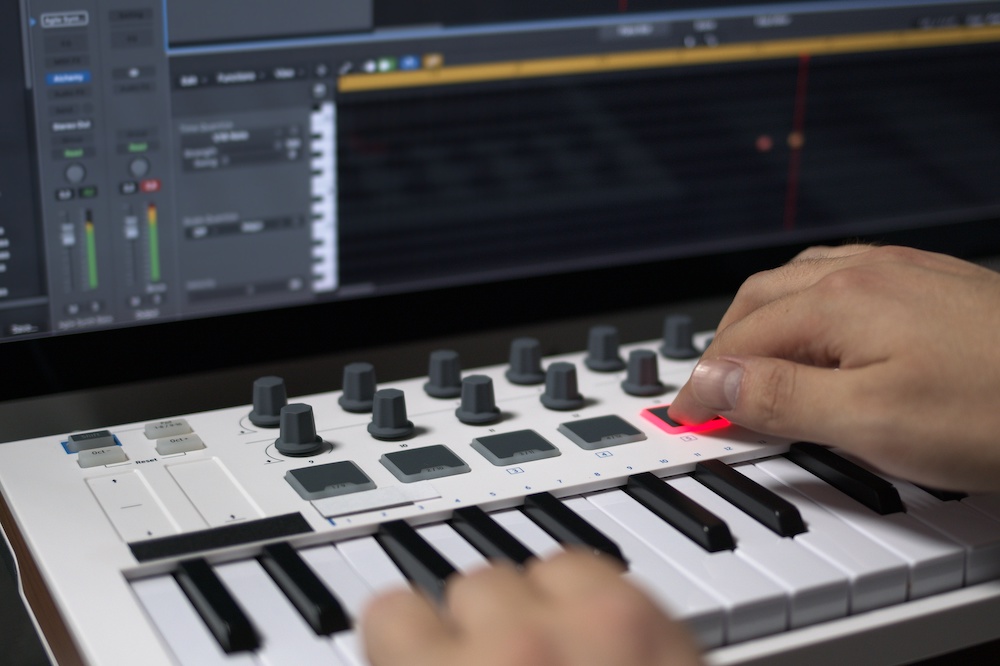 Best MIDI Keyboard for Garage Band of 2021: Complete Reviews With Comparisons
GarageBand is one of the most popular apps for musicians across all genres and skill levels.
While free, this software sets the bar high even for competing paid applications.
Nevertheless, creating music feels better with actual musical instruments than just digitally tweaking and mixing sounds on a computer.
The best MIDI keyboard for Garage Band can combine technology and bring out a musician's creativity at the same time.
If you're into GarageBand, the following top-tier MIDI keyboards will surely complement the virtual instruments available to the software.
Comparison Chart
midiplus USB MIDI keyboard controller (X6 Pro)
CME XKEY 37 LE Ultra Slim MIDI Keyboard
Akai Professional LPK25 Wireless MIDI Controller
Worlde Panda MINI Portable MIDI Controller
ROLI | Seaboard RISE
Best MIDI Keyboard for Garage Band Reviews
1. MIDIPLUS X6 Pro
MIDIPLUS' X Pro Series includes two models: the X6 Pro and the X8 Pro.
Both are similar in all aspects except for the number of keys.
The X Pro Series is the all-new, improved, and combined version of the brand's X Series and the Dreamer Series.
It features 128 onboard high-quality GM standard tones and the new generation of SAM5000 Series DSP chips.
With this improvement, audio processing accuracy is better at 24-bit, and the sound library packs three times more realistic sounds.
Review
The MIDIPLUS X6 Pro features a red, black, and white tricolor scheme.
Pearl white side panels flank the avant-garde red anodized aluminum alloy top panel that holds several controls.
The device measures 38.5 by 8.46 by 2.91 inches and weighs 12.13 pounds.
It is the largest one on this list, but it has a very compact, comprehensive design for the wide range of available key tones.
The MIDIPLUS X6 Pro features 61 semi-weighted, velocity-sensitive, full-size keys that make it resemble a standalone digital piano.
Because of its five full octaves, the X6 Pro is the perfect choice for musicians who prefer two-handed play styles with MIDI functionality.
The keys also provide secondary functions for selecting MIDI channels, transposing, and numeric inputs under Edit Mode.
The left white pearl panel holds two touch strips, one each for pitch bend and modulation.
Each touch strip has its own LED pilot strip that informs the user about the level of adjustments made while using the touch strips.
The X6 Pro has nine 270-degree knob controllers with backlighting.
Each of these knobs is an assignable control that can integrate well with most major DAWs, including GarageBand.
You can assign control change (CC) functions or notes to eight LED-backlit, bi-color, velocity-sensitive drum pads.
The drum pads will light up blue to indicate note inputs, and the light will change to white if they are set to CC functions.
The X6 Pro has a total of 17 buttons arranged in sets with varying sizes for different functions.
Two buttons right above the touch strips are for Octave Down and Up, enabling up to two full-octave shifts in both directions.
Like the trigger pads, you can also assign tone and CC functions to button controllers B1 through B8.
The six larger controllers on the middle of the top panel are primarily for MIDI machine control (MMC) Transport functions.
However, the five buttons on the left also double as CC controls.
Like the trigger pads, all the assignable buttons are bi-color LED-backlit, and they turn white from blue when used for CC functions.
The left-most part of the red top panel features an LCD screen.
It displays the parameters of the currently used control or function.
The back panel interface includes a USB Type-B port, sustain and expression pedal inputs, Standard MIDI In and Out ports, and balanced line output ports.
You will also find a stereo headphone jack on the left end of the front panel.
2. CME Xkey37 LE
The CME Xkey37 LE is a simpler and way more portable alternative to the MIDIPLUS X6 Pro.
It features an ultra-slim design with a sturdy build using a brushed aluminum chassis.
The all-new Xkey37 LE is an elegant and affordable solution for the mobile musician who enjoys using GarageBand for demos, editing, and recording.
Review
The original Xkey turned heads in the mobile controller market.
Its design clearly resembles those of mobile devices, especially Macbooks and iOS gadgets.
The Xkey37 inherits those traits, but it adds an extra octave for better and quicker access to a wider range of notes.
It measures 21.77 by 5.31 by 0.62 inches and weighs just 1.94 pounds, making it 20 percent lighter than an 11-inch MacBook Air.
Since GarageBand is an Apple creation, what better way to create music than with a device designed for Mac and iOS?
On another note, Windows users wouldn't have to worry, as the Xkey37 will also work with GarageBand on a PC.
The three-octave keyboard on this device contains 37 slim-profile, velocity-sensitive, full-size keys with polyphonic aftertouch.
It is 100 percent MIDI-compliant, so it can function as a steady input device for people who are not actual keyboard players.
The slim-profile, full-width keys only travel less than 3mm, and the whole keys depress no matter where you press along their entire width or length.
These features let you get around the keys quickly while allowing enough spacing so that you can avoid hitting the wrong keys.
Being compact, lightweight, and portable restricts the button controls of the Xkey37.
It only has six buttons: two for octave adjustments, one for modulation, two for pitch bend, and one for sustain.
One thing to ponder on about the Xkey37 LE is the "LE" in its name.
The LE version of the Xkey37 doesn't include the Xcable available to the non-LE version.
The Xcable features a MIDI Out port and sustain and expression pedal inputs.
If you don't need those connectors and the built-in USB connector is all you need, this LE version can help you save a few bucks.
3. Akai Professional LPK25
The Akai Professional LPK25 offers a more clutter-free approach to music production.
While most MIDI devices keep you confined to a studio or a single room, this wireless unit allows you to be more mobile.
With better mobility, you open up more avenues for stimulating a creative process of music writing.
It lets you go places, hear different sounds, and experience inspirational vistas that enable you to come up with highly expressive inputs.
Review
The Akai Pro LPK25 measures 14.37 by 4.88 by 1.42 inches and weighs 1.08 pounds.
Although stubbier, it is shorter and only half as light as the CME Xkey37.
Furthermore, the LPK25 is way more affordable than the wireless version of the Xkey37.
Since GarageBand is a highly mobile app available on iPhones and iPads, this device complements that mobility with its Bluetooth connectivity.
The LPK25 Wireless gives you three data transfer and power supply options: three AA batteries plus Bluetooth, wall adapter plus Bluetooth, or USB data and power.
The only obvious downside to it is its fewer keys compared to the Xkey37.
The LPK25 has 25 velocity-sensitive mini-keys capable of transposing 11 full octaves with 127 available MIDI notes.
Even if it takes down the key count to only two octaves, it is perfect for single-handed playstyles across a wide range of sounds.
Suppose you're into tweaking sounds and synthesized melodies.
You'll be happy to know that the keys of the LPK25 have secondary functions for arpeggiator controls.
Furthermore, you can create various presets with the program selection functions of some of the keyboard keys.
Like the Xkey37, the LPK25 only has six buttons for extra control.
These buttons include two for shifting octaves up and down, one for Prog Select, one for Arp On/Off, one for Tap Tempo, and one for pairing with Bluetooth devices.
The Prog Select and Arp On/Off buttons enable you to activate the secondary functions of the keyboard keys.
The LPK25 makes up for its fewer keys by including more connectivity features than the Xkey37.
In addition to Bluetooth, it has a USB port and a sustain pedal input jack right beside its power switch on the left side.
4. Worlde Panda Mini
The Worlde Panda Mini is an all-around MIDI keyboard controller optimized for use with Mac and PC integrations.
Although some might find the Panda Mini frustrating for DAW integration, it offers easy integration with GarageBand.
All you have to do is plug it into a device with GarageBand, and you'll be playing in no time.
Review
While the Panda Mini remains switched off, it looks like a very simple-to-understand MIDI controller.
As you turn it on and assign various presets to some controls, you may find that it looks like a toy because of its playfully colored backlighting.
Its small features and design may also enforce its appearance as a toy rather than a pre-grade music production device.
The Panda Mini measures 12.6 by 7.5 by 1.6 inches and weighs just 1.75 pounds.
Although heavier than the LPK25, its more compact dimensions allow it to fit inside bags better.
Compared to the other small-format devices on this shortlist, the Panda Mini is the only device that features multiple assignable controls.
Keys, Trigger Pads, Knobs, and Sliders
The 25 mini-keys on the Panda Mini are velocity-sensitive, and you can assign them to transmit control change messages while in CC Mode.
Other assignable controls include eight trigger pads, four encoder knobs, and four sliders.
The Panda Mini has eight buttons on its upper left corner.
These buttons trigger the assignment controls, octave changes, bank assignments, pitch bend, modulation, and CC commands.
Don't expect much when it comes to the connectivity features of the Panda Mini.
Unfortunately, it only has a single USB port for data transfers and power draw.
5. Roli Seaboard RISE 25
Roli is continuously changing how people make music.
The musical instruments they make always seem to be decades ahead of their time.
The Roli Seaboard RISE 25 is one of the greatest innovations in keyboard design since the piano took over the harpsichord in the 1700s.
If you are a keyboardist and you've seen the Seaboard at least once, you've probably been itching to play one.
Review
The Seaboard RISE 25 is a sleek keyboard-like device that packs portability with ultra-modern features.
It measures 19.88 by 8.27 by 0.9 inches and weighs 6.17 pounds.
While it is much larger and heavier than the Akai Pro LPK25, the Seaboard RISE 25 offers a futuristic approach to creating music.
Instead of having the piano keyboard almost all of us are used to, the Seaboard RISE 25 has what the company calls "keywaves."
These present a flexible silicone pad that looks like a keyboard packed in a single contiguous surface.
This unique playing surface allows distinctly different musical inflections and parameter controls compared to standard piano keys.
The Seaboard RISE has an Expression Mode that sets three touch faders to adjust its Glide, Slide, and Press keywave touch sensitivities.
In MIDI Mode, the three touch faders function as assignable MIDI controllers.
The XY Touchpad on the Seaboard RISE works much like a trackpad on a laptop, controlling assigned MIDI parameters in two dimensions.
With it, you can control two separate parameters using a single touch gesture.
Additional controls let you navigate through settings, transpose octaves, and switch between modes.
The main power switch also acts as the MIDI Mode button.
What's more, the Left and Right Preset Browser buttons let you navigate through menus of preset controls.
Connectors and Power Options
The Seaboard RISE 25 offers full MIDI compatibility over USB and low-energy Bluetooth connections with GarageBand.
It has a USB-B port for wired MIDI Out and power draw.
In addition, a USB-A port allows you to use power banks or other peripheral power sources.
The Seaboard RISE 25 has a built-in battery that charges to full in three hours and allows eight hours of continuous mobile use.
Additionally, a 1/4-inch pedal jack allows a continuous pedal input.
Final Verdict
If you don't want to accommodate drastic changes in creating music, the best MIDI keyboard for Garage Band wouldn't exactly be the Seaboard RISE.
Keeping it traditional while seeking portability and versatility means the Akai Pro LPK25 is your best option.
Still, if you need something bigger to allow two-handed playstyles, then the MIDIPLUS X6 Pro is your best bet.
It also wouldn't hurt to check out the best MIDI keyboards, too, as each of them has its own ways of pairing well with GarageBand.