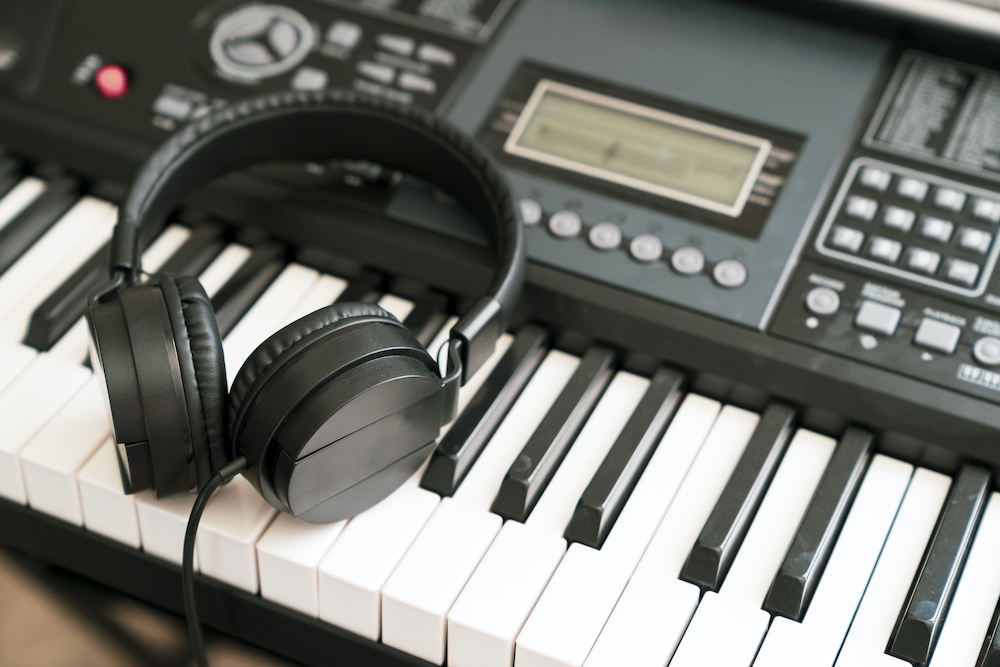 Best MIDI Keyboard Under $100 for 2021: Complete Reviews With Comparisons
Having a suitable keyboard controller in your studio set up is essential to any musician's creativity.
It does not always have to be an expensive device to consider it appropriate and acceptable for your needs.
Today, we are about to check five of the best MIDI keyboard under 100 to show you that these affordable devices are sufficient for your projects.
Comparison Chart
AKAI Professional LPK25
Vangoa Worlde TUNA MINI 25 Key USB MIDI Keyboard
midiplus AKM320 32 key MIDI Keyboard Controller
Nektar 49-Key MIDI Controller 
Samson Graphite M25 Mini USB MIDI Controller
Best MIDI Keyboard Under $100 Reviews
1. AKAI Professional LPK25 MIDI Keyboard
AKAI is a well-known brand in electronics from Japan, dating back to its founding in 1929.
Their LPK25 MIDI keyboard is your production on the go.
Review
Some of the things you'll love about this affordable keyboard are:
This MIDI keyboard is lightweight at 450 grams and only measures 13 inches.
It's also a plug-and-play type of controller.
Its size allows you to fit it in your bag or laptop case with ease, but it can provide essential keyboard functionalities for your music production.
It features 25 velocity-sensitive full keys with synth-action, taking up most of its profile to maintain its compact design.
The AKAI LPK25 will ignite your creativity. It has a dedicated sustain and octave up and down buttons.
It also features an onboard arpeggiator with four modes, user-selectable time divisions, and tap tempo control.
The LPK25 features four memory banks so you can customize and enhance your software programs.
This MIDI keyboard comes with a dedicated software editor suitable for Mac and Windows, allowing you to produce, edit, load, and handle your presets.
The dedicated software editor offers arpeggiator configuration, transposition and octave settings, full customization options for the MIDI, and its default tempos.
No matter what creative preference you have, AKAI LPK25 ensures quick familiarization with your current set up.
This USB-powered device works well with popular applications like Ableton Live, Cubase, Digital Performer, Fruity Loops, GarageBand, Logic, ProTools, Reason, and Sonar.
MPC Beats Software comes with the essential tools from the famous MPC workflow for pro production.
The software allows you to edit samples, find sounds using the synth engines, mix your tracks, record audio, and a lot more.
This computer program can accommodate both AU and VST plugins, increasing your virtual studio technology arsenal.
2. Worlde Tuna Mini MIDI Keyboard
The Worlde Tuna MIDI keyboard is an affordable solution for musicians looking for a functional device for their music production.
Review
The things you'd expect from this product include:
This MIDI keyboard provides excellent mobility weighing with its lightness of 1.1 pounds and dimension of 14.6 x 7. 4 inches.
The USB-powered device has a plug-and-play feature, making it convenient to bring along anywhere you intend to get inspiration for your music.
This portable MIDI keyboard comes with 25 mini keys with three velocity-sensitivity options for a more accurate response to the musician's needs.
Sixteen of these mini keys can be used as MIDI channels, allowing you to set it up according to your required configuration.
Musicians can shift the keyboard's octave ranges four times using the dedicated buttons for this purpose for a more versatile performance.
You can also connect a pedal to add more versatility to your music production.
There are eight pressure and velocity-sensitive backlit drum pads, with each having a dedicated LED color for distinction.
It showcases a vibrant and colorful light display as you start creating your music.
You can also set it up for additional virtual eight pads, making it a total of 16 settings.
On the left side of the keys are two accurate touch sensors for smooth adjustment and control of pitch and modulation.
On top of the keys are eight anti-slip rotate knobs that you can turn for 360 degrees and eight assignable sliders, giving you more freedom to control your music.
There's a shift button on top of the drum pads, which you can use to retrieve your previous settings created using the built-in software editor.
Compatibility and Connectivity
This MIDI controller is compatible with various DAWs like Cubase, FLstudio, Logic, and more.
Connectivity to other devices is made possible through the use of an OTG cable.
It also works well with different apps like Apple Garage Band, Lgrand Piano, Music Studio, and Piano Apprentice.
The device features a clean-looking white panel with wood-like sides, offering a comfortable grip.
You will also find the footswitch jack and the USB port on one side of the device.
3. midiplus AKM320 MIDI Keyboard Controller
The AKM320 entry-level MIDI controller from midiplus is perfect for beginners wishing to develop their creativity in creating music.
Review
Some of the features of this keyboard include:
This controller comes with 32 velocity-sensitive mini-keys, suitable for sending MIDI messages to your DAWs.
It will let you control the sound as you create music.
The MIDI keyboard does not come with a lot of features but can work well with various DAWs.
It has a functional pitch bend and modulation wheel.
The controller also comes with transposition and octave buttons to adjust up or down according to your preferred setting.
It also features a footswitch jack that typically works well with most sustain pedals.
4. Nektar SE49 MIDI Keyboard Controller
Nektar provides musicians with this high-quality MIDI controller at an affordable price but with features that will allow you to start creating music.
Review
This product has a lot to offer, including:
This SE49 comes with a USB cable that you can use to connect it to your computer.
Have fun expressing your love for music through its 49 full-size velocity-sensitive keys.
It features three fixed keyboard responses and four velocity curves to adjust as needed.
On the left side of the keys, you will find one MIDI fader and four buttons you can use to assign different parameters according to what you need.
You can shift the octave, transpose a chord, switch between MIDI channels or programs, select tracks, or browse patches once you activate the Nektar DAW integration.
Musicians don't need to download any driver for this MIDI controller to function.
All you need is to connect this device to your Mac or Windows computer using the included USB cable.
The device also comes with an input jack to add a switchfoot pedal that you can use for sending MIDI messages or sustaining a note.
This plug-and-play device works well with most MIDI software, but it works best with Nektar's DAW Integration system.
You can easily control your DAW using this MIDI keyboard controller to select your tracks or transport the functions.
Get the most out of Nektar DAW Integration by registering your SE49 device and downloading the integration files afterward.
This software supports other DAWs like Bitwig, Cubase, Digital Performer, FL Studio, and Garageband.
Perform and create music like a professional with the Bitwig 8-Track DAW that comes with the Nektar DAW Integration.
This digital audio workstation features more than 50 software effects and instruments suitable for MIDI and audio tracks or can accommodate VST plugins.
5. Samson Graphite M25 MIDI Controller
The MIDI device from Samson offers music production controls and programmable functions perfect for your home studios.
Review
Some of the key features of this product are:
Keyboard and Trigger Pads
The semi-weighted velocity-sensitive keys of the Graphite M25 provide an expressive and responsive platform.
This portable MIDI controller has 25 mini keys offering a perfect pitch range for your performance and music production.
It comes with pitch bend and touch-sensitive modulation ribbon strips for accurate control of your device.
There's also a dedicated octave button that allows you a four-octave range change, expanding your controller's capabilities.
You can extend your notes' sound without using an external pedal accessory through the unit's sustain button.
There are also four programmable velocity-sensitive trigger pads with aftertouch plus four virtual addition that you can use to create drum beats.
You can manage your music software from the Samson controller's functions since it comes with programmable features.
It has its master volume encoder, eight MIDI knobs, and transport controls that you can customize according to your required parameters.
It also comes with a Control Change (CC) mode for relaying messages or program change information with four programmable preset choices.
There is a free downloadable Graphite Editor Software from the Samson website that you can use to customize your MIDI workflow.
Can I Learn To Play Piano With a MIDI Keyboard?
Some musicians, especially beginners, who are not well-versed with piano playing, can practice and learn on a MIDI keyboard.
Although it is not an ideal option, MIDI keyboards offer a more affordable and portable way of learning how to play the piano.
However, you cannot compare the real piano to a MIDI keyboard, especially the keys' weight and feel.
Should I Get a 25 or 49 Key MIDI Keyboard?
There are several factors to consider when trying to choose the number of keys on a MIDI keyboard.
The 25-key controllers are not suitable for two-handed playing due to their limited octave range.
In contrast, the 49-key units fall between the mini and full-size models.
The musician's skill level and musical needs are also reasons to look into when choosing this MIDI keyboard style.
Space is another concern when choosing between 25- and 49-key controllers. If you have enough room, the 49-key models are better.
Are MIDI Keyboards Good for Beginners?
Using a MIDI keyboard saves you a lot of money by using virtual instruments instead of buying real ones for those starting their music production journey.
Creating music with a MIDI keyboard provides newbies with a controller, recording software, and virtual instruments.
Although using a MIDI keyboard for beginners to create music is not mandatory, it still feels right and natural to utilize this external device.
What Is the Difference Between MIDI Controllers and Keyboards?
MIDI controllers look like keyboards that do not function alone. They send and receive MIDI signals without producing any sound.
You need to connect a MIDI controller to an external source to hear the sound you have created.
When connected to a computer, you have the option to edit your composition using music software.
Most MIDI controllers have USB ports, utilizing the plug and play option. You will also need a digital audio workstation or DAW to create MIDI data.
In comparison, keyboards are standalone instruments that you can use to create music without using other equipment to function.
Electronic keyboards are portable instruments that allow you to create or play different music wherever you are.
Most of these electronic keyboards have built-in speakers. They also come with various controls and options for you to create different sounds.
Can You Use Any Keyboard as a MIDI?
You don't have to buy a new MIDI keyboard if you have one at home that you haven't used in a while.
However, you need to ensure that your keyboard has a MIDI out port to work as your controller.
MIDI has been around for a long time; thus, you should find this port in your device.
You will also need an adapter cable from USB to MIDI and MIDI software or DAW installed on your computer.
The adapter cable typically has USB on one end, while the other end must have three MIDI ports for IN, OUT, and THRU.
Once you connect these two devices via the adapter cable, try hitting the keys on the keyboard and check if it's sending MIDI signals.
If your computer recognized the adapter, you could launch your DAW or musical software, which detects the MIDI signals.
Our Final Recommendation
We reviewed five of the best MIDI keyboard under 100 dollars and checked what each one has to offer.
Based on what we have gathered, we can say that the Nektar SE49 MIDI keyboard controller stands out when it comes to features.