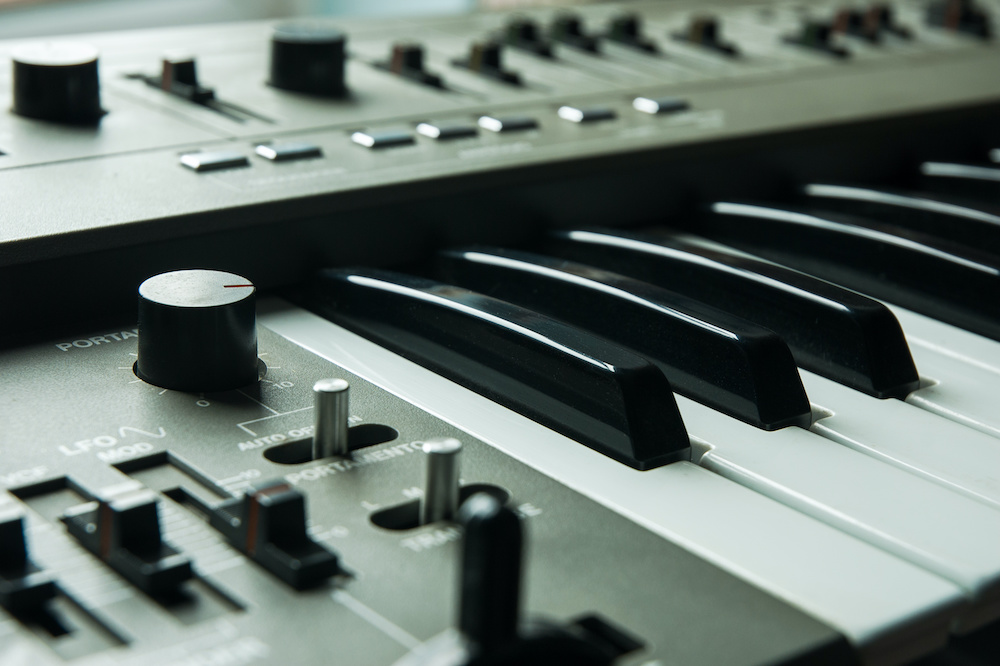 Best MIDI Keyboard of 2021: Complete Reviews With Comparisons
The best MIDI keyboard can unlock a world of digital music you have yet to explore.
With tons of innovative options and easy connectivity, you can craft unique tracks in a matter of hours.
Below, you will find five of the best MIDI controllers that combine a user-friendly interface with studio-quality music production.
Comparison Chart
AKAI Professional MPK Mini MK3
Alesis V25 25 Key MIDI Keyboard Controller
Nektar IMPACT LX25+ 25-Key Midi Controller
midiplus AKM320 32-Key Midi Controller
Arturia MiniLab MKII Inverted MIDI Controller Black
Best MIDI Keyboard Reviews
1. AKAI Professional MPK Mini MK3
The AKAI Professional MPK Mini MK3 has a comfortable 25-key interface with eight drum pads and eight knobs.
Its professional aesthetic would look phenomenal on your production desk and revolutionize how you make beats.
Product Highlights
This MIDI keyboard combines beat-making and music production into one convenient interface.
It is powered by USB, making it much easier to connect to your studio computer.
You'll also have access to 25 mini velocity-sensitive keys for production as well as a virtual synthesizer for beat production.
The four-way thumbstick is useful for dealing with modulation and achieving dynamic pitch.
There's also an arpeggiator built into the keyboard with an assortment of ranges, modes, and resolutions.
Another fascinating feature of this MIDI keyboard is its backlit MPC-style beat pads for full drum kit programming.
You can quickly trigger your favorite samples, control your synthesizer, or enable note repeat for drums.
Control is one of the most spectacular components of the AKAI Professional MPK Mini MK3.
Users have eight 360-degree knobs for assigning FX sounds as well as studio plugins.
With this, you will find that working with synth controls and making small or extensive tweaks has never been simpler.
As an added benefit, you will also receive professional-quality studio production software.
This package is an all-in-one kit, including software that offers MPC Beats, six virtual instruments, and two gigabytes of content.
What to Like About It
This MIDI keyboard boasts a professional appearance but has beginner-friendly features.
There is an endless number of encoders to help you with resistance, and the keys feel incredibly solid.
You will also appreciate the built-in screen, which provides convenient visual feedback.
What Not to Like About It
One of the more concerning features of the keyboard is that it doesn't sync well with other popular software, like FL Studio.
The device also has a lag, which creates too much delay in third-party production software for it to be considered useful.
2. Alesis V25 MIDI Keyboard Controller
Because of its impressive functionality, the Alesis V25 could easily be considered one of the best MIDI keyboards today.
It has four assignable buttons and knobs, professional-looking backlit pads, as well as a quality software suite.
Product Highlights
If you are looking for an intuitive MIDI controller, this is one of the better options to consider.
With it, users will be able to take command of their music software without compromising sound quality.
There are 25 full-size velocity-sensitive keys built into the unit, as well as up and down buttons for controlling the octave.
You can unlock full melodic ranges with the perfect studio software, including melodies, chords, and bass lines.
Along with the 25 keys, eight MPC-style drum pads are set up upon arrival; however, they can be adjusted.
You'll also find wheels for adjusting modulation and pitch, as well as four additional assignable knobs.
Users will easily activate their favorite effects, tweak volume levels, close filters, and more.
One of the best features of the Alesis V25 is that it is fully customizable to fit your specific style.
You can opt to send a wide variety of MIDI messages to the computer based on how you prefer to play.
Similar to the previous MIDI keyboard we explored, this package also comes with a convenient software suite.
You will have a ton of software options, including:
Pro Tools: Alesis Edition
Ableton Live Lite 9
Mini Grand
Eleven Lite
DB-33
Xpand 2
As soon as you unbox your new MIDI controller, you would be able to immediately begin producing phenomenal tracks.
It is highly recommended for singer-songwriters, streamers, and any other type of musical artist.
What to Like About It
The Alesis V25 is designed for creators of any experience level, though it proves most useful for beginners.
It is the perfect size for most workstations, especially with its slim body.
Fortunately, it also works quite well with third-party applications, including FL studio.
One of the most considerable benefits is the feeling of the keys, as they are semi-weighted.
What Not to Like About It
The drum pads are where the most significant issues come into play, as they often double hit with a single tap.
You will likely have to make sure your drivers are regularly updated for drum pad improvements.
Also, there is some concern about Mac OSX's compatibility.
Unfortunately, some users noted the controller no longer works with the most recent update.
3. Nektar Impact LX25+ MIDI Controller
The Nektar Impact LX25+ MIDI Controller is another well-rounded option packed with everything you would expect in a controller keyboard.
What makes it unique is its compact design, which makes it exceptional for production and streaming desks.
Product Highlights
It can be frustrating to purchase the best MIDI keyboards only to find out they don't work with third-party applications.
The Impact LX25+ addresses this issue with its broad compatibility with any music applications installed on your computer.
You will also have a few smart features that boost the keyboard's functionality that put it in-line with professional options.
You can easily plug the MIDI cable into your PC or Mac without having to download an extensive list of drivers.
You will also love how you can connect the Impact LX25+ directly into your DAW integration software.
This process helps to turn the controller into fully-configurable controls for the top 11 DAWs.
Users will be able to seamlessly navigate through projects, tweak their list of virtual instruments, and control their mixer functions.
If you are in the market for a full-size keyboard, this is one of the best to consider, as it boasts 25 full-size keys.
Also, there are eight hyper-sensitive LED drum pads you can quickly program to meet your needs.
You'll find real-time controls that are also fully programmable, as well as five user-presets you can set as needed.
Using the USB cable, you can connect the Impact LX25+ to a Windows PC, Mac, or Linux operating systems.
You also have the opportunity to connect it to iOS devices with a camera connection kit.
The keyboard's 25 keys are velocity-sensitive, allowing you to choose from four different curves based on playing style.
Users will easily find the perfect level of a hard or soft touch for a more dynamic experience.
There are also dedicated buttons for octaves, transposing, pitch bending, and modulation.
The real-time controls built into the unit are particularly notable, as they include eight potentiometers and a 30mm fader.
You can opt to send individual unique controls to any of the five user-presets and null them with a single switch if needed.
The eight drum pads are sensitive and dynamic, as you can assign different MIDI sounds to each with the "Pad Learn" feature.
There are six transport buttons within reach of the keys, including stop, play, record, cycle, and rewind.
Using this music production software, you will appreciate the Instrument Mode, which allows for virtual control.
In the hardware, your new MIDI controller automatically handles assignments with pre-mapped plugins for ease of use.
What to Like About It
With optimal DAW control, you can easily map the controller to the programs you enjoy using.
You also have plenty of control with your parameters, making music production more straightforward.
In terms of the keyboard's feel, you'll find that the drum pads have the highest quality feedback.
What Not to Like About It
The keys on the Impact LX25+ lack sensitivity, as they are incredibly sticky and stiff to the touch.
This package also includes minimal software, so you'll need to have a third-party music application for it to be useful.
4. Midiplus 32-Key MIDI Controller
Simplicity can often be preferred when it comes to music peripherals.
The Midiplus 32-Key MIDI Controller is the perfect entry-level option with fundamental features.
If you want basic keyboard-centric controls, this is one of the best MIDI controllers to consider.
Product Highlights
This MIDI keyboard is ideal for artists interested in more than 25 keys to use.
In this model, you will find 32 mini keys that feature essential functions with velocity sensitivity.
The key layout is one of our favorite features, as it helps to make the device easier to understand and use.
The smaller key size is comfortable for beginners and also contributes to the streamlined design of the device.
It fits perfectly in most workspaces but can also be used outdoors for on-the-spot performances.
Another user-friendly feature of the controller is its plug-and-play functionality.
Users won't have to worry about installing drivers before the keyboard works with their DAW.
All you have to do is use the USB MIDI Out port to begin playing music at any time.
You will also find the typical pitch and modulation wheels and buttons for adjusting the octave and transpose.
Fortunately, the Midiplus 32-Key MIDI Controller is ready to be used with two of the most popular operating systems.
You can sync the device to Windows XP and Mac OS X immediately using the included USB cable.
What to Like About It
Compared to some other MIDI controllers, this model has better necessary action that breaks in over a short period.
You are sure to appreciate the convenient placement of the volume slider, as well as how easily you can map the device.
It is an excellent option for traveling artists, too, because it is lightweight and easy to pack.
What Not to Like About It
Although the MIDI controller keys have better action, how they translate in your software will differ.
They will likely register poorly, often repeating notes inadvertently not being recognized at all.
Also, the USB cable that arrives with the keyboard has poor longevity.
5. Arturia MiniLab MKII Midi Controller
The inverted color scheme of the Arturia MiniLab MKII Midi Controller is very impressive.
It is a highly expressive option for amateur artists with a few intuitive controls that you will love to have.
Also, it comes with convenient software ready to use right out of the box.
Product Highlights
The Arturia MiniLab MKII Midi Controller is a limited-edition keyboard with a unique inverted style.
It is convenient from the start, offering hands-on plugin control and integrated software.
You will appreciate the built-in Lab integration that helps you master the art of making music.
The organ-style keys are particularly notable, especially with their unique keyboard colors.
Also, the flipped white and black casing offers a more appealing aesthetic for your workstation.
You'll find that the controller is moderately smaller than other units, which is excellent for small spaces.
With simple integration, you can quickly connect the device via USB and begin using your favorite virtual instruments in seconds.
There are built-in drum pads, 25 keys, and a diverse selection of virtual instruments with the included software.
Regarding key design, each of the 25 keys is slim, which is fantastic for those looking for an easy-to-use format.
You'll find added Mod and Pitch Blend touch strips as well as a sustain pedal input for further customization.
Two portions of the eight drum pads are RGB backlit and highly pressure-sensitive, ideal for responsive feedback.
Users will appreciate the tactile control they can have over making beats, launching clips, and controlling projects.
There are 16 rotary encoders on this unit, allowing you to easily access your mixing tools and virtual instruments with one tap.
It is also a very lightweight piece of equipment for traveling artists, so you can take your music with you anywhere you go.
As mentioned, the included software lets you get your virtual studio ready to play as soon as you unbox the device.
The three programs you will receive are Ableton Live Lite, Analog Lab Lite, and UVI Model D Grand Piano.
What to Like About It
There are plenty of customizable features in the Arturia MiniLab MKII Midi Controller.
The high-quality keys are fantastic for tactile feedback, and you will love how it is ideally-sized for travel.
Also, to take the headache out of using a new MIDI controller, this device has perfect DAW integration.
What Not to Like About It
Beginners might find this unit challenging to use at first, as there is a significant learning curve.
Also, the adjustment knobs feel relatively flimsy, which could easily be improved.
Buyer's Guide
MIDI keyboards have become one of the most critical devices in the music industry for modern musicians.
With that said, you would want to make sure you are choosing a unit that has all of the functions you could need.
In this buyer's guide, we explore the essential features to consider when looking for a MIDI keyboard.
1. Number of Keys
One of the first things to consider is the number of keys built into the keyboard.
This is especially significant for beginners, as it can influence your experience with faders, knobs, and other devices.
The number and size of the keys can directly influence how much space is left for other essential functions.
There are four main groups of keys that you will find with MIDI controllers, ranging from 25 to 88 keys.
When choosing, consider the available space you have on your workstation, as 88-key controllers are substantially larger than 25-key options.
25-Key Keyboards
25-key models are the most lightweight and mobile but can also be fragile.
They are best used by artists who prefer playing with one hand, so they are best suited for beginners.
49-Key Keyboards
This size is another option for traveling musicians, although they can be double the size of their smaller counterparts.
With 49 keys, you should be able to comfortably play with two hands, making it a great intermediate option.
61-Key Keyboards
If you are a fan of a more classical organ approach, a 61-key MIDI keyboard is a great option.
You will have a more comprehensive array of notes you can use to make the most of your production software.
88-Key Keyboards
88-key keyboards are great for professional artists who want to access the device's full potential.
They will play similarly to acoustic pianos, thanks to the higher-quality keys and advanced functionalities.
2. Knobs and Controls
Along with the keys on your MIDI controller, you must also consider the knobs and controls.
These functions may include pads, knobs, and faders that add depth and diversity to your sound.
When mapped correctly, you could use these components to create an assortment of manipulative sounds in your DAW.
Pads
Pads are most often used as the "beat makers" of your controller.
Most artists will map drum beats to the pads, as they have comfortable tactile feedback.
They will be sensitive to velocity and are often made of rubber-like materials.
Knobs
Using knobs gives you unleashed access to encoding and potentiometers.
Most of the higher-end brands allow you to customize the functionality of the knobs as needed.
Faders
Some of the entry-level MIDI controllers might not have faders, but they can be an essential component.
You'll often use these as a way to control the equalization of your project.
Buttons
The buttons on your controller will be some of the most-used functions, apart from the keys.
You can typically assign them to specific tasks, or they might arrive pre-assigned.
They will often be required to access your transpose function, adjust octaves, manage your settings, and more.
Screen
If you are an artist that prefers visual feedback, consider a MIDI keyboard with a screen.
This feature will relay information about the activities you are performing.
3. Compatibility
It is far too often that beginners find themselves buying MIDI keyboards that don't work with their DAWs.
Before you invest in one, make sure it is adaptable to your operating system and preferred programs.
The top-recommended controllers will most often work with the most popular DAWs, including FL Studio, Ableton Live, Studio One, and Reason.
You would also want to consider the drivers that need to be downloaded to use the device.
If it is a plug-and-play model, for example, downloading drivers won't be necessary.
4. Connectivity
One of the primary reasons MIDI keyboards are as popular as they are is because of their portability.
More artists are relying on these devices to work with their laptops or other portable devices.
With that said, ensure the model you choose connects via USB compared to MIDI output.
Some of the more antiquated models will require a standard five-pin MIDI output, which limits their playability.
It is most convenient to opt for a USB connected controller.
5. Software
It is not required that MIDI keyboards come with software, although it can be incredibly convenient.
Instead of having to research and download DAWs yourself, some models come with top-tier programs.
This also ensures the controller works with the third-party programs they come with, which is ideal for beginners.
Some of the top recommendations for included software are Eleven Lite, Ableton Live, and Analog Lab Lite.
MIDI Keyboard FAQs
1. Is it worth getting a MIDI keyboard?
MIDI keyboards aren't required for music production, but they are an excellent investment.
Producers can efficiently work without a keyboard, but they offer a high sound diversity than any other instrument.
An added benefit is that many models are under $100, making it an affordable option for artists.
The amount of power within a MIDI controller is exceptional and lets you control an assortment of virtual instruments.
From designing a soundboard to creating heavy metal tracks, the possibilities are endless.
2. What can you do with a MIDI keyboard?
MIDI keyboards have an extensive list of uses in a variety of industries.
Producers and artists most often use them to play virtual instruments, ranging from classical pianos to '80s guitar riffs.
When connected to your computer and DAW, you can transform a traditional-looking keyboard into a drum machine.
Artists can edit performances note by note, change the articulation of specific notes, and even replace instruments.
You can add unique instruments that would otherwise be unobtainable or add unique auditory effects for added impact.
There are many things that they bring to the table, which is why they are as popular as they are.
3. Why are MIDI keyboards so expensive?
The more functions a MIDI keyboard offers, the more expensive it is bound to be.
However, most beginner and intermediate producers don't need to invest in the thousand-dollar units.
Instead, try your hands at some of the options under $100, as they can be highly functional and affordable.
4. Does a MIDI keyboard work without a computer?
MIDI controllers don't produce musical notes like a traditional keyboard or piano.
Instead, they need to be connected to a digital audio workstation to produce sound.
The controller sends a signal to your computer, which then goes into the DAW and plays virtual instruments.
5. What size MIDI keyboard should I get?
The size of your MIDI keyboard depends on the number of keys you are interested in having.
25-key designs are recommended for beginners, as they are the most simplistic.
Then, as you garner more experience, you can upgrade to the more extensive options.
Which MIDI Keyboard is Best?
The best MIDI keyboard is the Arturia MiniLab MKII Midi Controller, thanks to its versatility and compatibility.
It is the ideal portable size for traveling artists but also proves incredibly useful for standard in-studio production.
With this, there are a ton of customizable functions and presets for you to take advantage of, as well as top-tier included software.
1. Best By Price
2. Best By Type
3. Best By DAW (Digital Audio Workstation)