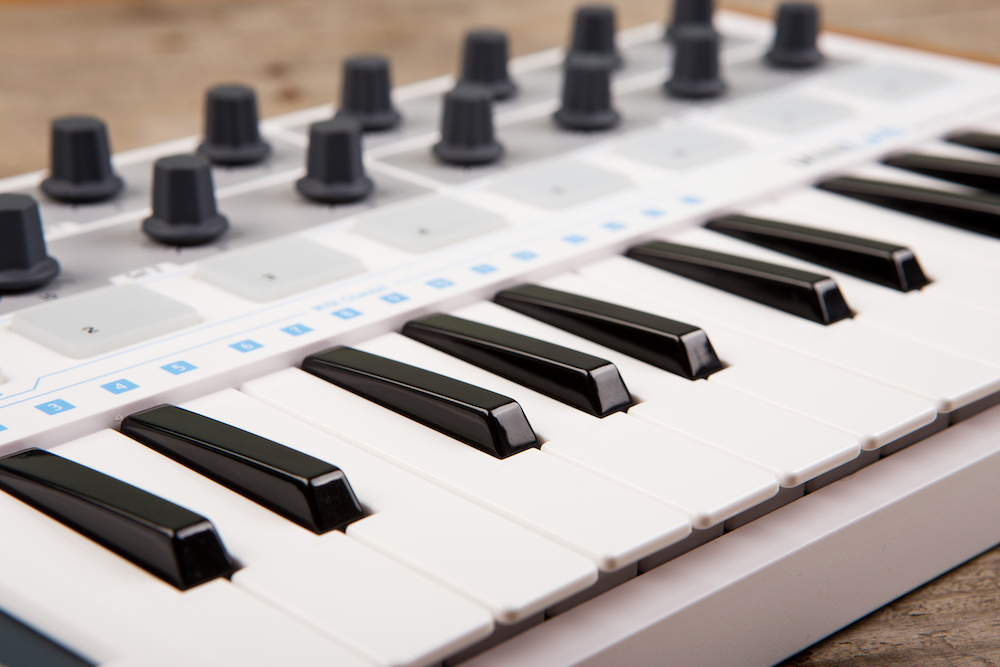 Best Mini MIDI Keyboards of 2021: Complete Reviews With Comparisons
Sometimes, smaller can be better. If you have a tight space for a recording studio, you would want to capitalize on the smaller version of instruments and audio devices.
The best mini MIDI keyboard can offer the basic functions of larger devices, and you can still come up with outstanding results using your skillset.
If you're in the market for a small MIDI component, then you have come to the right place.
We have compiled five of the best mini devices you can find in the market, with pros and cons to set each one apart from the others.
Comparison Chart
midiplus MIDI Keyboard Controller X2 Mini
Arturia MiniLab MIDI Keyboard Controller
Donner DMK 25 MIDI Keyboard Controller Music Mini Key
Alesis Melody 32
Korg 25-Key Midi Controller
Best Mini MIDI Keyboard Reviews
1. MIDIPLUS X2 Mini MIDI Keyboard Controller
MIDIPLUS was established in 2011, but its products sprung from the development of portable keyboards of a mother brand since 2006.
Today, it has a wide array of musical devices, including MIDI keyboards, audio cards, and other MIDI-related products.
Review
MIDIPLUS caters to all kinds of customers, and it keeps an extensive portable MIDI controller product line.
If you want to go mini with MIDIPLUS, the X2 Mini MIDI Keyboard Controller is an excellent option.
The X2 Mini measures 16.1 by 5.4 by 2.0 inches and weighs 3.4 pounds.
While other products are lighter and smaller, the MIDIPLUS X2 Mini packs many features to justify its size and weight.
The X2 Mini has 25 velocity-sensitive mini keys, allowing you to create loud or soft sounds with every press.
Using two transpose buttons for octave up and octave down, the X2 Mini supports a maximum of 64 simultaneous polyphonic sounds.
For pitch bend and modulation, this device sports two capacitive touch sensors instead of analog wheels.
Each capacitive touch sensor has a row of LED lights that can help you keep track of pitch bend and modulation levels.
You will also find four customizable knobs with default settings for volume, pan, expression, and reverberation.
There is a shift button to the left of these knobs for customizing several functions.
In addition to all of these controls, the X2 Mini has six backlit buttons programmable for MIDI machine control (MMC) or continuous control (CC) transport functions.
The X2 Mini has a three-character digital LED display in its upper left corner for showing the device's current settings.
Now, let's take a look at what the rear interface of the X2 Mini has to offer.
Connectors at the back panel include a sustain pedal interface, a MIDI out port, and a USB port.
If you plan to use MIDI as your primary transfer medium, you still have to draw power through the USB port from a computer or a wall adapter.
While the MIDI out port enables a connection with another MIDI device, the USB port allows connections with a PC or a Mac.
2. Arturia MiniLab 230401 Mini MIDI Keyboard Controller
Arturia is a team of passionate specialists dedicated to developing music software and hardware for pro and amateur artists.
With offices in France, the USA, and Mexico, Arturia now operates in 55 countries, and musicians love what they have to offer.
Review
The Arturia MiniLab is living proof that something small can be so exceptional.
It packs in hybrid hardware features that work well with audio programs, albeit being a mini version of monster devices.
Since you're here for a mini MIDI keyboard controller, you'll be happy to know that the Arturia MiniLab only measures 14.69 by 7.52 by 1.97 inches and weighs 2.27 pounds.
With these features, you can fit it in almost any backpack and bring it with you anywhere you go.
All the keys and controls are on an all-white panel, flanked on each side by wooden frames.
The wooden feature integrates a more classic look into the Arturia MiniLab.
The Arturia MiniLab has 25 velocity-sensitive mini-keys and two buttons for up and down transposition up to four octaves.
You can press both octave buttons to reset back to the center key range.
The first 16 keys also double as MIDI channel selectors with the shift button.
Above the keyboard, you will find eight pads for use with the Analog Lab preset sounds.
These pads can also have dual functionality with the bank button, labeled as Pad 1-8/9-16 beside the shift key.
To the left of the keyboard, the device has two touch strips for modulation and pitch bend.
The top panel of the controller features a total of 16 programmable parameter control encoder knobs.
Arturia preconfigured knob one for controlling the master volume and knob nine for selecting Analog Lab presets.
Knobs two to eight and 10 to 16 control various parameters for each preset in Analog Lab.
Arturia offers the Analog Lab software with the MiniLab.
This software offers up to 6000 synth sounds along with carefully selected presets from the Arturia V Collection.
Analog Lab allows fast preset sorting so that you can find a preferred sound effortlessly.
The software allows you to sort sounds by instrument, by type, or by characteristics.
Analog Lab offers straightforward editing. It comes with a complete array of sound-tweaking parameters that you can directly assign to the MiniLab controls.
The Arturia MiniLab is Class Compliant, meaning it does not require Windows and MacOS X drivers.
If you look at the left side wood panel, you will find two essential connectors: a footswitch jack and a USB Type-B port.
While the footswitch jack functions as an on and off switch, you can configure it for momentary sustain pedals or latching controls.
The USB connection draws power for your PC or Mac while transferring control data to the Analog Lab app.
If you don't think the Analog Lab can fulfill your every whim, the Arturia MiniLab also pairs with other applications.
Other software programs can use the MiniLab controls through the MIDI Control software.
Finally, since the MiniLab is highly portable, Arturia provides a Kensington security lock feature on the left side of the rear panel.
3. Donner Professional Mini DMK25 MIDI Keyboard Controller
With a strong and efficient research and development team, Donner commits to providing new musical experiences with its products.
Donner is the pioneer of mini pedals for guitars, and it still capitalizes on everything mini for the convenience of musicians.
Review
For the MIDI controller sector, Donner offers its Professional Mini DMK25 keyboard.
This particular model has a sleek, modern design, with black controls on an all-white panel.
While it has fewer controls, the Donner Professional Mini DMK25 offers some features not available to the Arturia MiniLab.
The Donner Professional Mini DMK25 measures 13.19 by 7.09 by 1.42 inches, making it even smaller than the Arturia MiniLab.
With a weight of 1.43 pounds, it is also lighter than the MiniLab and the X2 Mini.
The Donner Mini DMK25 is a premium MIDI controller that has 25 expressive synth-action mini-keys.
It has modulation and pitch bend touch bars on the upper left corner and eight hyper-sensitive backlit pads right beside them.
You will find six transport buttons at a central location right below the drum pads for easy access.
The six transport buttons are mapped to control Cycle, Rewind, Forward, Stop, Play, and Record.
Additional controls on the upper right include four programmable memory banks, four knobs, and four sliders.
All of the knobs and sliders are assignable to presets for the four memory banks.
Finally, the Donner Mini DMK25 has six more buttons between the sliders and the drum pad.
The four buttons on the lower part of this panel allow transposition and editing.
The remaining two buttons add features for the drum pad.
One button accesses the pad bank, while the other selects the program presets for the four top pads.
For connectivity, the Donner Mini DMK25 has two ports on its rear panel.
One port is for a sustain pedal, and the other one is for a USB Type-C MIDI connection.
The device draws power from your PC or Mac.
After inserting the Type-C power and data transfer cable, all you need to do is install any of its supported applications.
The Donner Mini DMK25 supports Cubase, FL Studio, Logic Pro, and many other audio programs.
4. Alesis Melody 32 Portable Mini Digital Piano With MIDI Connectivity
Alesis has been pushing the limits to deliver high-quality and affordable musical equipment for professionals and amateurs.
While the other options presented here have somewhat technical features, Alesis levels the playing field for aspiring youngsters.
The Alesis Melody 32 is a portable mini digital piano that allows a USB-MIDI connection for use with educational audio software.
Review
This portable mini digital piano puts a distinction between real pianos and musical toys for kids.
Packed with 300 high-quality tones in an assortment of orchestral instruments, it has many valuable learning features.
Among all of the options in this selection, the Alesis Melody 32 is the only one with standalone functionality.
It has its own speakers and allows the creation of musical pieces without the help of other MIDI devices or computers.
What's more, the Alesis Melody 32 made this shortlist because it is mini and portable in its own accord.
The Alesis Melody 32 measures 22.0 by 6.5 by 2.5 inches and only weighs 2.4 pounds.
It may be the largest device among all the options here, but the added features and standalone functionality more than compensates for its size.
It is still a mini device compared to many others, and you'll find some more features that can demonstrate its movability.
The Alesis Melody 32 has a wide control panel right above the keyboard.
It has tone, rhythm, and demo song buttons that let you access more features using a numerical keypad.
Play with 32 piano-style mini-keys, and choose from 300 sounds or 40 demo songs using the number pad and plus or minus buttons.
Create unique pieces using this wide array of options with the five percussion buttons and a sustain button.
The Alesis Melody 32 keyboard is an excellent tool for starters.
It has more buttons for a metronome, two tempo controls, start-stop, record, and play.
If the device is too loud, you can use the volume buttons or plug some headphones on the device's 3.5mm TRS jack.
The Alesis Melody 32 has a USB-MIDI port for connectivity with a Mac or PC.
Use the included USB cable to use the device with any available recording software.
While this device offers mobility with four AA batteries, you can also use the USB cable to draw power from a wall adapter.
5. Korg nanoKEY2 MIDI Controller
Korg has a long-standing reputation for creating highly innovative and uncompromising musical instruments.
Its devices inspire artists and creators while maintaining approachability for almost anyone.
Review
The nanoKEY2 presents a top MIDI keyboard design that is ahead of its time.
At first glance, everything will look like thin drum pads on a simple, rectangular board, but it is more than that.
It is a MIDI keyboard skillfully arranged to have enough key width and spacing, greatly reducing the chances of hitting the wrong keys.
In this shortlist, nothing can be as mini as the Korg nanoKEY2.
It has dimensions of 12.8 by 3.27 by 0.65 inches, and it weighs a mere 0.54 pounds.
When it comes to controls, the Korg nanoKEY2's small construction takes away many of the features available to the other devices we just presented.
It is a MIDI keyboard with 25 velocity-sensitive, thin, low-profile, great-feeling touch keys.
Other than that, you will find two pitch-bend buttons, two transpose buttons, a modulation button, and a sustain button.
The Korg nanoKEY2 connects to a PC or Mac using a mini-USB connection.
It also uses this connection for drawing power from your computer.
Additionally, the nanoKEY2 is compatible with iOS devices.
Final Recommendations
While this compilation features the top brands for the best mini MIDI keyboard, you can also choose from our selection of portable MIDI keyboards.
Nevertheless, if you find the options here viable, we recommend the Arturia MiniLab Mini MIDI Keyboard Controller as our number one choice.
Although it is more expensive than the others, it surely packs all of the features you need for such a compact device.
Alternatively, you might care more about going as mini as all the devices can get.
If so, the Korg nanoKEY2 MIDI Controller is your best bet.