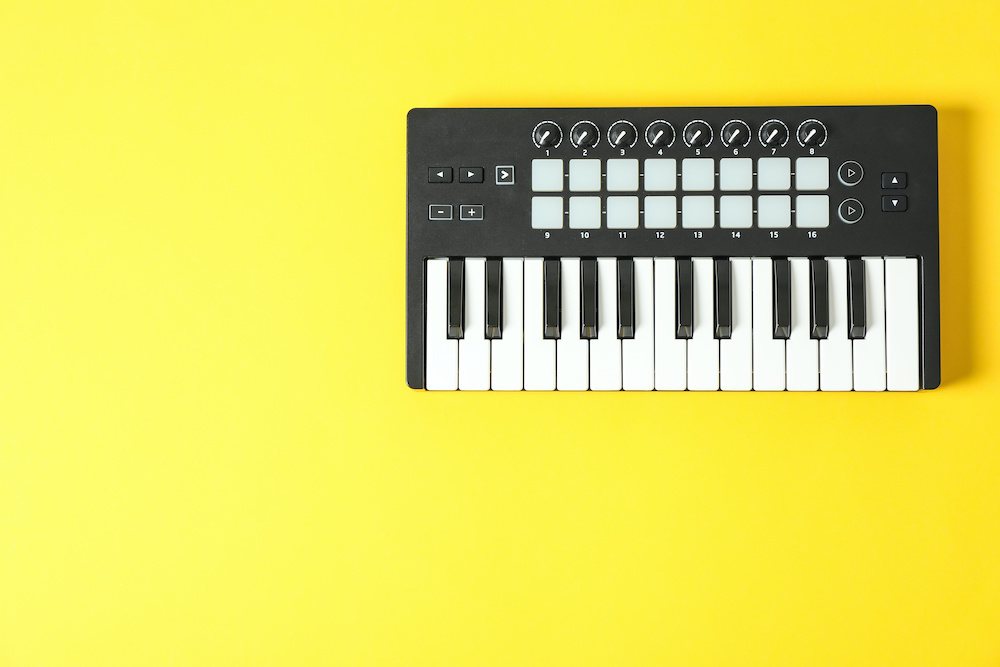 Best Portable MIDI Keyboard of 2021: Complete Reviews With Comparisons
The best portable MIDI keyboard is an exceptional purchase for artists who love to travel.
Not only are they great for packing, but they can also take up far less space on your workstation.
With innovative features and adaptable functions, they are a great space-saving option.
Comparison Chart
ammoon Worlde Panda Portable MIDI Controller
Novation Launchkey Mini MIDI Keyboard
M Audio Keystation Portable Mini USB MIDI Keyboard Controller
Alesis VMini | Portable MIDI Keyboard Controller
M-Audio Oxygen 25 IV Keyboard and Pad MIDI Controller
Best Portable MIDI Keyboard Reviews
1. Ammoon Worlde Panda MIDI Controller
Regardless of its small size, the Ammoon Worlde Panda MIDI Controller is a remarkable and convenient piece of equipment.
With this, you will have many of the same functions as high-end MIDI controllers in a more compact body.
Also, it is a plug-and-play device, so you won't need to worry about the driver installation.
Product Highlights
Because this MIDI controller is a plug-and-play, you won't need to install drivers.
What's even more impressive is that it is highly compatible with all versions of Windows, starting with XP, as well as Mac OS X.
If you prefer to use tablets for producing music, it can easily connect to your iPad through Garageband, too.
The Ammoon Worlde Panda MIDI Controller is an excellent option for entry-level artists looking to express their creativity easily.
With the USB 2.0 cable, you get unlimited connectivity capabilities regardless of where you are in the world.
The device boasts accurate high stereo output and plenty of functional features in its portable design.
There are 25 velocity-sensitive keys and eight control buttons, including bank, prog, pitch down/up, octave down/up, and CC mod.
You'll love the eight backlit trigger pads, too, which improve the overall functionality of the device.
Artists can quickly program their favorite beats to each of the pads, so you can promptly engineer more diverse sounds.
There are four control groups with four banks, all offering different settings.
You can assign specific tasks to the four control knobs and the four fully assignable control sliders.
Managing your modulation and dynamic pitch has never been simpler.
What to Like About It
With relatively sensitive keys, you should be able to get plenty of good sound out of this device.
It is relatively straightforward, with several customizable settings that are easily accessible.
It is also optimized for Mac OS X, making it incredibly easy to use right out of the box.
What Not to Like About It
There appears to be some output lag with this controller, which can make it challenging to master.
Also, the keys are sticky and don't appear to have much weight, so playing might be a bit more challenging.
2. Novation Launchkey Mini
One of the first things you will notice about the Novation Launchkey Mini is how uniquely it is styled.
It has a more traditional design than some of the more modern keyboards but is packed with many unique features.
Overall, it is a well-rounded option for intermediate and experienced artists.
Product Highlights
The Novation Launchkey Mini is one of the best options to use with Ableton Live.
The device enables you to control macros, select tracks, record, capture sounds, launch scenes, and so much more.
With that said, it is also compatible with an assortment of other DAWs.
The arpeggiator is one of the most notable selling features of the MIDI keyboard.
It is user-friendly and allows for more profound control by helping you change the gate, octave, beat, pattern, and more.
One of the more unique modes is the Fixed Chord mode, which allows you to assign fixed shapes to specific keys.
This MIDI controller is the most compact model available from Novation and can easily slide into a backpack.
The intuitive controls are perfect for in-the-box sounds, and there are plenty of comfortable functions.
Users will have 16 super-sensitive pads to assist with creating dynamic rhythms and drumming.
You'll find on-board transport, device, and mixer controls, which limits your need for computer-based adjustments.
There are also advanced macros and mixer controls so that you can have a heightened level of control.
As an added benefit, the 16 pads are RGB backlit, making them significantly easy to differentiate.
Artists will love the MIDI Out component, which allows you to connect to hardware synths with ease.
The on-board mod and pitch touch strips are outstanding and equally as useful as the eight rotary controls.
If you want a MIDI controller that comes fully prepared upon arrival, this unit is ideal.
Along with its innovative hardware, you will also receive an ample number of functional software programs.
Some of the included effects, instruments, and sounds are:
Two months of Splice Sounds
AAS Session Bundle
Softube Time & Tone
Spitfire Audio LABS - Expressive Strings
Klevgrand DAW Cassette
R0Verb
If you have your own preferred DAW, you will love the compatibility this device offers.
It works exceptionally well with Reason and Logic.
What to Like About It
With your purchase, you will receive a great bundle of software to use with your new controller.
Artists who prefer synth-action keys are bound to love this rig's design, especially as the keys are highly durable.
It is an excellent option for beginners, especially if you need a MIDI keyboard to throw in your bag quickly.
What Not to Like About It
Producers and artists who use FL Studio will be better off choosing an alternative keyboard.
It is not designed for the functions in FL and can cause the software to freeze consistently.
Another issue is its lack of instructions, making it challenging to master for first-time users.
3. M Audio Keystation Mini 32 MK3 MIDI Keyboard
The M Audio Keystation Mini 32 MK3 MIDI Keyboard is a convenient, straightforward device for music sequencing.
With this, you will have access to 32 mini keys that feel natural and offer velocity sensitivity as well as numerous comprehensive controls.
It is a fantastic option for artists looking for several expressive opportunities.
Product Highlights
Managing your preferred DAW has never been easier than with the exceptional functions in this device.
You will be able to take advantage of assignable octave range buttons as well as dedicated modulation and pitch-blend options.
Also, there is a convenient volume knob and sustain button on-board for realistic piano sustain.
Making music on the go will be more convenient for traveling musicians, as this device has a small footprint.
It's also ideal for any workstation, as it boasts Windows, Mac OSX, and iOS connectivity.
For iOS devices, you will require a lightning port to USB camera adapter.
One of the more unique features on the device is its Edit Mode, accessible with a single button.
Here, you'll find an impressive number of advanced functions allowing you to customize your sound.
It is also important to note that this MIDI controller requires a single USB cable for power, making it ideal for portable musicians.
Along with the comprehensive hardware, you will have access to plenty of software programs.
With your order, you will receive Pro Tools, First M-Audio Edition, and Xpand 2.
What to Like About It
The simple layout of the M Audio Keystation Mini 32 MK3 is ideal for small workstations.
Each of the keys has a comfortable action that registers correctly when pressed.
You will also love how it is plug-and-play for tablets and other mobile devices running iOS.
When you register your product through the manufacturer's website, you will unlock plenty of unique software.
You will also have free virtual instruments to choose from, which adds to the device's functionality.
What Not to Like About It
The USB port in the rear of the controller is unreliable and very shaky, leading to connectivity issues.
Also, the keys have sharp edges, which can be uncomfortable for players with larger hands.
4. Alesis VMini MIDI Keyboard Controller
Even though you are looking for a portable MIDI controller, you still want plenty of functionality.
The Alesis VMini MIDI Keyboard Controller has plenty of power in its small and portable design.
With your purchase, you will have access to a few different software options, making it ready to use right out of the box.
Product Highlights
The Alesis VMini MIDI Keyboard Controller is exceptional for musicians and producers who are always on the go.
Its genuinely compact design is easy to slide into your back for trips and can easily be connected via USB for power.
In its small casing, you will find 25 expressive synth-action mini keys that are receptively velocity-sensitive.
Unlike other MIDI keyboards of the same size, this device doesn't compromise in hardware.
Along with the 25 mini keys, there are also four backlit velocity-sensitive drum pads and four adjustable knobs.
You can assign an assortment of tasks to both the drum pad and knobs, as needed.
You'll surely appreciate the backlighting on the assignable knobs, as well, which is ideal for color-coding.
They are also a great addition that improves the device's overall aesthetic for a more professional appeal.
With your new MIDI controller, you'll have dedicated buttons for four specific functions.
It is simple to manage the sustain, modulation, octave, and pitch blend with these dedicated buttons.
Another massive benefit of this device is the software it comes with, which speaks to its versatility.
Users can download Xpand 2 virtual instrument software as well as V Mini Editor Software.
In terms of compatibility, this is one of the best MIDI keyboards for an assortment of DAWs.
By registering your device, you can also access a premium software suite, which includes:
Pro Tools Alesis Edition
Eleven Lite
Mini Grand
DB-33
What to Like About It
The Alesis VMini MIDI Keyboard Controller is an excellent option for beginners searching for an easy-to-use controller.
The software is very intuitive, and the hardware is perfectly sized to slide into a backpack quickly.
In terms of playability, one of the features you'll like is the firmness of the knobs, which adds a professional-quality feel.
What Not to Like About It
As with most MIDI controllers with synth-action keys, this device feels a little cheaper than more expensive options.
Also, the pad sensitivity is questionable.
Some users found it too sensitive, while others needed to hit the pads quite hard.
5. M-Audio Oxygen 25 MK IV MIDI Controller
The M-Audio Oxygen 25 MK IV MIDI Controller delivers streamlined performances and recording.
There are a ton of innovative features that make this unit one of the best portable MIDI controllers.
Product Highlights
To contribute to its portable size, this model features 25 full-size keys.
They are synth-action, which means they won't be the highest quality imaginable.
Still, since they are velocity-sensitive, too, they are exceptionally easy to use with most DAWs.
You'll have eight trigger pads that are highly adaptable for clip launching and beat production.
The trigger pads are also velocity-sensitive for ease of use.
Moreover, there are eight assignable knobs, highly recommended for manipulating your plugins and virtual instruments.
One of the more unique features of this device is its assignable fader.
When mixing productions, this on-board feature is quite impressive, as are the transport buttons.
Controlling your DAW without a mouse is exceptionally simple, as well, which adds to its portable convenience.
When you connect your new MIDI controller to your computer or tablet, it will automatically map its controls.
DirectLink is a fantastic addition that makes using the device simpler for beginners; it even works with top-tier DAWs.
The automatic mapping is most functional with Pro Tools, Ableton Live, Logic, and Cubase.
Another feature that sets this device apart is its LCD screen, letting you see immediate visual feedback.
Artists will have access to an on-board sustain pedal input so that you can add different unique effects to your tracks.
Alternatively, you can use the keyboard as a plug-and-play device for most laptops and tablets.
In regards to the software you'll receive, there are a couple of unique options.
You'll get SONiVOX Twist, which is a top-tier morphing synthesizer, as well as Xpand 2.
Uniquely, the M-Audio Oxygen 25 MK IV MIDI Controller also has VIP 3.0, which is an award-winning software for hands-on control.
What to Like About It
The pads are the most impressive piece of hardware in this device, as they are perfectly responsive.
You will also appreciate the number of session control buttons, faders, and loop buttons.
If Ableton is your preferred DAW, you will find the automatic mapping to be exceptionally convenient.
What Not to Like About It
The most considerable problem with the M-Audio Oxygen 25 MK IV MIDI Controller is its keyboard velocity.
Sometimes, the keys will stick, register incorrectly, or not register at all.
Buyer's Guide
Portable MIDI keyboards have a lot of functions they are responsible for.
Not only do they have to be easy to travel with, but they must also offer versatile uses.
Below, you will find several key features to consider when searching for a compact MIDI controller.
1. Keys
The number of keys in your desired model is a critical component that determines its size.
For example, an 88-key MIDI controller will be substantially larger than a 25-key model.
If you have limited space, you can quickly get away with a 25- or 49-key interface, which offers plenty of opportunities.
Another critical factor is the size of the keys.
Players with smaller hands will love standard and mini keys, while those with bigger hands might find mini keys too small.
Still, mini keys can significantly reduce the keyboard's size and weight, making the device ideal for travel.
2. Weight
Preferably, you want an instrument that can fit into your favorite backpack or overnight bag.
Otherwise, you will have to buy a dedicated carrying bag just for your MIDI keyboard.
Weight is important to consider, as you won't want a device that makes your bag uncomfortable to carry.
On average, 25-key MIDI keyboards can weigh between one and three pounds.
The more functions the device has, the heavier it will be, especially if it has weighted keys.
Some of the more top-end models will be around four or five pounds, which is still comfortable to carry.
3. Connectivity
There are two primary connectivity components to consider: how the MIDI controller connects to your device and its functionality.
The best option is to opt for a compact MIDI controller that requires a single USB to MIDI cable for laptops.
You will also want to consider if any special cables are required for connecting to a tablet, such as a camera recording cable.
The second part of connectivity is whether the device is plug-and-play or not.
Plug-and-play devices mean that they don't require software and driver installations before being usable.
All you will have to do is plug the device in, open your preferred DAW, and begin making music.
On the other hand, some devices require driver installation.
It is always best to read the instructions and set up your gear before traveling with your MIDI keyboard.
4. Transport Controls
Transport controls are an important function to consider when searching for the best portable MIDI controllers.
These controls limit the number of selections you need to make while using a mouse connected to your laptop.
The most common include play, stop, pause, rewind, fast-forward, and record.
The device will build all of the functions into the controller's interface so that you can have a more streamlined hands-on approach.
With that said, transport controls don't eliminate the need for a mouse but help boost convenience.
5. Performance Pads
Performance pads have boomed in popularity with portable MIDI keyboards.
They are designed in variations of eight, 12, or 16 with small square pads on the keyboard's face.
Artists and producers use these functions to create beats, launch loops, and assign other specific roles.
With on-board performance pads, you won't have to worry about investing in a separate device for beats.
Instead, everything that you need to create an assortment of versatile tunes will be at your fingertips.
Ensure that the pads are velocity-sensitive, similar to your MIDI controller keys.
They have a more natural feeling rather than triggering your samples via the standard keyboard keys.
Nevertheless, you can opt to assign specific effects and drum sounds to the keyboard keys as an alternative.
Portable MIDI Keyboard FAQs
1. Do you need a MIDI keyboard to make beats?
There are a couple of options open to you when you start making beats.
Often, artists debate between painting keys or using a MIDI keyboard, which is a more excellent investment.
It is well known that using a physical MIDI controller has a more natural feel than painting keys.
You will have access to a performance pad with programmable buttons that offer optimal tactile feedback.
You will quickly find that the pads' feedback gives a more hands-on approach to customizing bass and drums.
2. Should I buy a MIDI controller or a keyboard?
Deciding between a MIDI controller or keyboard depends primarily on your needs, as they are quite different.
Keyboards can be used as standalone instruments that typically produce a certain number of sounds without a computer.
They are great for live performances and have a more piano-like feel than MIDI controllers.
With that said, keyboards can also be used as MIDI controllers, as long as it has a MIDI OUT port.
On the other hand, a MIDI controller gives you endless opportunities when it comes to music production.
Not only do you have the same feedback as you'd get from a traditional piano but many other instruments, as well.
Using a MIDI keyboard, you can access unlimited virtual instruments that sound identical to the real-life version of the item.
MIDI controllers are also far more portable than standard keyboards and can easily be connected to your favorite DAW.
Overall, their versatility is what makes them a better investment.
3. Are MIDI keyboards good for beginners?
Although they may appear challenging at first, MIDI keyboards have a small learning curve that is easy to master.
The installation is simple, as are the software programs you can use with the device, depending on your choice.
You'll find a mind-blowing number of effects and adjustments that you can make to create the perfect track.
4. What is the difference between MIDI keyboard and MIDI controller?
MIDI keyboards and controllers both trigger midi events. A midi keyboard can be used as a stand alone device since it already contains sounds. A midi controller is meant to be used with an external source such as a sound module.
Both instruments connect to a computer or tablet using a USB or another cable type and plug into production software.
5. Can you use any keyboard as a MIDI?
A ton of keyboards can be used as MIDI, as long as they have MIDI OUT ports.
It is a technology in circulation for over 30 years, so most modern models should have the option available.
To use your keyboard as a MIDI controller, you will need a USB to MIDI adapter cable and a DAW.
Plugging the keyboard into your PC or Mac will be registered by your DAW of choice.
From there, you can continue using it as you would any other MIDI controller.
Our Final Recommendation
Our choice for the best portable MIDI keyboard is the M-Audio Oxygen 25 MK IV MIDI Controller.
It is the most professionally-built unit with an impressive number of hardware functions that are highly adaptable to most DAWs.
From quality keys to tactile performance pads, everything you could need is built into this controller.