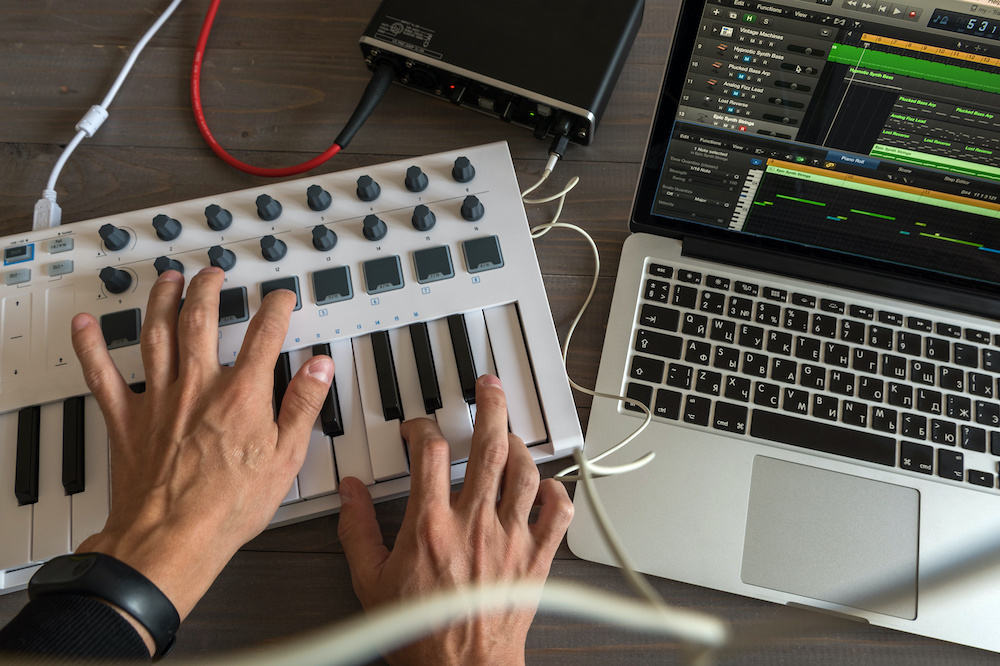 How To Connect MIDI Keyboard To Mac: A Beginner's Guide to Audio Production
These days, it's not uncommon to rely on technology to propel your music career.
If you're producing music in your home studio, chances are you want to learn how to connect MIDI keyboard to Mac or a personal computer.
With interactive MIDI applications and software at your disposal, you can record tracks quickly, learn to play effortlessly, and even compose your music with ease.
Knowing how to connect your MIDI controller to your Mac, computer, tablet, or smartphone opens not just one but several paths in audio production you never would have imagined you'd take.
Always remember that in some areas where your skills can't take you, technology just might.
It's your duty as an artist and creative to take advantage of the things that allow you to explore your full potential.
Speaking of true potential, something as simple as connecting MIDI keyboard to Mac can get you there. Learn how to connect MIDI to Mac correctly by reading on.
How Do I Connect My MIDI Keyboard To My Computer?
You can use a range of interactive and software features when you connect MIDI to Mac or a personal computer.
However, you must get the connection right. Doing that will depend on the number of ports available, type of keyboard, and software used by the keyboard.
Step #1: Locate the Port
The in and out ports for PC connection can usually be found near the rear of most MIDI keyboards.
These ports are round and labeled clearly so it's hard to mistake them.
In case there isn't a MIDI port, check for a USB port. You can use it to connect to the computer instead.
Step #2: Determine the Port Type
What kind of port will you use to connect the keyboard and the PC?
Connecting straight to the sound card will require a 15-pin game port located on the back of your personal computer.
Connect through the USB if your connector type is "MIDI to USB" or if your keyboard has a USB port.
Some computers have built-in MIDI ports.
Step #3: Connect the Keyboard To the Sound Card
This is done by connecting the 15-pin male connector to its appropriate port on the rear of the PC.
The 5-pin "MIDI out" connector goes into the "MIDI in" slot on your keyboard while the 5-pin "MIDI in" connects to the "MIDI out" port.
Step #4: Connect USB or MIDI Cord To the Correct Ports
Whether you're using a MIDI to MIDI or USB connection, you always have to make sure to connect the MIDI or USB cord's one end to your computer's appropriate port.
The other end should then be connected to the corresponding keyboard port.
Step #5: Configure the Keyboard
You will need to configure your keyboard in accordance with the software used.
When connecting MIDI keyboard to Mac via USB, configuration generally isn't needed since the system will immediately detect the device.
However, if the computer fails to detect the keyboard or nothing occurs after connecting, then configuration may be necessary.
Utilize the software that comes with your tool to download or install drivers from the manufacturer's site and follow installation directives.
How Do I Connect My Piano Keyboard To My Mac?
If you only just got acquainted with keyboards, then connecting a piano keyboard to a Mac can be a bit confusing.
Aside from there being more than one way to go about this process, you may also find creating sound after the connection has been established a little tricky.
You may explore the following MIDI connectivity options with your Mac computer:
With a USB Cable
USB cables of almost all makes are accessible. Most of them are also cheap so you don't need to break the bank to secure one.
MIDI Keyboards
This is typically a connectivity option you get from most MIDI keyboards for Mac and personal computers on the market, so you can certainly rejoice at your options.
Once you locate your Mac's USB port, connect the larger side of the USB cable to it.

Then, plug the other side into a port located on the MIDI keyboard's rear. That should power up your keyboard successfully.
Of course, this is the easier part about connecting piano keyboards to Macbooks.
What's slightly more complicated is when you connect to DAWs like Garageband, which happens to be pre-installed on every single Macbook.
DAWs
In essence, the DAW is what lets you play music using the MIDI controller.
In this scenario, the first thing you need to do is choose a MIDI controller, one that's compatible with Garageband in the case of a Macbook.

Once you've made your pick, connect the piano keyboard to your laptop as discussed previously.

Then, open your choice MIDI controller. You should automatically see a connection between the software and the keyboard.

Go to the "

preferences

" section of the software and click on "

audio

". Make sure the audio is set correctly with your Mac's speakers.
Via Bluetooth
Another way to connect a piano keyboard to your Mac is via Bluetooth.
While it's mostly similar to the USB process, this time around you won't need a cable.
What you need to do is turn on Bluetooth connectivity and do a search to connect with the keyboard.
If you have trouble finding the device, check the keyboard manual since this could tell you if you're using a Mac-compatible keyboard.
A Bluetooth MIDI controller can also help, so make sure to select an appropriate one.
A MIDI keyboard for Macbook Pro not only has this and the USB option, but it has several other connectivity options that suit both wired and wireless preferences.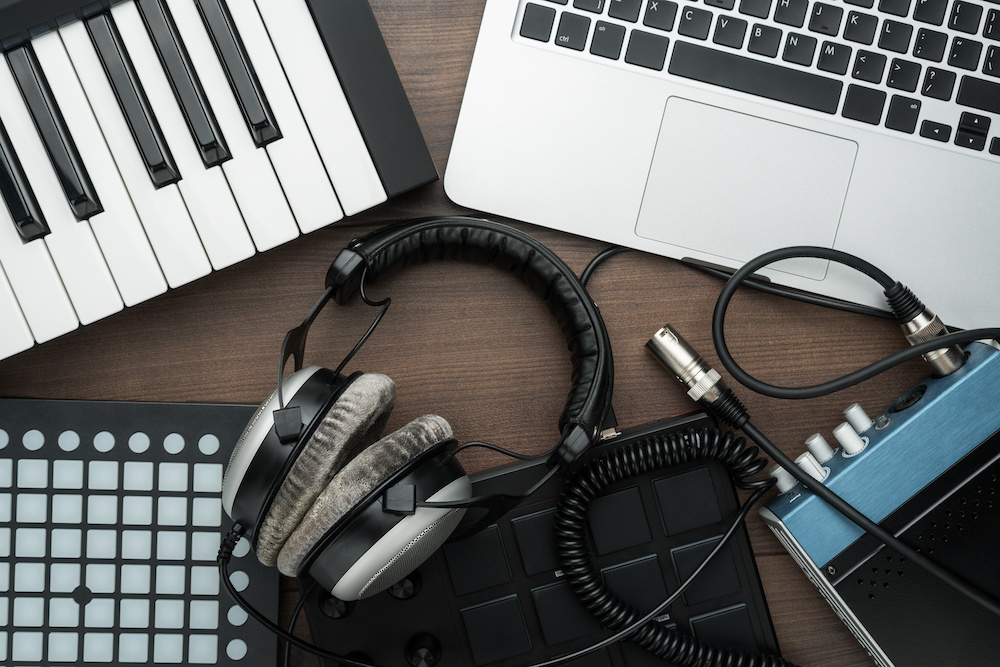 How Do I Connect My MIDI Keyboard To Audio Interface?
Connecting a MIDI keyboard to an audio interface might also be something you're wondering about. We've got you covered in that department, as well.
Now, the first thing you need to do is explore the available outputs on the MIDI keyboard and available inputs on your audio interface.
Doing so should help you figure out the appropriate solution.
MIDI keyboards usually have two different output types. If you're using a model that has pre-configured sounds, then it'll likely have a third output option.
Of course, the third option won't be a topic of discussion today since it's not directly related to MIDI.
What we'll focus on are the two connection types: MIDI outputs and inputs and USB output.
The former is usually easy to tell apart because of its unique structure. They're basically circular ports with five pins.
As for the USB output, you will usually find one on the rear of your MIDI keyboard.
To connect your MIDI keyboard to an audio interface, first, locate the inputs and outputs on both your keyboard and interface.
Through these ports, you can easily connect the two using a pair of MIDI cables.
Basically, you connect the keyboard output to the audio interface's input and vice versa. Sure, this seems a bit weird, but it can also be explained easily.
This has to do with the "loop" of commands. The MIDI keyboard gives out commands through its output which the audio interface receives through its input. This happens vice versa, too.
This creates a loop for the MIDI keyboard and audio interface to communicate with each other.
Why Is My MIDI Keyboard Not Working?
It looks like everything's been connected successfully, so why is nothing happening when you play?
Well, this could simply be because of the nature of computer audio production requiring multiple connections established.
Sometimes, connections just become out-of-sync and the device requires reconnection.
More often than not, unplugging and plugging the device back will usually do the trick.
However, there are times when it won't work and you may need to reinstall driver software or reconfigure the USB connection.
Of course, before you do any of these, you want to check if your computer or Mac detects the keyboard.
Your Mac's system information and PC's device manager can tell you the state of device connections on your computer.
These menus are especially useful in audio production for checking each tool's connectivity with the rest of the components.
If the utility shows no MIDI device in sight, consider reattaching the cable, using the direct-to-computer connection or another USB slot. 
How To Connect MIDI Keyboard To Mac: The Conclusion
Overall, knowing how to connect MIDI keyboard to Mac or a PC is easy.
This is especially the case when you opt to link these two audio production tools via a USB cord.
This is a connectivity option you can find in most MIDI keyboards for Mac and personal computers, so there's no need to worry.
You don't necessarily need to purchase a MIDI keyboard for Macbook Pro, either, although that would certainly hold its fair share of benefits.
You just need to secure a high-quality MIDI controller that's compatible with your main devices for audio production.
In this day and age, it won't be a stretch to find something that works with your tablet, smartphone, laptop, and desktop computers.