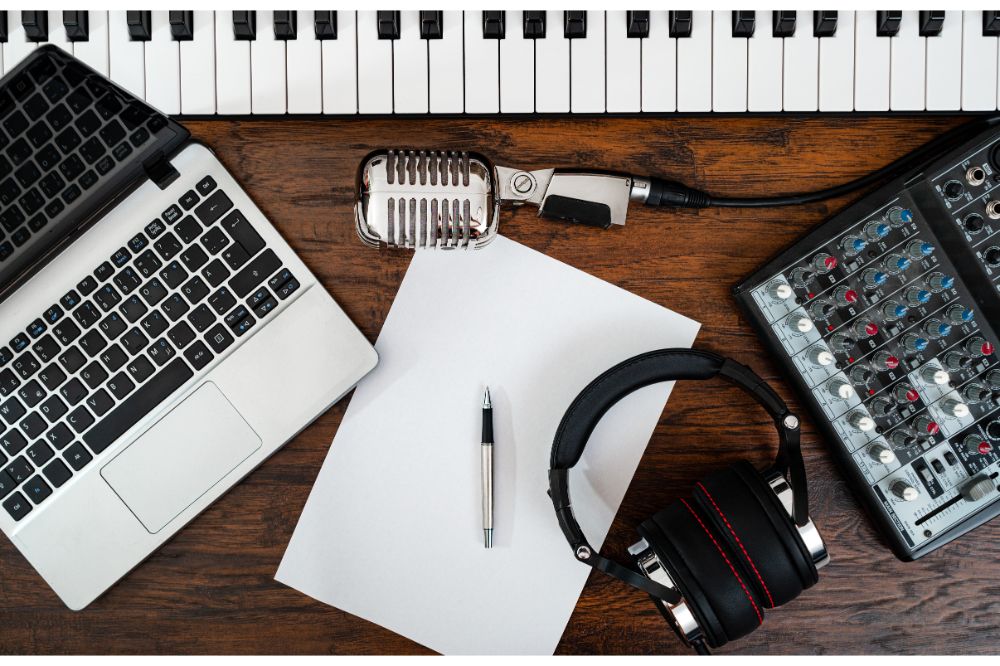 M Audio Keystation 49 Review
When it comes to music production, your instruments and equipment can make a significant difference.
Most music engineers and recording artists know the value of investing in quality equipment because cheap stuff just can't do it.
This M Audio Keystation 49 review will help determine if this particular unit makes the quality cut and whether it's worth your money.
M Audio, a unit of inMusic brands, specializes in digital sound and MIDI interfaces, producing keyboards, synthesizers, microphones, and studio monitors.
The good thing is that their products aren't very expensive, so those just starting in the music industry can easily afford them.
Nevertheless, you should pay attention to the features to ensure that you're getting exactly what you need.
M Audio Keystation 49 M3 MIDI Keyboard Controller
The M Audio Keystation 49 MK3 is a unit with a host of basic and advanced features.
It's a pretty nifty 49 key device that's compatible with iOS devices.
You can also get it in other key configurations, like 61 and 88.
Portability is also a major theme in its design, as the company has kept it compact.
Who Is This Product For?
As a professional MIDI keyboard controller, the M Audio Keystation 49 MK3 is suitable for sound engineers, musicians, and DJs.
With a wide range of features, it's ideal for both beginners and pros who know their way around an electronic keyboard.
The design and controls are pretty straightforward, making it useful as someone's very first keyboard controller.
Since it's compact, you can use it at home or in the studio. You place it on any desk or stage setup without requiring a lot of space or complicated connections.
What's Included?
The M Audio Keystation 49 MK3 MIDI Keyboard Controller comes ready to play with a USB/Midi cable included.
It also comes with a premium software suite that can help you record and create music.
This software suite includes ProTools First, Ableton Live Lite, Eleven Lite, Hybrid 3, Loom, Velvet, Vacuum Pro, Xpand 2, and Eighty-Eight Ensemble.
Although the M Audio Keystation 49 MK3 MIDI Keyboard Controller is compatible with iOS devices (iPad and iPhone) through USB to lightning cable, you have to purchase an Apple to USB camera adapter separately.
Nonetheless, it comes packed in a sturdy cardboard box. There's also a detailed manual to help you get started.
You can check out the unboxing video below for more details.
Overview of Features
Let's dig right into the many features of the M Audio Keystation 49 MK3 MIDI Keyboard Controller.
For starters, the 49 keys are velocity-sensitive, which means they have natural feedback and capture every press, however, subtle.
The selectable velocity curves accommodate a variety of playing styles, so you'll find your sound on this effortlessly.
Streamlined Control Panel
On the left end of the keyboard lies the control panel with multiple slider and button-based controls to control and add effects to the side.
You have the pitch, modulation, and octave controls. The pitch and modulation controls are wheels with an ergonomic design.
Octave controls feature simple "+" and "-" buttons, which you can use to increase or decrease octaves, respectively.
The volume fader slider button can come in handy when you're performing live. It can also be assigned to control any MIDI value.
Then you have the dedicated cursor and transport controls that eliminate the need for a mouse when connected with your computer.
The advanced button on the control panel is for customizing the other controls, including pitch, modulation, and fader.
Another useful feature for live performances is the sustain pedal input (¼ inch).
All these control panel elements come together to provide complete control of sound with this keyboard, whether you're in the studio or on stage.
This MIDI keyboard controller doesn't require the installation of any special drivers. You can simply plug it into your computer via USB.
It uses the USB connection for both power and MIDI transmission, so there's just one cable connection.
It's also not just limited to computers with a USB port, you can also use it with your iPhone or iPad.
It's compatible with these Apple devices, but, as mentioned, you need to invest in a lightning to USB 3 camera adapter.
Another important highlight of this product is its sleek, compact, and ultra-portable design.
It's good for musicians and DJs always on the go.
The keyboard controller weighs just under five pounds, but the build is durable, ensuring it lasts a long time.
How To Connect and Use Your M-Audio Keystation 49 MK3
Using the M Audio Keystation 49 MK3 MIDI Keyboard Controller is pretty easy, thanks to its plug-and-play feature.
All you have to do is plug it in with the given USB cable to the computer.
Once the computer recognizes it, you can start using the many tools in the software suite that comes for free with the device.
You'll need to set it up on Pro Tools First.
Below is a detailed video of guidelines you need to follow, from M Audio on how to register your device and set up the software.
It also shows how you can install and set up the other software in the suite. If you're new to these, make sure to follow directions closely.
While connecting it to the PC is simple, there are a few extra steps when it comes to connecting this keyboard controller with your iPhone or iPad.
The video below will show you how you can connect your M Audio Keystation keyboard with your iPad.
You can then use it with Garageband to play piano and compose music all digitally.
Alternatives
While our M Audio Keystation 49 review shows that it's a decent portable MIDI keyboard controller, there are other devices you may want to consider.
Alesis V49 49 Key MIDI Keyboard Controller
The Alesis V49 is the closest thing you can find to the M Audio Keystation, both in terms of features and price.
However, there are a few differences. There are eight backlit pads for clip launching and beat production.
In fact, all of the control on the control panel on the left have backlights that add a beautiful aesthetic.
The full-sized velocity keys are similar to those you'll find on the M Audio keyboard.
There's a lot more customization with this Alesis keyboard, as it features four assignable knobs and four assignable buttons.
What this means is that you can assign them different controls depending on the software you're using.
This one also includes an array of tools in its software suite, including Ableton Live Light 9, ProTools First Alesis Edition, and Eleven Lite, Plus Mini Grand, Xpand 2, and DB-33.
Then you have octave up and down buttons, as well as wheels for modulation and pitch, similar to those on the M Audio keyboard.
This is not as sleek, though, and has slightly more weight.
So if you're not particularly looking for something compact and lightweight, this should do.
In terms of price, this is a bit more expensive, but its overall aesthetic and convenience of customization make the price worth it.
Arturia Keylab 49 Essential Keyboard Controller
The Arturia Keylab 49 is a high-end MIDI keyboard that packs in quite an extensive list of controls.
It also has a different design, courtesy of the white color. The whole thing is white with just upper black keys and black controls.
This device is an all-in-one solution that's best for professional musicians and sound engineers.
It offers a wide range of sounds, not just the piano.
For those looking to sound as authentic as possible with the piano sounds, the Analog Lab studio will give you access to over 6500 presets, including many classic ones.
You also get Ableton Live Lite and Grand Piano Model D software with this keyboard.
It's sleek and compact in design, keeping in mind the needs of the musicians on tours.
Since it has more controls, the control panels expand on top of the keys as well as on the left.
As a dynamic keyboard controller, it can cater to the music needs of a variety of artists.
Whether you're into alternative rock or ambient, this unit can provide you with the right features.
This one is more expensive mainly because it's not so basic as the M Audio or Alesis keyboard controllers.
M Audio Keystation 49 Review: The Verdict
This M Audio Keystation 49 review would have you convinced by now that it's more than a decent MIDI keyboard controller.
The highlight, of course, is the convenience it offers both in terms of design and functionality.
Plus, you can even use it on an iPad or iPhone, which makes it all the more useful and portable.
While it's easy enough for a rookie, the many software tools allow for more advanced skilled musicians to experiment with sounds.
If you have problems connecting or using it, you can always consult the user manual or watch the videos we've linked.