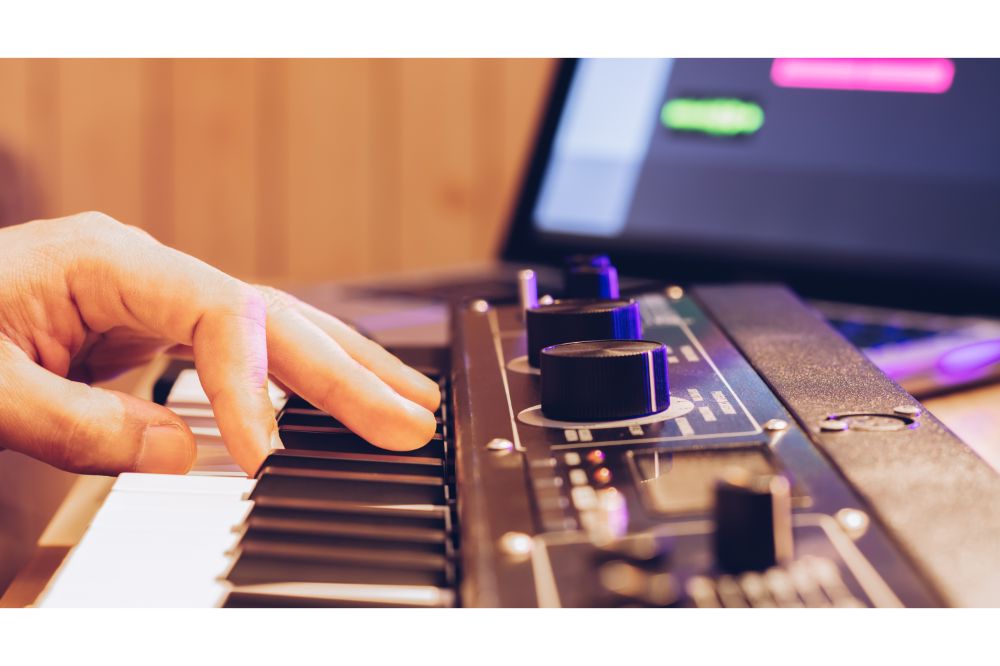 Nektar Impact LX49+ Review
Looking for a new full-feature keyboard controller? This Nektar Impact LX49+ review will tell you what you ought to know.
When looking for a high-quality MIDI keyboard controller, it's important to consider which DAWs it can work with.
You'll be glad to know that this one provides smooth control of any DAW, including the ones that come with it.
We'll discuss its features, benefits, and any cons in detail.
It's not a very expensive controller, but it does manage to offer some pretty high-end features.
After all, if you're a dedicated producer or musician, you'd want to invest only in high-quality equipment.
A sloppy controller with limited compatibility has no place in any studio, let alone a professional one.
Nektar Impact LX49+ Review
The Nektar Impact LX49+ is based on the company's much-hyped Panorama, as it packs similar features.
It is made for PC, Mac, and iOS devices, so anyone can plug it into their system without any issues.
It first came out back in 2016 and hasn't seen any major changes since.
The Nektar Impact LX49+ is a little heavier than other compact and portable MIDI controllers, weighing only around seven pounds.
Who Is This Product For?
The Nektar Impact LX49+ MIDI Keyboard Controller is perfect for any musician looking to expand their musical horizons.
Since it can go from mixer to instrument seamlessly, it can cater to a wide range of musicians and producers with varying tastes and genres.
It also has just the right features for live performers, so DJs and bands can use it on stage, in addition to their studio.
The unit may be a little more advanced for a newbie, even though the controls are pretty easy to understand.
If you're just starting in production, perhaps something smaller like a 25 key controller or a simpler 49 or 61 key controller would be a better option.
What's Included?
The MIDI keyboard controller comes in a box with just the manual and USB bus that you can use to plug it into a PC or Mac.
However, if you want to connect with an iPhone or iPad, you have to use Apple's lightning to USB camera connection kit, which isn't included in the package.
The unboxing video below shows how it arrives in its packaging and the contents inside.
As for the software, it comes with BitWig 8-track DAW.
It's a really powerful software that's good for mixing and performance both.
It features the entire BitWit studio collection on eight tracks.
Overview of Features
The idea behind this model is to boost creativity by providing control.
It's similar to a lot of other MIDI controllers on the market in some way, but then also different in others.
You can seamlessly switch between mixer, presets, and instrument settings to record and play a variety of sounds.
This is one of the very few controllers that hook up with almost every DAW automatically.
There's no need to install drivers or do a complicated setup.
The control center gives you everything you need to be in charge of the tune.
You have nine MIDI buttons, eight encoders, nine 30 mm faders in the center over the 49 keys.
These controls map to the DAW functions seamlessly, giving you flexibility and control both, without the need of mapping manually.
Plus, you can store the mapping settings as preset, so you don't have to repeat them every time.
The 49 velocity-sensitive keys have very smooth feedback; in fact, the four-velocity curves suit multiple playing styles.
On the left, you have pitch and modulation wheels, as well as transpose and octave controls.
Everything comes together beautifully and effortlessly, and since everything is labeled, there's merely any confusion.
For creating beats, the backlit velocity-sensitive pads do a great job. There are eight of them strategically placed on the right top corner.
The size is big enough for easy finger drumming, and they are sensitive to the lightest touch.
You can also use pads as a MIDI note number or cc message.
Interestingly, you can use the Pad Learn feature to assign a drum or note to the keyboard key in the simplest way possible.
When you press the mixer button, the eight faders are automatically selected for controlling the DAW mixer's eight channels.
You use the up-down function to move control assignments to the next or previous eight channels.
The last fader is assigned to the current channel, which makes it very easy to know which one is running.
It also functions as a control volume for the current mixer channel and master volume.
The instrument presets are definitely a game-changer.
Once you press instrument control, the controls are assigned to the parameters of the particular instrument track selected.
Similarly, you can use the page button to go from default settings to custom settings.
The LED lights tell you which page is currently active.
Although this controller doesn't come with an extensive list of software, it's still compatible with almost all popular ones and then some.
You can use it with Cubase, Digital Performer, FL Studio, Garageband, Logic, Nuendo, Reaper, Reason, Sonar, and Studio One.
How To Make the Most Out of the Nektar Impact LX49+
Since the Nektar Impact LX49+ MIDI Keyboard Controller automatically works with DAWs, it's fairly easy to use.
You can also easily switch to mixer and instrument presets by pressing respective controls.
You can also take help from the user guide that comes with it as it has all the information.
To get started, you just need to plug it into your system using the USB cable.
Below is a great video that shows exactly what you can do with this amazing controller from Nektar.
Alternative
Although it's not costly, the Nektar Impact LX49+ MIDI Keyboard Controller isn't exactly cheap either.
Also, beginners may have their apprehensions about getting this keyboard controller.
Below is a rather simpler and more affordable alternative.
M Audio Keystation 49
The M Audio Keystation 49 is a USB-powered MIDI keyboard controller designed for both rookies and pros.
In addition to the velocity-sensitive keys, it also features all the standard controls except for the pads.
The best thing about its controls is that they are very streamlined and have an ergonomic design.
For instance, the modulation and pitch wheels have indentations to place your fingertips.
Then you also have buttons to move the cursor when working with the DAW.
Speaking of DAWs, it comes with a wide range of tools in its software suite, including ProTools First, Ableton Live Lite, Eleven Lite, Hybrid 3, Loom, Velvet, Vacuum Pro, Xpand 2, and Eighty-Eight Ensemble.
This is yet another plug-and-play device that uses a USB connection. It's also compatible with iOS devices.
Another great thing about this is that it's lightweight and compatible, so it's more portable.
It's good for mobile producers and sound engineers.
This one is good for both studio recordings and live performances with its many features.
Verdict
You can probably tell that this is a more affordable rendition of the very successful Panorama from the brand.
Our Nektar Impact LX49+ review concludes that it's definitely one of the best MIDI controllers out there.
The ability to use it as a mixer only makes it an even sweeter deal. Plus, you have BitWig 8-track, which is phenomenal in itself.
If you're a control freak when it comes to mixing and producing, the Nektar Impact LX49+ MIDI Keyboard Controller should be your choice.
If you find it expensive or perhaps a bit too complex, there are simpler models like M Audio's controller.