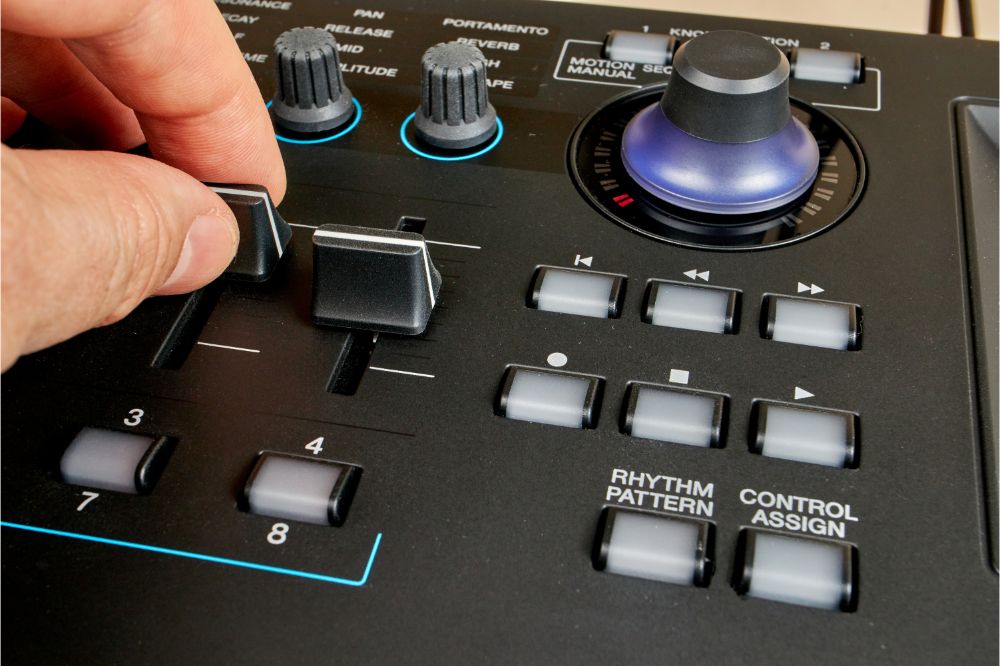 Nektar Impact LX88 Review
Are you a musician or a producer who wants to buy a MIDI keyboard controller without spending hundreds of dollars?
Nektar is well-known for designing hi-tech keyboards with advanced packages and controllers.
Our Nektar Impact LX88 review will help you learn about its stellar features.
Nektar Impact LX88 Review
As the name suggests, the Nektar Impact LX88 MIDI Controller comes with an 88 note velocity-sensitive, semi-weighted key bed to ensure a balanced and dynamic response.
In addition to that, the seven-octave range enables you to play and compose different musical genres on DAWs such as FL Studio, Cubase, Digital Performer, Reaper, Reason, Sonar, and more.
Who Is This Product For?
The Nektar Impact LX88 is essentially a full-sized piano MIDI controller that's perfect for both beginners and professionals.
One of the most significant advantages of opting for a full-size keyboard controller is its versatile use.
For instance, you can install Logic's built-in chord plug-in, including the right-hand and left-hand chords.
What's Included?
This keyboard-in-a-box comes with a five-pin MIDI output, a foot pedal input jack, and a USB connection.
However, it doesn't come with an external power supply input as it's USB-powered, although it can integrate one.
It also comes with the Bitwig 8-track software license, so you don't have to buy one individually.
Overview of Features
The innovative MIDI controller by Nektar has a lot to offer, but some of the most notable ones are as follows:
The Nektar Impact LX88 MIDI Controller features a trim, sleek design which you can conveniently slide under the desk when not in use.
The velocity-sensitive pads and other buttons are backlit and color-coded to ensure convenient use by indicating the current functions.
The drum pads consist of soft rubber buttons, while the keys are part weighted and part spring-loaded.
You can find eight regular knobs, eight basic sliders, and a three-character readout. The eight trigger pads play MIDI notes by default.
The good news is that the Nektar Impact LX88 MIDI Controller comes with a feature known as Pad Learn.
It will allow you to re-assign pads to a specific sound within no time.
All you need to do is flip on the Pad Learn mode and press the pad you want to modify.
Later, you can use the keyboard to search for the drum sound you want to assign.
The keypad remembers the last sound you play on the keyboard.
This way, you can assemble all your favorite sounds on the pad, thus avoiding too much banking.
Scenes or Clips Pad Modes
You should know that Bitwig is the DAW that uses the Clips mode.
Essentially, Clips allow you to trigger playback and record the clips.
Also, the pads light up to show the status; yellow represents where the clips exist, while green displays the playing clips. Lastly, the red light indicates recording.
You can find the Default-User button next to the rotary encoders in addition to the eight knobs, making a total of 16 assignable knobs.
In addition to that, you can see the Clips and Scenes, right next to the pad bank, offering added operations modes for DAW-integrated keypads.
The Scenes button is capable of recalling up to 64 loop points in the Reason timeline.
Additionally, you can change the loop length and its starting and finishing points.
The advanced DAW integration lets you download the files for your favorites DAWs and follow the setup instructions.
Lucky for you, you can find all the Installers for Logic and GarageBand, Reason, Bitwig, Sonar, and many others.
Another good news is that FL Studio doesn't require any installation.
The Nektar Impact LX88 features easy-to-use controllers and modes.
Essentially, it comes with three modes; the mixer that controls the DAW's mixer, instrument controls for instrument plug-ins, and the preset that offers five layers of assignments that you can program.
The dedicated mixer button features pre-mapped control of mixer settings such as level, pan, mute, and solo.
Also, the instrument button has virtual instrument parameters of envelopes, filters, and more.
That said, you should know that pre-mapped editing doesn't support mixer plug-ins.
The Nektar Impact LX88 comes with unlimited tracks of Bitwig that run on all kinds of OS, including Windows 7, 8, and 10, Linux Ubuntu 12, and macOS.
It also supports VST plug-ins, JACK API, and ALSA.
How To Use the Nektar Impact LX88
To use your Nektar Impact LX88, here are the things to keep in mind:
All you need to do is plug in the Nektar Impact LX88, and you are ready to enjoy the MIDI controller's functionality.
You need to create an account to register it and download the integration scripts.
You can also include your modifications to the predefined function mapping in the script after installing it.
Below is a video to help you further:
Let's use advanced control features with DAWs.
For instance, in Logic, you can press the Mixer mode button to see the mixer view.
You can also see the physical faders mapping to it.
The buttons further map to mutes, while the other eight knobs map to pans.
You can enjoy different variations within the mode by switching the buttons to solos.
Not only that, but you can also press the user button by the knobs to open Logic's Smart Control view and access the macros.
You can press the Instrument Mode button to open the virtual instrument on the selected track.
The keyboard controls will automatically map to it without any manual tweaking.
It's because the knobs come with a set of pre-mapped parameters printed on the surface.
Alternative
Looking for something different because Unfortunately, the Nektar Impact LX88 doesn't come with Ableton Live?
Perhaps you just want to compare the Nektar Impact LX88 with another option?
We found a good alternative to make this Nektar Impact LX88 review objective and more comprehensive.
Arturia KeyLab 61 Essential
The Arturia KeyLab 61 Essential comes with around 5000 synth sounds, including our favorite Ableton Live Lite.
The Arturia KeyLab 61 features sturdy construction with an optional 9V DC power jack, MIDI-USB out jacks, and a pedal control input.
It also comes with an informative LED screen and 360-degree present selector, available in the middle.
You can find MIDI transposition, drum pads, and other transport controls on the left side.
While, on the right side, you can see the nine fader controls and nine endless encoder knobs.
Another great thing is that the Arturia KeyLab 61 Essential offers a smooth integration, courtesy of the included software.
After configuration, the Arturia KeyLab 61 Essential drum pads provide you with a shortcut to your DAW.
Lucky for you, the Ableton Live 9 and Arturia Analog Lab 2 are already included with the controller.
You also don't have to configure both the programs, as the controls are automatically configured.
Conclusion
You'll be able to make a well-informed decision about buying a reliable MIDI keyboard controller for yourself after reading the above Nektar Impact LX88 review.
It's a dynamic, well-built device featuring an elegant exterior of velocity-sensitive pads with controls that integrate seamlessly with Bitwig and Logic Pro X.
The Nektar Impact LX88 is a versatile MIDI controller that can dynamically map the software by offering straightforward, preset functions.
Despite being such a featureful device, the Nektar Impact LX88 offers a portable and compact design.
The keys also provide a soft feeling and minimal mechanical noise.