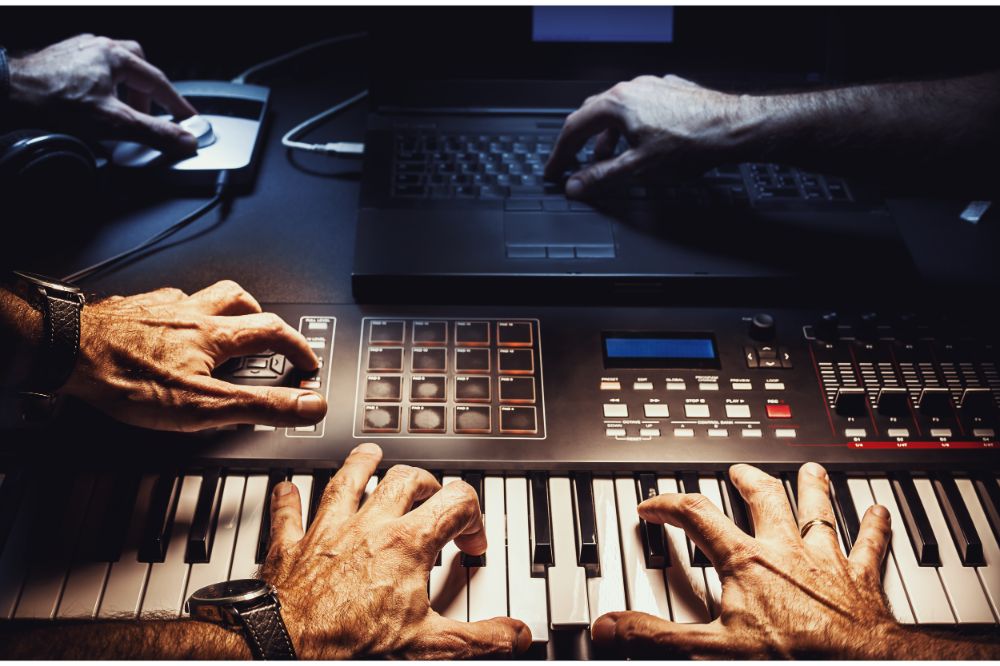 Novation Impulse 61 Review
Creating music is not only about musical instruments, which are the main components.
Still, to make sure your music is smooth and the vocals are on point, you need a synthesizer to help you edit the music and add more flavors to it.
Yes, synthesizers are now considered a part of the music industry as it helps improve the quality of sound.
With all the models of synthesizers in the market, the Novation Impulse 61 Midi Controller Keyboard stands out.
Our detailed Novation Impulse 61 review will help you decide if it is actually the right synthesizer for your needs.
Novation Impulse 61 Midi Controller Keyboard
Among the synthesizers made by Novation, the Impulse 61 is the most expressive keyboard.
It is also one of the products with a great design. It looks just like a regular keyboard, along with other extra features.
It is ultra-responsive with semi-weighted aftertouch.
Since it looks just like a piano, the keys would properly adapt to any instrument you want to use.
When you're using it, the HRS technology will scan the keyboard up to 10,000 times per second.
That will help it capture everything about the performance.
Who Is the Novation Impulse 61 For?
The Novation Impulse 61 Midi Controller Keyboard may be an advanced synthesizer, but it is also applicable for beginners.
Even with more advanced features, new users will not have a hard time using it.
Since all the keys are not too complicated and it looks just like a piano, it is not too difficult to understand.
Professional musicians can also use the Novation Impulse 61 for their daily gigs.
This model has all the basic features that you need to get started if you plan to create music.
You don't need to get other synthesizers to find the feature that you want.
Although it is a bit expensive, it is perfect for people who are only doing it for leisure purposes.
What's Included?
The package includes the Novation Impulse 61 Midi Controller Keyboard.
Also, like any product from the company, it comes with three years warranty
Overview of Features
The Impulse 61 is part of the range of professional MIDI controllers made by Novation.
They are using a precision keyboard with a full control surface powered by Automap 4, the newest version of Novation's Automap control software.
As one of the best products under Novation, here are the different features that it provides:
The Novation Impulse 61 was created to feel just like an instrument instead of a computer peripheral.
The goal is to allow the user to use it as a normal piano and give a unique experience.
It is also very accurate as it can translate musical expression effectively.
Your performance will definitely depend on the synth or software instrument that you are going to use.
Full DAW/Plug-In Control Surface
The control surface has eight knobs, nine buttons and faders, along with a custom LCD.
Such features will ensure you have more hands-on control of your DAW and plug-ins.
Novation actually worked with popular DAWs and plug-ins to give you the best experience and instant control of your mixer.
It also lets you properly use the transport controls along with the plug-in instruments and effects.
Compatible with Major DAWs and Plug-In Effects and Instruments
Aside from working with different manufacturers of DAWs and Plug-Ins, Impulse 61 and the Automap 4 are both designed to provide full control on your 3rd party plug-in effects and instruments.
It includes Waves, FXpansion, or Native instruments.
This is an amazing feature since the Impulse 61 can function and work effectively no matter what type of plug-in and musical instrument you use.
No Learning Curve Required
One of the best things about the Novation Impulse 61 is you don't need to spend a lot of time learning how to use it.
Although there are tons of faders, knobs, and buttons on the control interface, using them is not too complicated and time-consuming.
Impulse 61 comes with an Automap control software, which gives you instant mapping to the things that you can control.
With this control software, you can fully use the knobs, buttons, and faders with ease and get more hands-on with the plug-ins and DAWs.
You can lessen the time in making music as you don't have to spend it reading the user manual.
The Novation Impulse 61 Midi Controller Keyboard comes with eight high-quality drum pads that come with aftertouch and are velocity-sensitive.
It is backlit with three-color LEDs, making it more useful than other drum pads.
It can also warp the arpeggios, roll beats, and launch clips directly in Ableton Live.
The Impulse 61 is also powered by USB, which means that you can connect it to your computer and start using it.
You can also connect other MIDI instruments through its MIDI in/out ports.
How To Choose a Synthesizer
While a Novation Impulse 61 review can give you all the info you need about its features, it's better if you know how to choose a synthesizer in general.
Although most people choose based on their preference, you should know a few things on how you can differentiate a good synthesizer from a bad one.
This is one of the decisions you will need to make before choosing a synthesizer.
Using both hardware and software have their own benefits and disadvantages so it would depend on your preference.
Using software is definitely cheaper, and it is capable of better sounds as you can easily integrate it on your DAW productions.
Keep in mind that the setup is pretty simple, which is something most musicians like.
Still, some musicians prefer to use hardware simply because it is more beautiful to look at, especially when doing stage performances.
You have multiple instruments and a playable item that would show everyone that you are making music.
If you prefer to twist the controls and knobs while making music, opt for the hardware.
If you want more convenience and you prefer to be very simple on your setup, you can opt for the software.
Although this is not really a debate, some people would still prefer analog.
It provides tearing leads, searing strings, and big basses, but it is more challenging to use.
Digital synthesizers are focused on convenience as they can emulate real instruments.
It means that you don't need external musical instruments to get the exact sound they make.
The analog option is best for people who want to play music using real instruments.
If you don't have real instruments or you don't have a team that would play all the necessary musical accompaniments that you need for the music that you want to produce, then go Digital.
If you're going to ask most musicians, they would prefer the all-in-one synth as it can provide everything you need.
It has all the presets that you can use, and you don't need a lot of things to get started.
Modular is totally different since you are required to combine different parts to create a bespoke system.
It might be cost-effective, but you will surely spend a lot of money if you get carried away.
That said, if you plan to make music, efficiency is always the best choice.
All-in-one synth will give you everything you need, and you can do whatever music you want without spending too much time.
Alternative
The Novation Impulse 61 Midi Controller Keyboard is definitely one of the best in the market in terms of features.
Nonetheless, if you want something different that can provide almost the same capabilities, you can opt for the AKAI Professional MPK261.
AKAI Professional MPK2261
The AKAI Professional MPK2261 is not too expensive; the cost is almost the same as the Impulse 61.
It also comes with 61 semi-weighted and velocity-sensitive keys along with a premium piano-style keybed for a more natural feel, which is practically the same as the Impulse 61.
With the 16 RGB-lit MPC-style pads, you can trigger loops, one-shots, samples, melodics, and more with ease.
The AKAI Professional MPK2261 features 24 assignable controllers.
There are eight control knobs, switches, and faders to provide hassle-free virtual instrument mapping.
The best thing about the AKAI Professional MPK2261 is the Hybrid 3.0 and SONiVOX Twist.
The Hybrid 3.0 is a virtual synth that combines analog synths with more advanced digital manipulation techniques.
On the other hand, the SONiVOX Twist has onboard effects, an advanced pattern generator, and a dynamic interface.
These features will help you create amazing sounds with simple controls.
Novation Impulse 61 Review: The Verdict
It's not easy to find a synthesizer if you have no idea about the features you need.
You might realize later that the one you bought doesn't have the capabilities you are looking for.
If you are a professional musician, you will never go wrong with the Novation Impulse 61 Midi Controller Keyboard.
It is powerful enough to create the most amazing and unique sounds while giving the convenience that you're looking for.