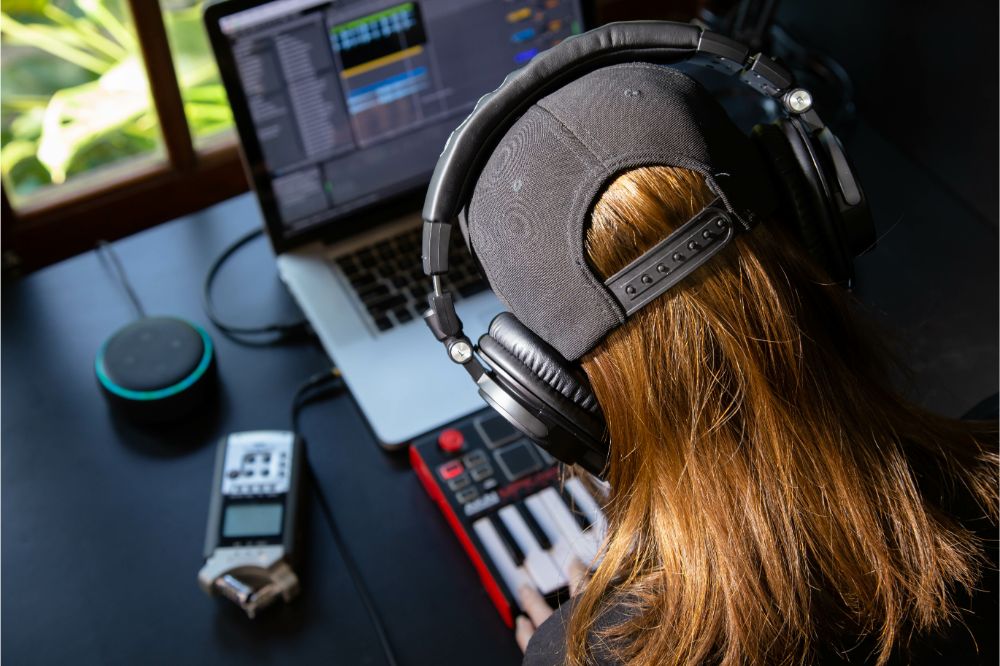 Novation Launchkey 25 Review
A keyboard controller can often be the single most important piece of equipment in a studio, just as any musician or sound engineer.
MIDI keyboard controllers come in all sizes with a varying number of keys and a range of controls.
Smaller controllers are becoming incredibly popular, with manufacturers packing in more power and features.
This Novation Launchkey 25 review will help you decide whether this mini MIDI keyboard controller is the right choice for you, especially if you're a budding musician.
You ideally want something flexible yet dependable in the studio and on the road.
So we'll check it against that criteria to help you decide.
Novation Launchkey 25 MKK3 Mini MIDI Keyboard Controller
The Novation Launchkey 25 has moved into its third generation (MK3). With this new edition, there are even more exciting features.
The original Launchkey came out back in 2013. Then, they released the second generation MK2 in 2016.
Now, after four long years, we finally have the latest MK3.
The Launchkey comes in various sizes, with this Novation Launchkey 25 review focusing on the smallest one.
There are some big changes and then small updates that helped make the unit a bit more refined than the previous generations.
The most notable addition is the backlit LCD, which is a major improvement over the last generation's design.
Who Is This Product For?
The Novation Launchkey 25 MK3 Mini is perhaps best for professionals who know their way around a MIDI controller.
Still, it's not so advanced to be too complex for a beginner.
With online tutorials and set up guidelines in the user guide, even a newbie with no knowledge of MIDI can learn to use this with a DAW.
Ableton users would love this keyboard controller. You have everything you need to create some amazing tunes with Ableton Live.
The compact size and lightweight construction of the Novation Launchkey 25 MK3 Mini MIDI Keyboard Controller make it an ideal choice for wandering musicians and producers.
You can easily carry it in a carry-on or backpack everywhere you go.
What's Included?
The Novation Launchkey 25 MK3 comes packed in a box with a user guide and USB bus for connection with the computer.
Much like other MIDI keyboard controllers on the market, it comes with a host of tools in its software suite.
These include Ableton Live Lite, Xln Audio, Applied Acoustics System, Spitfire Audio Labs, Softube, and Klevgrand R0verb.
The unboxing video below shows the box it comes in and the simple packaging.
Overview of Features
It would be difficult to go into detail about every little feature in the Novation Launchkey 25 MK3 Mini MIDI Keyboard Controller, as it's just packed with so many.
That said, we'll cover all the important ones that you should know about.
Just from the looks of it, you can tell it's a modern controller with well-placed controls.
The ports are on the back, which is better than having them on the sides or front.
The build is also pretty sturdy, which is another improvement from the MK2, but note that this doesn't mean the MK2 has poor quality by any means.
Even though the keyboard is compact, the 25 keys are full size, which means the device is user-friendly.
Then you have the 16 velocity-sensitive RGB pads, which provide visual feedback.
The different chord modes depend on these pads, as well as drumming and launching clips.
Other controls include eight rotary controls, pitch, modulation, octave up and down, transpose, shift, and MIDI out.
Simply put, the Novation Launchkey 25 MK3 Mini MIDI Keyboard Controller gives you the control you need.
Not just control, it also boosts creativity with easy chord and arpeggiator modes.
Perhaps the most exciting new feature on the MK3 is the scale chord mode.
You can simply press the shift and scale chord pad to bring the 16 pads into the scale mode.
This feature is great for laying down some chord progressions without the know-how of music theory.
Thus, you can have a kicking solo in dorian mode without even reading on all the theory behind it.
Fixed Chord and User Chord
In addition to the scale chord mode, you also have the fixed chord and user chord modes.
In the fixed chord, you play a shape and then transpose it with the help of other keys.
For the user chord mode, you can assign a chord of up to six notes to 16 pads.
Beginners will love the arpeggiator since it's easy and offers a lot of control.
It includes seven modes: up, down, up and down, random, played, chord, and mutate.
Up, down, up and down, and play controls are pretty basic.
The random mode plays the notes of the chord you select randomly, whereas chord mode retriggers it.
You can experiment with the mutate mode using the mutate knob. Just stop when you've found something you love.
It also taps into the rhythmic settings with triplets, rest patterns, a deviate mode, and random settings.
You could say that the Novation Launchkey 25 MK3 Mini MIDI Keyboard Controller is designed for use with Ableton because it's just so good with it.
However, you can also use it with other DAWs. It will map to the controls of that software pretty easily, thanks to the custom modes.
If you use Ableton, you won't find another MIDI controller as streamlined as this one. The functionality is pretty native to Ableton.
Believe it or not, for a moving musician, the size and weight may just be as important as the functionality.
This compact MIDI keyboard controller is perfect for commuting and traveling. It weighs just one pound, so it's incredibly lightweight.
You can plug it into any PC or Mac with the provided A to B USB cable. If you want to use it with an iPad, you have to get the USB to lightning camera adapter by Apple.
How To Set Up the Novation Launchkey 25 MK3 Mini MIDI Keyboard Controller
If you're new to MIDI controllers, there's some learning curve to it, especially if you're going for something like the Novation Launchkey 25 MK3 Mini MIDI Keyboard Controller.
It's essentially ready to play right out the box since you just have to plug it in.
There are no drivers to download or set up wizard to complete.
Below is a detailed demo video that should help you understand its features and functions better.
If you're looking to set up Launchkey with Ableton Live, this tutorial from Novation should help:
Alternatives
Although Novation Launchkey 25 MK3 Mini MIDI Keyboard Controller isn't that expensive, it might not be for everybody, especially those who don't use Ableton.
Below are two alternatives you could go for.
AKAI Professional 25 Key Mini MPK
The AKAI 25 Key Mini MPK is another compact mini MIDI keyboard controller with almost similar features as the Novation MK3.
One key difference, at least in terms of control, is the four-way thumbstick for pitch and modulation.
Most controllers typically have wheels, but this is an innovative take that brings more flexibility.
Its built-in arpeggiator offers different modes, ranges, and resolutions, so there's a lot of room for experimentation.
It also has backlit velocity-sensitive pads, but there are only eight of them.
Since there are eight of them, they are big, which makes them ergonomically fit for making beats with your fingers and thumbs.
In addition to the software suite, this one comes with over 1500 sounds to get started with.
There's 2GB of just sound content to explore and experiment with.
This inclusion makes it good for beginners who can just use the pre-recorded sounds to create tracks.
This is yet another plug and play controller that comes with the following software: Ableton Live, MPC Beats, Pro Tools, Cubase, Studio One, Reason Studios, and GarageBand.
Arturia MiniLab MK2 25 Slim-Key Controller
This mini keyboard controller from Arturia is another great option in the same price range.
The keys and controls are highly responsive, complementing the overall experience you'll have with this thing.
There are 16 assignable encoders, which are basically knobs, that you can customize to your choice of DAW.
Then you also have eight backlit velocity- and pressure-sensitive pads.
It's great for use with Ableton Live, Analog Lab Lite, and Grand Piano Model D, which are included in the package.
For pitch and modulation, it has capacitive touch sensors, which is yet another innovative feature.
Although compact, it's slightly heavier than the Novation Launchkey MK3, coming in at a little over three pounds.
Novation Launchkey 25 Review: The Verdict
As this Novation Launchkey 25 review shows, it's a viable option for any dedicated music producer, especially those who commute or travel a lot.
You can easily keep it in a backpack with your laptop and create beats anywhere.
That works out great for those who find inspiration outdoors.
The third generation Novation Launchkey is definitely a big improvement over the original and even the second generation.
The many modes, especially the arpeggiator, make it easy for aspiring producers and DJs.
Plus, the three-year warranty makes it a safe purchase, even though it's not very expensive, to begin with.