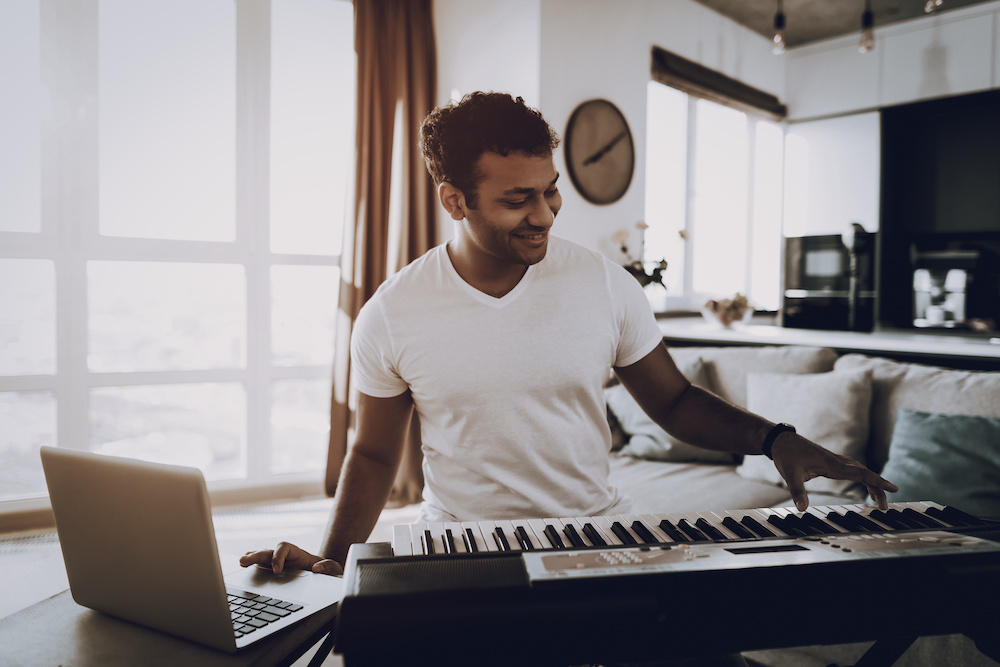 How To Record MIDI in Reaper: A Basic Recording and Editing Guide
Music production in this day and age has been brought to a whole new level.
With it being electronic and digital, it is easy to share your music with the whole world.
Today, the usual dilemma of musicians and music producers is picking the best digital audio workstation (DAW) from the many popular music software available.
These various brands of audio software have unique qualities that will pique the interest of the target user.
If you are serious about recording your music, you can try recording your MIDI tracks using Reaper.
It is an upscale version of Audacity, which has a simpler recording interface.
If you are interested in going beyond using basic recording software, read on to learn how to record MIDI in Reaper and what exactly is Reaper.
What Is Reaper?
Reaper is a complete digital audio production software for Windows and Mac computers.
It is a full-featured multi-tracking audio application ideal for MIDI recording, mixing, editing, and all sorts of functions related to audio production and more.
Who Is This Software For?
When you are a musician on a budget, the best DAW to get the most value for your money is the Reaper.
The software has no free version or free trial, but it offers a 60-day evaluation for free, which is probably more than enough time to evaluate a DAW that comes cheap but with full audio production features.
You can get Reaper at $60 for personal use and your business that has gross annual revenue of $20,000 or less.
Educational or nonprofit organizations can also avail the application at the same price.
Reaper gives great value for your money and more. That is why more college students use this software, and it is the talk-of-the-town for musicians and music hobbyists.
What Are Its Main Features?
Reaper's main features include audio manipulation, audio mixing, audio recording, audio mastering, plug-in integration, and video editing.
Another good thing is that its developers are constantly updating and still adding more to its features.
It also comes with hundreds of plug-in effects to make your musical creativity run wild.
The software supports VST, VST3, AU, DX, and JS plug-ins. It is also highly customizable and very much tweakable once you get to know its workflow.
However, if you are looking for built-in instruments or loops, the DAW app does not come with it.
It may be a bit of a disappointment for beginners, but looking for your software instruments online and not depending on what the software can provide may prove to be a more creative process and add a great learning curve.
What it lacks in built-in software instruments, it makes up for by having plenty of effects, such as compression, reverb, and delay, for best mixing results and musical arrangements.
Pros and Cons
Reaper weighs more on the pros than on the cons at such a very affordable price.
It can give you a wide range of functions and features at par with its more expensive and extensive contemporaries.
Reaper software can look complicated even for a professional because you open the software and face a blank screen.
Music experts recommend that it is easier to work with Reaper if you try audio production work first on a simpler software such as Audacity and apply what you have learned on Reaper.
You can also find many learning tools and tutorials online, like our guide on recording MIDI in Reaper.
Other Reaper users can also give you many tidbits of information and tips.
Of course, you will find it hard to begin at first as you explore a unique interface, but once you learn how to do it, you will know how fast Reaper can work for you.
How To Record MIDI in Reaper
You might get overwhelmed with all the functions Reaper has to offer, so we'll focus on teaching you how to record MIDI in Reaper.
Below are the simplified, easier-to-follow steps.
1. Create the MIDI Connection
Most MIDI keyboards have a USB MIDI output which you can connect to your PC or laptop.
If your MIDI keyboard only has MIDI ports, you can use a MIDI interface to connect your two devices.
2. Check the Preferences in Reaper Software
Open your Reaper software on your computer, and check if your MIDI keyboard is enabled for your MIDI input.
Navigate through Reaper's menu, then look for Preferences to see if your software recognizes your MIDI device.
It will usually indicate the brand of your MIDI keyboard. Make sure that you turned your MIDI keyboard on.
3. Create a MIDI Track in Your Recording Software
Create a new MIDI track and check if you have routed the MIDI input to your MIDI track.
Choose and assign your chosen virtual musical instrument to your MIDI track.
To create a new track in Reaper, you can just double-click and then choose the type of input.
If you choose MIDI input, it will be a MIDI track, while an audio track if you choose audio input.
4. Choose a Virtual Instrument for Your MIDI Track
To hear a sound from your MIDI track, you will need to choose a virtual instrument in your DAW.
Your chosen software instrument will play the MIDI back.
Reaper has no built-in software instruments, so you need to find and download one to play your MIDI track.
There is a wide selection of free virtual instruments that you can download, which do not necessarily have to sound like a keyboard.
5. Arm Your MIDI Track For Recording
Arm or enable your MIDI track for recording by pressing the red "arm" button on the track.
Ensure that your MIDI track is enabled by checking the appearance of the red button on the track.
6. Hit the Record Button
On the main transport bar, hit the record button. If everything has been set up correctly, you should find yourself recording successfully.
How To Edit Recorded MIDI Track in Reaper
If a time comes that you are not satisfied with the MIDI you have recorded, you can edit the file using Reaper's inline MIDI editor.
You can easily do so right in the arrangement window. Below is a simplified guide that you can follow.
Open the File
To open a MIDI file in the arrangement window, right-click it and go to Open Items in Editor.
Next, go to Open in Inline Editor.
You can also use the keyboard shortcut by pressing E.
Performing the steps above switches to the inline MIDI editor.
Start Editing
Start selecting, copying, pasting, or deleting notes on the inline MIDI editor in similar ways that you can on the normal MIDI editor window.
To make things easier, you can zoom the MIDI window with the page up and page down buttons on the keyboard.
You can also use the arrows at the upper right corner of the MIDI window to scroll up or down the MIDI window, scroll left to make it smaller and right to make it bigger.
You can also align your MIDI with an audio file or vice versa in the arrangement window.
Having both the audio and MIDI in the arrangement window makes it easier to edit because you can see them at the same time.
Music Recording With Reaper
Reaper may not be newbie-friendly, but for some music producers and enthusiasts with some bit of experience in digital audio production, the Reaper interface may not look too cumbersome.
The first launch of Reaper can be a bit overwhelming because of how complex everything looks, but once you learn it, you will discover that its controls can also be intuitive.
You can start by learning how to record MIDI in Reaper and work around its other functionalities.
Good luck!