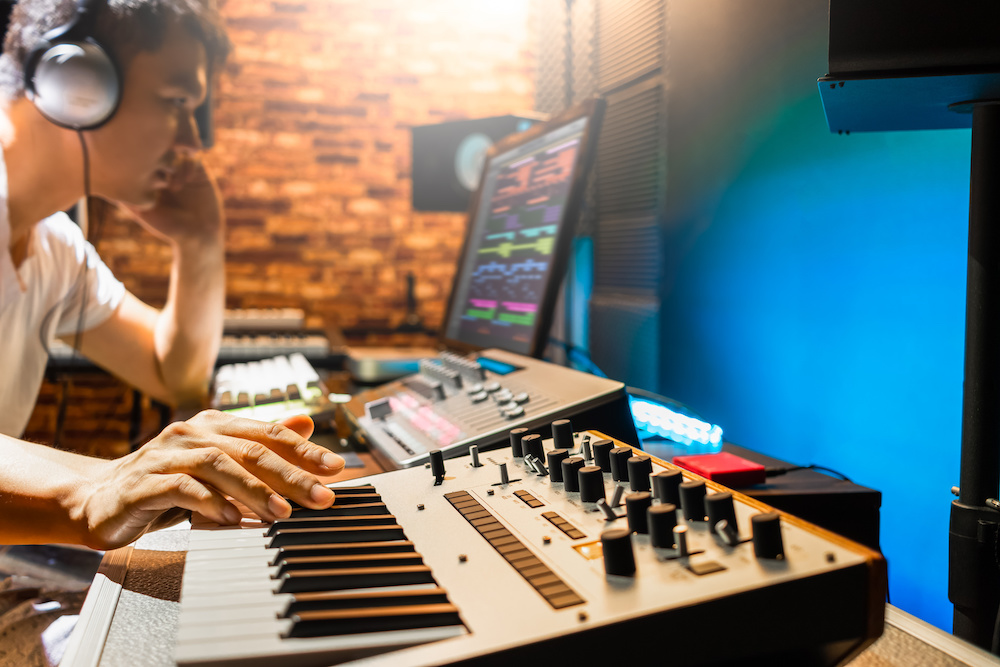 Best iPad MIDI Controllers of 2021: Complete Reviews With Comparisons
While we have been painstakingly setting up studios with large devices, the music industry has tipped over with the development of highly mobile production equipment.
Lately, on-the-go music production has improved due to innovations in device portability and compatibility.
One of the greatest incomparable innovations is the iPad.
There are many applications available online for producing music, and the iPad works pretty well with them.
However, if you supplement an iPad with a compatible MIDI device, controlling complicated app features will become a lot easier.
To do that, you will need the best iPad MIDI controller.
Comparison Chart
IK Multimedia iRig Keys 2 Pro
Alesis Q49 MKII
Xkey 25 USB MIDI Controller Silver
Worlde Portable Tuna Mini 
Korg, 25-Key Midi Controller (NANOKEY2WH)
Best iPad MIDI Controller Reviews
1. IK Multimedia iRig Keys2 Pro
The IK Multimedia iRig Keys2 is an ultra-compact MIDI keyboard controller featuring improved compatibility with the latest mobile devices.
IK Multimedia offers the iRig in three versions: the Keys2, the Keys2 Mini, and the Keys2 Pro.
For this segment, we will be looking into the iRig Keys2 Pro.
Review
The iRig Keys2 Pro is the largest of all three models, measuring 23.8 by 8.4 by 3.03 inches and weighing 4.13 pounds.
While the Keys2 Mini only has 25 keys, the Keys2 and the Keys2 Pro boast 37 keys.
However, unlike the Keys2 and the Keys2 Mini, the Keys2 Pro has full-sized keys.
Because of this feature, it can provide the convenience and comfort of a standard digital piano.
The 37 full-size keys of the iRig Keys2 Pro are velocity-sensitive, allowing you to vary the softness or loudness of your inputs.
It has two wheels on the left side—one for controlling pitch bend and another for controlling modulation.
Additional controls include a volume knob, six buttons, a data knob, and four more configurable knobs.
The OCT buttons on the left are for transposing octaves up and down.
Simultaneously pressing the octave buttons lights them up and activates the EDIT mode.
In EDIT mode, you can customize the parameters of the iRig Keys2 Pro to match your needs.
Customizable parameters include MIDI transmit channels, key velocity sensitivity, knob assignments, program assignments, semitone transposition, and factory reset.
After entering EDIT mode, you can change the parameters by pressing the corresponding keyboard keys.
Every key with an EDIT function is labeled clearly for easy control navigation.
Next to the OCT buttons, you will find the up and down PROG buttons.
These buttons let you switch between programs you have customized on your virtual apps using the EDIT mode.
The remaining two buttons are the SET and the 5-8 buttons.
Using the SET button, the iRig Keys2 Pro allows you to create up to four configurable setups.
The 5-8 button doubles the capacity of the four assignable knobs by switching their functions from a memory bank.
Finally, the DATA knob works as an assignable data push encoder.
The iRig Keys2 Pro connects to your iPad using a micro-USB port on the rear panel.
Beside the micro-USB port, you will find two 2.5mm TRS jacks for MIDI In and MIDI Out, a headphone jack, and a pedal input jack.
You'll be happy to know that the iRig Keys2 Pro is connection-ready, as it comes with three different cables.
A micro-USB to USB-A cable enables connection with computers, while a micro-USB to USB-C cable allows data transfers with the latest devices.
Since we're looking for something for the iPad, the package also includes a micro-USB to Lightning cable.
You will also receive a 2.5mm TRS male to 10cm/3.9" MIDI female adapter as an added accessory.
The iRig Keys2 Pro offers exceptional compatibility with many iOS devices.
It supports Apple iPhone5 and up, 1st generation iPad Pro and up, 4th generation iPad and up, and 5th generation iPod Touch.
As long as a device has iOS 6 or later, you can use it with the iRig Keys2 Pro.
2. Alesis Q49 MKII
The Alesis Q49 MKII offers enhanced controls versus its predecessor, the Alesis Q49.
It has more buttons plus an improved layout, therefore featuring more convenience and functionality.
With an impressive range of parameters and exceptional keyboard quality, the Alesis Q49 MKII is more than fine for its price.
It is suitable for use during on-stage performances, in a studio, at home, or on the go.
Review
Alesis designed the Q49 MKII with the traveling musician in mind.
Among the options presented here, the Q49 MKII packs the most number of full-size keys.
Even so, it is slightly lighter than the iRig Keys2 Pro, weighing only 4.7 pounds.
It measures 32.3 by 7.4 by 2.6 inches, listing it as the largest device among our top prospects.
While the Q49 MKII works well with iOS devices, you will have to purchase an Apple Lightning to USB Camera Adapter kit separately.
As its name suggests, the Alesis Q49 MKII has 49 full-sized, velocity-sensitive, synth-action keys.
These keys offer four full octaves for two-handed playing, and they double as the primary triggers for essential MIDI functions.
Most of the white and black keys have labels for each of their respective functions in Advanced mode.
You can switch to Advanced mode using the Advanced button on the left side panel.
Below the Advanced button, plus and minus octave buttons enable shifting up to four octaves in both directions.
The Q49 MKII also has a Volume slider for controlling the volume of the notes you are playing.
Alternatively, you can assign the Volume slider for different effects, such as reverb, attack, balance, chorus, and many more.
Five directional buttons and three transport buttons can use the MIDI, Mckie Control, or HUI protocols for controlling supported functions in your virtual software.
Like the iRig Keys2 Pro, the Q49 MKII has pitch bend and modulation wheels.
The rear panel of the Q49 MKII features the main power switch, a sustain pedal input jack, a USB port, and a Kensington lock slot.
It has a USB-B port, which is why you will need a special adapter to connect it with an iOS device.
If you plan to use the Q49 MKII with a Mac or a PC, a USB-B to USB-A port is enough to power the device.
3. CME XKey Air25
The CME XKey Air25 is a progressive MIDI keyboard with great improvements from its previous version.
It looks very different from your typical MIDI controller, and it offers some features that are otherwise not available for other devices.
If you create music with something as mobile as an iPad, the CME XKey Air25 can be an utterly complementary device.
Review
Once you get to hold it, you would be amazed at how slim the CME XKey Air25 actually is.
It owes its extremely slim profile to its key mechanism that evenly depresses no matter which part you press on.
Even with full-sized keys, it only measures 15.27 by 5.31 inches, and its thickness is a mere 0.62 inches.
What's more, it only weighs 1.32 pounds, making it even more portable than an iPad Pro.
The 25 full-sized keys on the CME XKey Air25 feature velocity sensitivity and polyphonic aftertouch.
In addition to the keyboard, it has six buttons on its left panel.
The first two at the top are for transposing keyboard octaves up and down.
Simultaneously pressing them in Wireless mode will reset the keyboard to the default note range.
Conversely, pressing the octave keys while the XKey Air25 is connected to a computer will reset the device to factory settings.
Instead of analog wheels, the XKey Air25 has a modulation button and pitch bend buttons that support pressure sensitivity.
There are separate buttons for increasing and decreasing pitch.
The sixth button is a sustain switch. Press and hold to sustain a sound and release the button to stop the sustain effect.
The CME XKey Air25 comes with a micro-USB port and cable, which functions as its primary power connector.
Use this port and cable to charge through a USB port on a computer or wall adapter.
You can also use the cable to tweak the settings of the XKey Air25 and make it work with compatible audio software.
The XKey Air25 works best with an iPad or any iOS device using a wireless connection through Bluetooth.
Its low-energy Bluetooth transceiver will deliver at least 10 hours of continuous music production on a single charge.
4. Worlde Tuna Mini
The Worlde Tuna Mini provides a very affordable solution for your iPad music production requirements.
It packs plenty of functions that are usually only available to much larger devices, yet it remains compact and lightweight.
Review
The Tuna Mini measures 14.8 by 7.5 by 1.6 inches, making it shorter but wider than the XKey Air25.
It can fit almost any regular-sized backpack without bulging through its top and sides.
However, with its wider board, the Tuna Mini is heavier than the XKey Air25 at 2.2 pounds.
The Worlde Tuna Mini has 25 velocity-sensitive and assignable mini-keys.
Instead of the usual analog wheels for pitch bend and modulation, the Tuna Mini has two touch strips.
Additional controllers include eight encoders, eight faders, eight trigger pads, a SHIFT button, two OCTAVE buttons, and a trigger pad bank button.
The eight trigger pads are RGB-backlit, and they double their function with the help of the pad bank button.
The SHIFT key allows MIDI channel changes through the keyboard, as well as other configuration controls.
Pressing the OCTAVE buttons at the same time will reset the keyboard to the central position.
The Tuna Mini has a sustain pedal jack and a USB Type-B port on its left side panel for connectivity.
It draws power through the USB port, and it connects to your virtual software using the same.
However, you will need to purchase the Apple Camera Connection Kit to use this device with an iPad.
5. Korg nanoKEY2 White
The nanoKEY2 is Korg's adaptation of a thin-profile USB-MIDI keyboard controller for on-the-go sessions using MacOS, Windows, and iOS.
It features an advanced design, and it is even more unconventional than the CME XKey Air25.
Review
Instead of having piano-style keys, the Korg nanoKEY2 has trigger pads arranged in a standard keyboard layout.
The main keys have the same primarily-white color of the device, and the flat and sharp keys are light gray. Each one is aligned between two white keys.
The nanoKEY2 measures 12.8 by 3.27 by 0.65 inches, making it even more compact than the XKey Air25.
Although it is slightly thicker, it surely complements the portability of an iPad.
The nanoKEY2 has 25 velocity-sensitive keys, PITCH up and down buttons, OCTAVE up and down buttons, a MOD button, and a SUSTAIN button.
You can transpose the keyboard up to four full octaves in both up and down directions.
The slim profile of the nanoKEY2 only allows it to have a USB port.
It comes with a USB cable, which functions as a power and data transfer connection.
Unlike the XKey Air25, however, the nanoKEY2 does not offer wireless connectivity.
You will need the same Camera Connection Kit required by most devices to work with an iPad.
Which MIDI Controller Pairs Best With an iPad?
If you have been an avid user of an Apple iPad, you will likely choose a device with wireless connectivity and maximum portability.
In that case, the best iPad MIDI controller for you is the CME XKey Air25.
It is the slimmest MIDI keyboard controller on this list, with sizable functionality and wireless Bluetooth.
However, several other portable MIDI keyboards may also offer compatibility with different versions of the iPad.
Check them out if you didn't find your pick here.