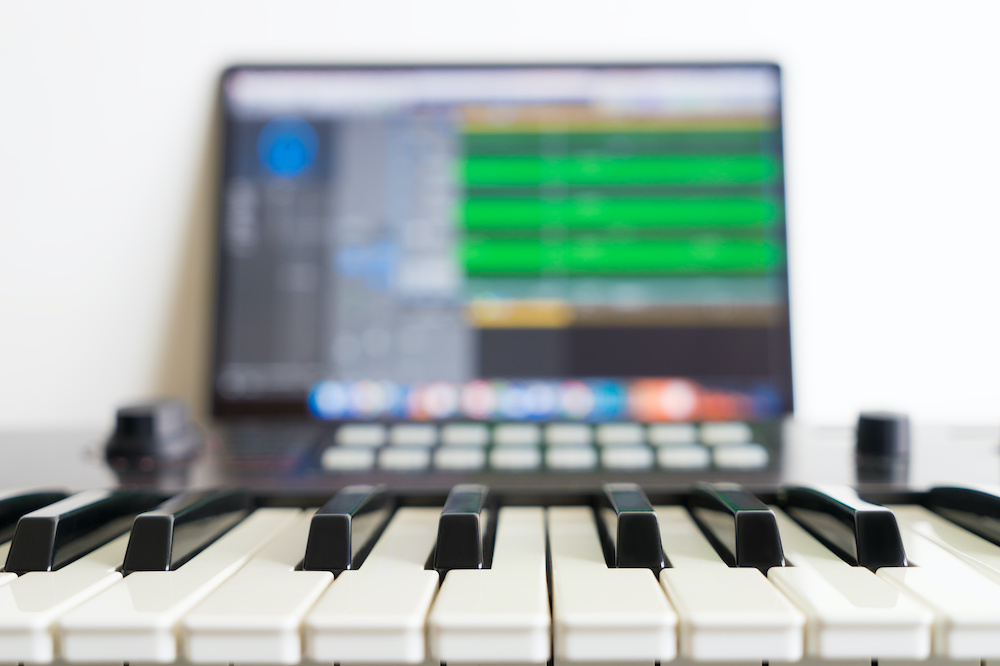 How To Connect MIDI Keyboard To FL Studio
---
<!–googleoff: index–>We may earn a commission for purchases using our links. As an Amazon Associate, we earn from qualifying purchases.<!–googleon: index–>
---
Most musicians use MIDI keyboards in their home music studios to create original melodies and harmonies.
We know that these MIDI keyboard controllers do not produce sound unless connected to an external source with software like FL Studio.
Hence, it is vital to know how to connect MIDI keyboard to FL Studio to take advantage of its music production features.
Before we talk about connecting your MIDI keyboard to FL Studio, let us first understand this hardware and software.
What Is a MIDI Keyboard Controller?
MIDI is an acronym for Musical Instrument Digital Interface. The keyboard controller is a piece of hardware modeled after a synthesizer and sequencer.
It is designed to replace the computer mouse and keyboard in sequencing music or playing virtual instruments.
It transmits MIDI data to the computer, which interprets the information converting it into sound.
Pressing a key or a pad on your controller creates a MIDI message.
Most MIDI keyboards have programmable controls that you can configure and use in your studio or while performing.
What Is FL Studio?
FL Studio is a feature-packed Digital Audio Workstation or DAW software designed to manage the overall process of music production.
It offers endless possibilities in the music industry when used with the right tool by newbies and professionals alike.
How To Connect MIDI Keyboard To FL Studio
Before you can connect the MIDI keyboard to FL Studio software, you must ensure that it is configured correctly.
FL Studio must identify that your MIDI hardware is connected to the computer so that you can start using it.
Thus, after setting up your keyboard, confirm that FL Studio recognizes it to start recording MIDI data.
Then, manage the keyboard's connections from the MIDI device menu in FL Studio.
You can choose to activate or deactivate any MIDI channel or port of the hardware.
You can enable any MIDI devices by following the steps below:
From the top toolbar, click on the Options menu, then MIDI Settings.

Under the MIDI Options window, proceed to the Input Settings.

Look for your MIDI keyboard, typically labeled USB Audio Device, and click Enable. Choose Generic Controller under the controller type.

Press a key from your hardware to check if you are receiving a MIDI signal.
What Midi Keyboard Works With FL Studio?
Looking for the appropriate MIDI keyboard that can work well with FL Studio may be intimidating for some due to the wide range of choices.
To get the most out of your DAW software, you need to pick the keyboard up to par with FL Studio.
By default, FL Studio lets you use a laptop or computer's mouse and keyboard as your virtual instrument.
However, as your workload increases, a MIDI keyboard is more efficient, allowing you to complete the task faster.
Important Features To Look For
Technically, the type of MIDI keyboard you want to use with FL Studio somehow depends on a musician's personal preferences.
Nevertheless, it is still worth noting what features you must keep an eye on when looking for a compatible MIDI keyboard with FL Studio.
Look for a controller with complicated control features such as faders, multi-color drum pads, and rotary pots.
It can help you take advantage of the various parameters in your DAW.
Connectivity and Compatibility
Ease of connection is another factor to consider. Always make sure that your MIDi keyboard is compatible with your external hardware.
How Do You Connect a Midi Keyboard To a Mac?
If you are using a MIDI device or interface with your Mac, a default configuration is created in Audio MIDI Setup. That said, you can override that configuration.
First, you should make sure that your MIDI keyboard is connected and that you have installed any software from the manufacturer. Then, do the next steps below.
View MIDI Configuration
On your Mac, under the Audio MIDI Setup app, go to Window, then Show MIDI Studio.
Under the MIDI Studio window, click on Choose MIDI Configuration, then pick the one you want to view.
In the toolbar, click on the following buttons if you want to make some changes to how they are displayed.
In this button, you will see different icons that represent various devices under this configuration. A disconnected device will show a grayed-out icon.
You can double-click an icon to know more about the device's information or add and remove ports.
Under this button, devices are listed by type. You have the option to show which is online, connected, or disconnected.
Double-clicking an icon gives you the option to see all the information about the particular hardware.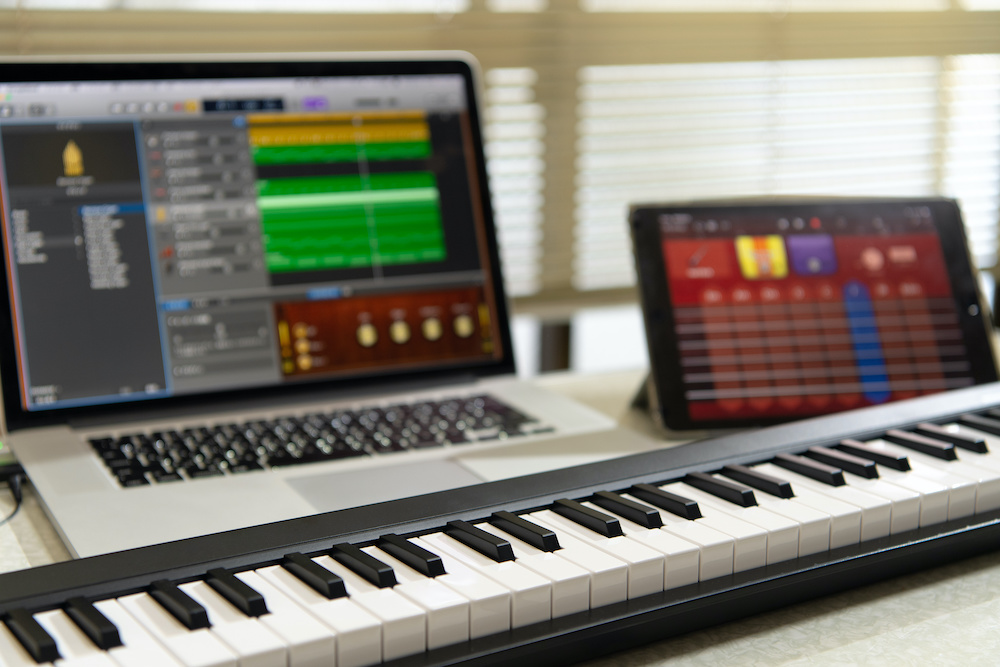 Create a MIDI Configuration
If you want to create a custom MIDI configuration, there are simple steps that you need to follow to the T.
First, on your Mac, under the Audio MIDI Setup app, go to Window, then Show MIDI Studio.
Then, under the MIDI Studio window, click on Choose MIDI Configuration, then go to New Configuration. Label your new configuration before clicking ok.
Under the MIDI Studio toolbar, click on the Add button if you intend to include a new device.
If you want to remove or add ports or set properties for a MIDI device, double-click the icon, then click on the Device Info button.
Then, do the following steps under the Properties window:
Describe the Device:

Label the MIDI device. Your assigned name will show in all the apps where you use the instrument.

Change the Device Icon:

You can choose a different icon for your MIDI device by opening the Icon Browser then, choose a replacement before closing the window.

Change the Device Color:

Click on the color well and choose your preferred color for the MIDI device before closing the window.

Set Device Channel and Properties:

Click Properties and choose the channels you want to use for sending and receiving audio. You also have the option to use the MIDI Beat Clock or the MIDI Time Code.

Remove or Add Ports:

Click Ports and click on the Add button under the list of ports. Indicate the MIDI In and Out connectors. Choose the channel that you want to delete from the list and click on Remove.

Choose Midi-CI Profiles:

For interface devices supporting MIDI-CI, click on this option to check the available profiles for each channel.
After that, click apply. Then, repeat the steps for every additional MIDI device.
Once done, under the MIDI Studio window, indicate the connection among MIDI devices.
Icon View:

Move the Input or Output connectors found at the top of an icon parallel to the connector of another icon.

List View:

Click on the device's disclosure triangle, then click on the Port. Click on the Add Connection Icon, then indicate the connections.
How To Connect Midi Keyboard To FL Studio 12
Connecting a MIDI keyboard to FL Studio 12 is simple and straightforward.
Follow the steps below if you want to know how to connect MIDI keyboard to FL Studio 12.
Connect the USB type B to your MIDI keyboard, while the other end with USB type A should be connected to your laptop or computer.

Install the device driver from the manufacturer.

Launch the FL Studio 12 software.

Click on the Add button, go to Options, then select MIDI settings.

Choose your added device from the list and click on Enable.

Select a virtual instrument and press on the keys on your hardware to check if you can hear a sound, which means the connection is successful.
How To Use Midi Keyboard With FL Studio 12
The next thing you want to learn is how to use MIDI keyboard with FL Studio 12 after you have connected your hardware.
You can confirm that the connection was a success if you see some blinking activities when you put in a note.
Now we have to check how to use MIDI on FL Studio.
First, you have to choose an instrument. The software offers plenty of preset device maps that you can use.

You can make some adjustments with the settings if you like and edit how you want the instrument to sound according to your needs.

You can choose another instrument from the selection and assign it on a separate channel from the first option.

It is possible to add several virtual instruments and assign them to another channel.

Once you are satisfied with your selections, you can now start playing your music using all the selected devices.
How Do You Connect a Midi Keyboard To a DAW
Now that we understand how to connect MIDI keyboard to FL Studio or other DAW, completing your music production becomes faster and more efficient.
USB connections are standard with MIDI keyboards, which also act as its power supply; thus, you only need a single USB cable for your setup to function.
Class-compliant MIDI keyboards may require generic drivers or third-party driver software before it can work with your DAW.
You can always check the user's manual for more detailed instructions on how to connect your device to your DAW.