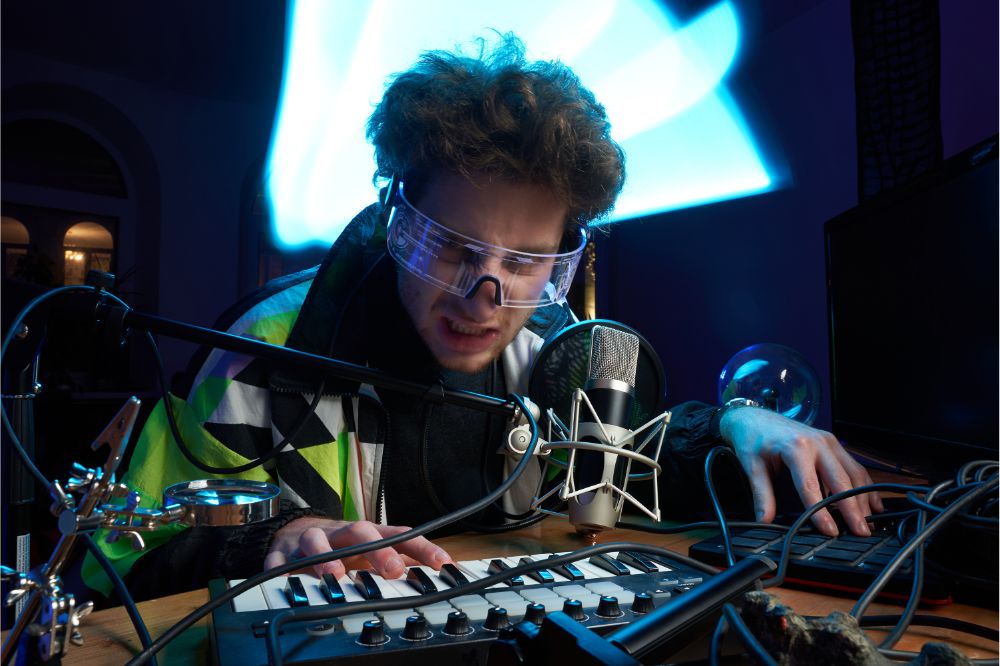 M Audio Keystation Mini 32 MK3 Review
Are you passionate about computer-based music composition and want to play different virtual instruments on your PC or Mac?
The M Audio Keystation Mini 32 MK3 is a compact and portable keyboard control with 32 soft velocity-sensitive keys.
In addition to that, the comprehensive controls offer a diverse range of playable notes.
Learn more about its features, pros, and cons.
M Audio Keystation Mini 32 MK3 Keyboard Controller
The Keystation Mini 32 MK3 from M Audio is a dynamic keyboard controller with four assignable controls, selectable speed curves, and multi-color LED backlighting.
This powerful MIDI controller not only sequences music but also allows you to play virtual instruments on your computer.
Who Is This Product For?
The Keystation Mini 32 MK3 is an apt choice for beginners, music composers, and producers who want to buy an affordable yet featureful keyboard controller.
Since it's a lightweight and portable MIDI keyboard controller, it's a perfect option for musicians touring around the country.
Musicians can also use music software during their live performances.
On the other hand, producers can conveniently incorporate this easy-to-use MIDI controller in their studio.
The device doesn't occupy a wider footprint, courtesy of its compact size.
That's why this musical instrument is ideal for homes with limited space and other smaller studios.
The backlighting of the buttons and pads allows musicians to play even in the dark studios.
What's Included?
The box contains the keyboard controller, USB cable, quick start guide, and a software download card.
The good news is that this reliable device comes with a one-year limited warranty to ensure a safe investment.
The Keystation Mini 32 MK3 Keyboard Controller is USB-powered, meaning it supports USB-MIDI connectivity.
Thus, you also don't need an external power supply.
It also ensures iOS connectivity with the Apple lightning port, ensuring compatibility with the iPad.
However, it doesn't include an iPad camera connection kit, which you have to buy separately.
This keyboard-in-a-box comes with a premium software suite, required for all kinds of production discipline.
This way, you can perform the finishing touches to your latest composition or song.
The package also includes all other essential tools and licenses, such as First M-Audio Edition, ProTools, and AIR Music Tech Xpand 2.
You should know that AIR Music Tech Xpand 2 is a multitimbral workstation featuring four active sound slots per patch.
It means that each part has its own MIDI channel, Mix, Arpeggiation, Modulation, Note Range, and Effect settings.
Different musicians can work on other parts and later combine all the pieces to form an incredible patch.
Overview of Features
The Keystation Mini 32 MK3 has a lot to offer, and the most notable ones are as follows:
The Keystation Mini 32 MK3 weighs only around 0.45 kilograms with overall dimensions of 418 x 105 x 20 mm.
It means you can conveniently transport this compact controller in a carry bag.
This lightweight and slim keyboard controller features a sturdy plastic casing, offering a solid construction.
The keys' surface also ensures a non-slip yet soft feel. You can also see a felt lining within the key bed to dampen the actions softly.
You should also know that keys aren't long like those on a regular hammer-action keyboard.
It means some musicians may struggle for some time to adapt themselves to the absences of depth.
Unfortunately, you can't find any digital display on the controller.
Nonetheless, it's pretty understandable for a budget-friendly keyboard controller.
It also comes with straightforward controls, making it easier for the players to operate it.
You can see clear markings next to all the functions.
This compact keyboard controller comes with four customizable controls, including three buttons and one rotary knob.
The rotation knob offers you real-time control of your DAW and other virtual instruments.
In addition to that, you can assign controls to pitch-bend and modulation wheels.
The primary purpose is to offer you complete customization of the controls while playing your favorite DAW.
The selectable velocity curves allow you to match different playing styles.
You can find backlit octave up and down buttons with restricted re-assignability and sustain buttons.
It means you can extend the keyboard range using the octave buttons while the sustain button elevates the overall performance.
Additionally, the Edit Mode button offers you access to advanced functions.
The most significant feature of the Keystation Mini 32 MK3 is the First M-Audio Edition Pro Tools.
You should know that Pro Tools is essentially the industry standard to record software.
That's why the professionals at M-audio and AVID have designed an exclusive collection for M-Audio hardware.
This audio and MIDI recording software assists musicians or songwriters to play, record, and create their music and share it with the world.
In addition to that, the Pro Tools features Elastic Time and Pitch, Unlimited Busses, Offline Bounce, and one GB of free cloud storage space.
This way, different musicians from around the world can collaborate on computer projects via the Internet.
How To Use the M Audio Keystation Mini 32 MK3 Keyboard Controller
The Keystation Mini 32 MK3 allows you to work with all major DAW, courtesy of the integrated plug-and-play functionality.
All you need to do is to download Pro Tools from the M-Audio website after registering your instrument.
Next, you can plug the unit into your laptop, which recognizes the instrument, and you are good to go.
You can adjust the velocity values on the selected instrument in the DAW.
Later, the velocity curve allows you to achieve the desired lower notes.
To learn, you can watch the video below:
Alternative
We understand that the M Audio Keystation Mini 32 MK3 might not be for everyone.
The good news is the Nektar 49-key MIDI Controller is an excellent alternative, keeping in view the affordability factor.
Nektar 49-Key MIDI Controller
This USB MIDI keyboard controller features DAW integration with its plug-and-play feature.
It's essentially a device that sends MIDI signals via a USB cable.
You can find a power switch, a USB port, and a sustain jack pedal socket at the back.
The overall setup is relatively straightforward. You need to plug the unit into your PC or Mac, download the DAW installer, and you are ready to play some music.
This versatile keyboard controller features 32 velocity-sensitive keys. Not only that, but these semi-weighted keys also ensure responsiveness.
You can find four selectable velocity curves in addition to the three fixed curves.
This compact keyboard controller also features a regulation pitch-bend and modulation wheels, allowing you to compose music of your choice.
You can find octave and transpose buttons on the left side to change settings during the live performance.
However, on the right side of the front panel, you can find eight velocity-sensitive pads, to which you can assign any MIDI note number or CC message.
Lastly, the eight variable knobs can tweak different parameters, while the transport control can double up other functions like set L and R locators.
Verdict
Overall, one of the most significant advantages of using the M Audio Keystation Mini 32 MK3 is its octave range buttons.
If you want playing and performing with your music software, you can use the pitch modulation buttons.
Another good news is that this versatile keyboard controller comes with a sustain button for authentic piano sustain.
With its powerful features and seamless software integration that facilities you in your music composition journey, you surely won't regret adding this to your arsenal!