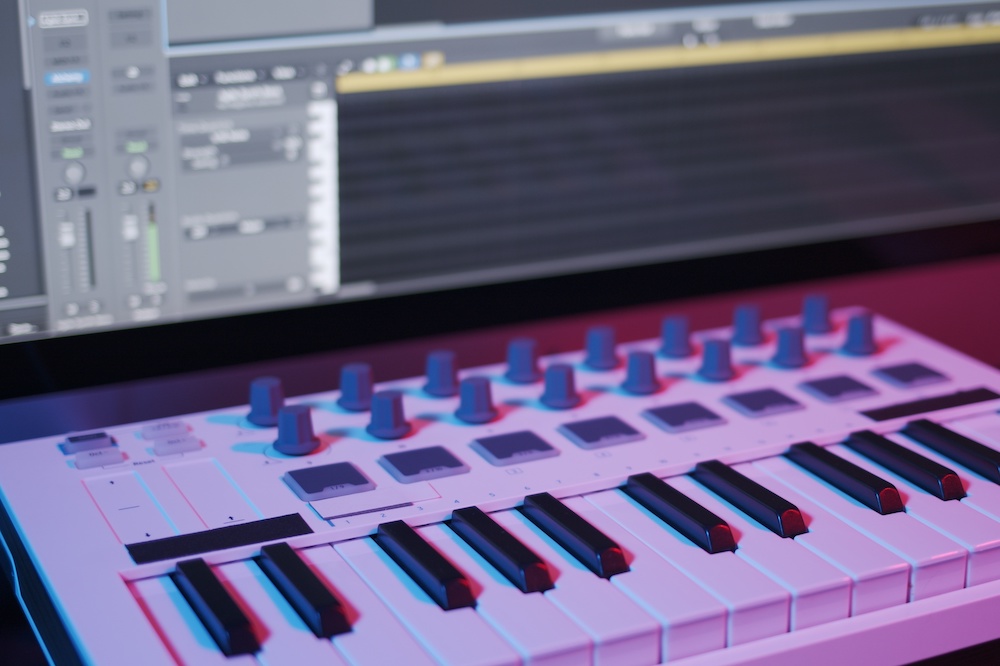 Best MIDI Controller for Logic Pro X of 2021: Complete Reviews With Comparisons
Professional music production involves the use of special computer programs.
If you are working on a Mac, the best software available in the market is the Logic Pro X.
Apple develops Logic Pro X especially for devices running Mac operating systems.
Logic Pro X is a top-of-the-line tool for music creation, editing, and mixing.
Of course, the Logic Pro X is only as good as the hardware that works with it.
In this compilation, we will discuss the best MIDI controller for Logic Pro X and the features that go with each of them.
Comparison Chart
AKAI Professional APC40MKII
Roland A-500PRO-R 49-key MIDI Keyboard Controller
Korg TRTK49 USB MIDI Controller with TRITON Engine
AKAI Professional MPK249 MIDI Controller
Nektar DAW Controller
Best MIDI Controller for Logic Pro X: A Review
1. AKAI Professional APC40 MKII
The APC40 MKII integrates five years of user feedback into its development.
Its design includes countless hours of deliberations about every aspect of its predecessor, the APC40.
The APC40 MKII provides an improved and extended controller functionality, a smarter workflow, and endless musical capabilities.
Review
The APC40 MKII measures 16.7 by 10.0 by 1.8 inches and weighs 3.97 pounds.
It is a black control board with RGB-backlit buttons, black knobs, and white-striped black sliders.
The controls of the APC40 MKII include 18 360-degree knobs, 45 clip launch buttons, nine clip stop buttons, nine selectors, 32 track buttons, and ten sliders.
Knob controls are broken down into eight trackers, eight device controllers, one cue leveler, and one tempo adjuster.
You can use the eight trackers for panning, sending commands, or assigning unique presets.
The clip launch buttons include 40 RGB-backlit controls in an 8x5 matrix and five scene launch keys.
Each of the 40 clip launch buttons represents a single clip slot.
The eight columns correspond to eight tracks, while the five rows correspond to five scenes.
The color of each clip launch button will match the colors assigned in the software interface.
Each column has its own clip stop button, and the ninth clip stop button stops all tracks.
The track selector buttons allow you to select each of the eight tracks, and the right-most selector selects the master track.
Each column has four track buttons: track activator, crossfade assign, solo, and record-arm.
All of the sliders come in the form of a 45mm fader, and they are broken down as eight track volume faders, one master volume fader, and one crossfader.
Smaller buttons on the right side are for knob assignment, transport, bank selection, bank assignment, master recording, and more.
The rear interface of the APC40 MKII has a USB port, a power switch, a footswitch input, and a Kensington lock slot.
The device draws power through the USB port using a connection with your computer.
MIDI data also transfers through this connection. You can connect an optional 1/4-inch TS pedal through the footswitch input.
AKAI Professional streamlined the APC40 MKII for the Ableton Live version 9.1.3 or later.
The APC40 MKII seamlessly incorporates one-to-one the Ableton Live, but it also works well with other PC and Mac DAWs, including Logic Pro X.
2. Roland A-500PRO
The A-500PRO is a versatile MIDI keyboard controller belonging to the A-PRO Series of Roland.
It provides over 30 years of development standards under the Roland music brand.
The A-PRO series includes smaller and larger versions of the A-500PRO.
The A-300PRO has 32 keys, and the A-800PRO has 61 keys.
Review
The A-500PRO measures 33.03 by 9.87 by 3.60 inches and weighs 8.38 pounds.
It is a black keyboard controller with a dual-line backlit LCD, black knobs and faders, and backlit buttons.
The device uses a superior key mechanism that provides increased sensitivity and aftertouch for a wide range of expressive dynamics.
The A-500PRO has 49 piano-style keys with velocity and channel aftertouch sensitivity features.
You will find the LCD, a value knob that doubles as an Enter button, 15 buttons, and a bender lever on the left surface panel.
Press the ACT button if you are using an Active Technology Controller software.
Left and right arrow buttons let you navigate through options in the display.
B1 through B4 buttons are programmable controls for any desired MIDI messages.
Four buttons let you choose how to play the keyboard.
They include one button for splitting, one for dual sound, one for upper keys, and one for lower keys.
The four remaining buttons are for shifting, transposition, and octave selection.
The top panel has nine controller knobs, eight transport buttons, a hold button, nine sliders, and eight pads.
All of the top panel controls are assignable and customizable.
For connectivity and other features, the left-side panel has several essential ports.
You will find a DC-in jack, the main power switch, a USB port, a MIDI merge switch, MIDI in and out connectors, two pedal jacks, and a Kensington security lock slot.
You can use the A-500PRO with SONAR, SONAR LE, GarageBand, Logic Express, and Logic Pro X applications.
The A-500PRO control panel is highly compatible with Logic Pro X parameters.
3. Korg TRITON taktile-49
The Korg TRTK49 is a powerful USB-MIDI keyboard controller that integrates Korg's legendary TRITON engine onboard.
It offers a generous assortment of assignable controllers and full transport functionalities.
The Korg TRITON taktile has a smaller version, the taktile-25, which only has 25 keys.
Review
The Korg TRITON taktile-49 measures 20.91 by 11.42 by 2.83 inches and weighs 5.51 pounds.
Like the A-500PRO, the Korg TRITON taktile-49 is a black MIDI keyboard controller.
However, it has a more symmetric design, with the keybed aligned to a central trackpad on the top control panel.
Upon looking closely, you will see that the controls have a thoughtfully balanced layout on both sides of the trackpad.
The Korg TRITON taktile-49 has a total of 49 semi-weighted keys with support for velocity sensitivity.
It also has 16 velocity-sensitive trigger pads.
General-purpose controllers include eight switches, eight sliders, and eight knobs.
The device also has seven switches for DAW transport.
These switches include Marker, Forward, Rewind, Play, Stop, Record, and Cycle.
One feature unique to the Korg TRITON taktile is its multi-functional touchpad.
With its central position, it enables effortless controls for presets that would otherwise require several simultaneous controls.
The touchpad offers a touch scale functionality, allowing you to perform sounds along a scale.
It can also function as a trackpad for controlling the audio software on your computer.
It mimics the functions of a laptop trackpad so that you can use it as the mouse for your computer.
The touchpad comes with a value slider right below it, allowing you to choose programs, chord variations, and many other options.
For connectivity, the Korg TRITON taktile-49 has a pedal switch jack, an expression pedal jack, a MIDI Out port, a headphone jack, and a USB port.
You can use the pedal switch jack for a PS-1 pedal switch, a DS-1H damper pedal, or other compatible footswitches.
The expression pedal jack allows connections for an EXP-2 foot controller, an XVP-10 expression pedal, or other compatible devices.
The Korg TRITON taktile-49 MIDI controller supports Cubase 7, Digital Performer 8, GarageBand 10, Live 9, Pro Tools 10, SONAR X2, and Logic Pro X.
It also offers support for other applications having MIDI input functionalities.
4. AKAI Professional MPK249
The AKAI Professional MPK249 MIDI keyboard controller offers an expanded control of VST instruments, including those available to the Logic Pro X.
AKAI Professional engineered the MPK249 to be an all-in-one MIDI solution, incorporating performance pads and a keyboard controller.
The MPK249 offers enhanced workflow, deep software integration, and core technologies from the iconic MPC workstation product line.
Review
The MPK249 measures 29.0 by 12.25 by 3.38 inches and weighs 12.6 pounds.
Its weight makes it the second heaviest device among the options presented here.
The MPK249 is a black MIDI keyboard with a similar layout to the Korg TRITON taktile-49 but with reverse locations for the trigger pads, knobs, and sliders.
It is also larger than the Korg TRITON taktile-49, but it is smaller than the A-500PRO and the Nektar P4.
The MPK249 has 49 full-sized, semi-weighted, velocity-sensitive keys.
AKAI outfitted each key with aftertouch, enabling dynamic and expressive performances and recordings.
Additionally, the MPK249 has onboard Octave Up and Down controls for access to the entire melodic range.
The MPK249 has 16 pressure-and-velocity-sensitive trigger pads.
Each trigger pad is MPC-style backlit and controllable with variable presets using four banks.
Q-Link controls include eight control knobs, eight faders, and eight backlit switches.
Additional controls include MPC Note Repeat, MPC Full Level, 16 levels, MPC Swing, Tap Tempo, and Time Division.
You will find the connectivity features of the MPK249 on its rear panel.
Connectors include a DC power input, a USB port, a MIDI Out, a MIDI In, an expression pedal jack, and a sustain pedal jack.
The rear panel also has a power adapter cable restraint for preventing the MPK249 from accidental power disconnection.
The main power switch sits between the DC power input and the USB port.
If you need a security feature, the MPK249 has a Kensington lock slot right above the main power switch.
The MPK249 includes access to the Akai Pro VIP3.0 software.
This device also offers deep software integration for other Mac or PC applications, including Ableton Live Lite, MPC Essentials, Hybrid 3, SONiVOX Twist, and Logic Pro X.
5. Nektar Panorama P4
The Nektar Panorama P4 is an incredible keyboard controller that offers a highly intuitive workflow.
The P4 is the smaller option belonging to the Panorama P-Series controllers, with the Panorama P6 having 61 keys.
Review
The Panorama P4 has dimensions of 33.25 by 13.0 by 3.75 inches, and it weighs 14.0 pounds.
It almost has the same size as the Roland A-500PRO, but it weighs heavier than all the other options.
One unique feature of the Panorama P4 is its white color scheme.
All of the other alternatives have a primarily black color.
The Panorama P4 segregates a large portion of its controls with a layout on a black panel.
The Panorama P4 also has 49 velocity-sensitive keys that offer monophonic aftertouch.
Left panel controls and buttons include pitch bend and modulation wheels, Octave Up and Down, performance B1 and B2, Solo, Mute, Fader Select, and a 100mm Alps motorized fader.
Top panel assignable controls include eight LED buttons, 16 encoder knobs, nine 45mm faders, and twelve trigger pads.
A high-resolution TFT display for control navigation sits at the center of the top panel.
Surrounding the TFT display are four mode buttons, five menu buttons, 17 MIDI and ASCII assignable buttons, a shift button, and a Pads Select button.
The connectors of the Panorama P4 have a central location on the rear panel.
It includes a USB port, a MIDI Out jack, a footswitch jack, an expression pedal jack, and the main power switch.
The device also has a Kensington lock slot on the left end facing the rear panel.
The Panorama P4 provides spectacular and deep integration with Bitwig Studio, Cubase, MainStage, Reaper, Reason, Studio One, and Logic Pro X.
With 93 controls available at any instant, the Panorama P4 stands out as a definitive keyboard controller for Bitwig Studio, Cubase, Reason, Studio One, and Logic Pro.
Final Recommendations
Among the options we just presented, the best MIDI controller for Logic Pro X is the Korg TRITON taktile-19.
Its multi-functional trackpad is a unique bonus, and its velocity-sensitive, semi-weighted keys offer controls for highly expressive inputs.
However, for those accustomed to trigger pad matrices, the AKAI Professional APC40 MKII is a better go-to device.
If the options here seem too large for your taste or expensive for your budget, you can choose from the best MIDI keyboards under 100 bucks.