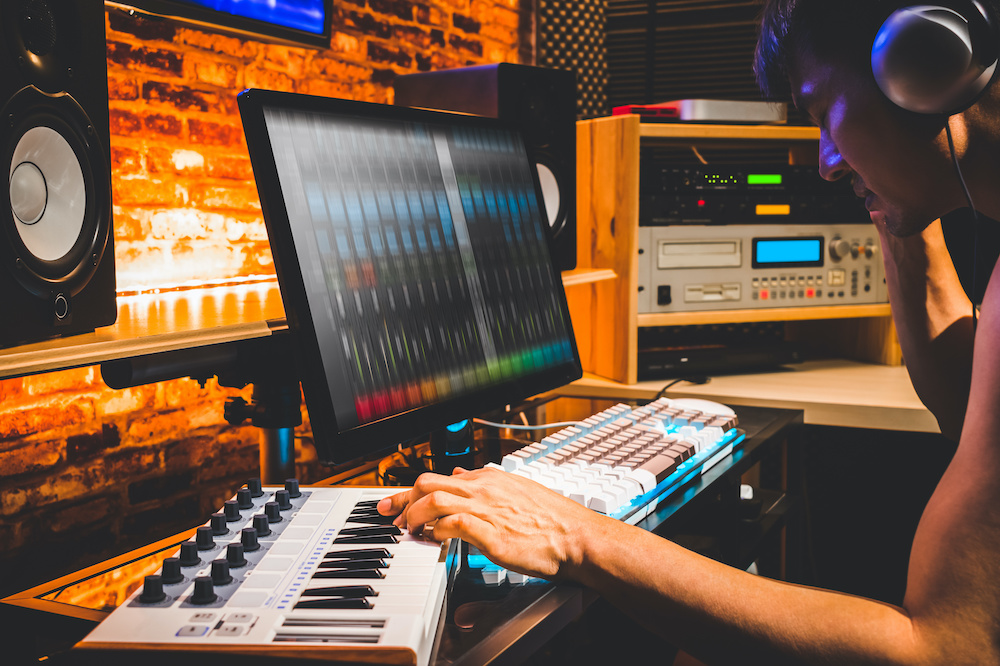 Best MIDI Keyboard for Ableton in 2021: Complete Reviews With Comparisons
You need to look for the best MIDI keyboard for Ableton if you are a music maker or performer in these modern times.
Creating digital music using software is more fun if you add a keyboard controller, turning it into an instrument.
We are here to help you find the perfect MIDI keyboard that suits your needs, whether you are a beginner or a skilled professional.
Comparison Chart
Nektar DAW Controller (T4)
AKAI Professional MPK Mini MK3
Alesis V49 | 49 Key USB MIDI Keyboard Controller
Novation 61SL MkIII, MIDI and CV Equipped Keyboard Controller
Donner DMK 25 MIDI Keyboard Controller
Best MIDI Keyboard for Ableton Reviews
1. Nektar DAW Panorama T4 Controller
The Panorama T4 from Nektar is one of the most efficient musical instrument digital interface (MIDI) controllers that can accommodate most digital audio workstations (DAW).
Review
Some of the most notable features of this product include:
The Panorama T4 uses a second-generation synth-action keyboard with a medium tension similar to a professional instrument.
You can change the keyboard's intensity from soft to hard through its five velocity curves, catering to various playing styles.
It also features the AfterTouch strip, which allows you to change the tone or volume with just gentle pressure.
The controller also comes with eight tempo and pressure-sensitive pads for finger drumming and beat creation.
There's a pad bank button on the left, providing access to eight more pads.
It allows you to calibrate and assign a note and a drum sound for each.
You will find the key and pad repeat buttons above the wheels, each having its independent functions.
One is used for the drumbeat settings, while the other is for the instrumentation part.
You can set the repeat button's trigger mode to sync the beat or play after pressing a specific key.
There are specific on and off repeat buttons, while velocity is controlled with either pressure or wheels.
Placed on its control panel are nine faders, eight encoders, and eight LED buttons, all programmable and compatible with MIDI software or hardware.
These buttons and controls also provide flexible access to plugin-control or pre-mapped DAW when used with Nektarine or DAW integration.
The Panorama T4 is suitable with any DAW that can work with Mackie Control Universal (MCU) without making any changes to its set up.
The installed Nektar DAW integration automatically links to your workstation.
It provides you with extended control features showing on your screen.
The T4 features a standard LCD where you can see all your settings.
There are four soft buttons under the LCD for quick access to various controller menus.
On the right side of the display are four mode buttons for choosing between internal, DAW, and plugin control.
There is a dedicated button for launching Nektarine, a custom software for plugins, and DAW integration developed by Nektar.
It gives you the freedom to customize existing settings or create your preferred setups.
All your edited and saved music appears on the browser page.
2. AKAI Professional MPK MK3 Mini
The AKAI MPK mini proved to be one of the leading MIDI controllers around.
It has useful features, offering excellent performance at a reasonable price.
Review
Some of the things you'd expect from this MIDI are:
The MPK MK3 Mini underwent a significant overhaul. It has a newly designed two-octave keyboard with 25 responsive keys.
It also features eight backlit velocity and pressure-sensitive playable drum pads from the brand's forerunner MPC hardware.
AKAI improved the eight assignable knobs to become 360-degree rotary encoders for your DAW or plugin settings.
The brand also altered the layout of the control panel by including two more buttons with additional functions.
Another addition to the MK3 is the short and thick four-way thumbstick controller for pitch and modulation adjustments.
You will also notice a small OLED that will show the last control you touch and other vital readouts.
Finally, it's worth noting the MIDI controller's overall updated styling with its sharper corners and edges for an enhanced professional look.
The MK3 mini connects via USB while using the standard MIDI messaging, which works perfectly with DAW and other software instruments.
All the controls are customizable using the MIDI's free Program Editor software.
It can save up to eight configurations using a variety of software or instruments.
The MPK Mini can be a standalone instrument when linked to a free MPC software like the MPC Beats or used as a plugin with another DAW.
This MIDI controller also comes with three premium instruments provided by AIR Music Technology, namely:
Hybrid 3:

A high-definition virtual synthesizer, combining analog synths with digital manipulation efficiency.

Mini Grand

: A virtual grand piano with seven acoustic piano sounds to accommodate different musical styles.

Velvet:

A virtual electric piano with five sample-based imitations of the classic models.
It also comes with approximately 2GB of percussion and drum samples from four different packs, namely, LoFi Producer Collection, Producer Kits, Soulful Drums, Trap Soul, and LoFi Beats.
The MPK mini's most notable feature is its portability. Its small size at 33 x 18 centimeters has a lightness that does not feel flimsy.
It's an ideal MIDI controller, providing portable solutions and a space-saving recording system combined with any DAW.
This compact device is the perfect tool for creating beats, loops, and patterns together with its complete bundled software.
3. Alesis V49 USB/MIDI Keyboard Controller
The functional V49 MIDI keyboard controller from Alesis allows you to manage your music software using the tool's buttons, knobs, and pads.
Review
This MIDI keyboard has a lot to offer, including:
The V49 MIDI controller features a sleek and uncomplicated black body design.
It only weighs 6.28 pounds and measures 37.6 x 9.6 x 4.5 inches.
The control knobs, buttons, and pads have a blue backlight that looks cool in a dimly lit room, whereas the heavy-duty plastic keys are semi-weighted with a sturdy feel.
There are 49 full-size keys, eight drum pads, and four control knobs that you can program according to your playing style.
Additionally, you will find two rubber-coated jog wheels for controlling pitch and modulation.
The V49 is compatible with both Mac and Windows operating systems.
Its editor software gives you the visuals to revise the different MIDI messages from your controller.
Singers, songwriters, and musicians can use the included premium software to create, record, and share their music.
The premium software suite includes the following:
Pro Tools First Alesis Edition

: A digital audio workstation for sound and music creation or recording.

Ableton Live Lite 9:

Customized music-making software for writing sounds, recording audio, and producing songs.

Eleven Lite:

A plugin typically bundled with Pro Tools offering exceptional creative options with its virtual instruments or effects.

Mini Grand:

An audio plugin featuring seven acoustic piano sounds for different musical styles and needs.

DB33:

A virtual instrument plugin for recreating and controlling the sounds of a classic organ.

Xpand! 2:

A multitimbral workstation with four active sound slots per patch, each having its MIDI channel.
4. Novation 61SL MK3 MIDI Keyboard Controller
The MK3 MIDI keyboard controller from Novation is the perfect centerpiece for any studio partnered with a DAW.
Review
The features of this MIDI keyboard you need to make a note of are:
Software and Hardware Integration
Manage your projects using the Novation MIDI keyboard controller.
The 61SL MK3 offers extensive hardware connectivity, making it easy to integrate into the software's workflow.
This all-in-one studio solution comes with an analog clock out, MIDI out, in, and out2/thru, two CV pitch sets, gate, and modulation outputs.
The playable keyboard on this 61SL MK3 is both expressive and responsive with a spring-like action.
It also comes with aftertouch and a high scan rate of 10kHz.
Velocity-Sensitive RGB Pads
In addition to the playable keys, the velocity-sensitive RGB pads have polyphonic aftertouch, allowing you to add steps to the sequencer, launch clips, or tap out drum beat arrangements.
The internal pattern-based 8-track sequencer allows you to play and edit the sequences you have gradually put in or pre-recorded directly from the keyboard.
Novation decided to collaborate with Ableton Live to include this music-making software's remarkable features with the 61SL MK3.
This MIDI keyboard controller is also useful with other software like Logic and Reason, Cubase, REAPER, and Pro Tools.
The 61SL also allows you to see your framework on the LCD and have hands-on experience with your music.
5. Donner MIDI DMK 25 Keyboard Controller Mini
This sturdy and compact Donner keyboard controller comes with configuration functions and other useful features.
Review
Some of the best things about this keyboard are:
There are two touch bars on this controller with a cool light belt.
One is for reaching the full keyboard range of the MIDI, while the other is for modulation control.
This USB-powered Donner controller has a compact and ultra-thin design, making it portable and easy to bring along anywhere.
The production essentials found on the control panel of the MIDI are as follows:
Pitch and modulation touch bar

Eight backlit drum pads

Six transport buttons

Four function buttons

Four assignable knobs

Four assignable faders/sliders

Two bank buttons

25 mini keys

Programmable Presets
This MIDI controller features four programmable power banks for storing and recalling your control preferences.
You will find four knobs and four sliders that you can program using your music software.
The controller comes with 25 velocity-sensitive mini-keys for your various studio productions.
It also features eight hyper-sensitive backlit pads for making drum beats.
The tool includes an eight-track Bitwig digital audio workstation (DAW).
It can replicate the sound of different musical instruments effectively.
This Donner MIDI can work well with various music production equipment.
You can easily navigate through your projects using the six transport buttons:
Cycle

Rewind

Forward

Stop

Play

Record
The MIDI controller provides a complete command of several music-making apps, namely Ableton, Audition, Cubase, GarageBand, Kontakt, Logic Pro, Pro Tools, and Reason Studios.
Can You Use Any MIDI Keyboard With Ableton?
Almost all MIDI keyboards work well as an Ableton controller. However, some of these tools need USB drivers and may not be compatible with current computers.
Some music makers can connect recent MIDI keyboards to a computer using a regular USB socket and cable, while others may need a smaller USB A-mini B type.
You can check the keyboard's audio interface's MIDI input or try using some USB-MIDI adaptor cable for connection.
Do You Need a MIDI Keyboard for Ableton?
Using a MIDI keyboard may be beneficial, especially for those who play the piano, but not necessary when using Ableton.
Playing on a real piano keyboard feels more natural when creating music instead of doing it on your computer.
However, you must know the key-mapping setup on your computer keys to correctly utilize the Ableton software and produce a beautiful melody.
How Do I Map MIDI Keyboard in Ableton?
Some music makers choose to override some MIDI keyboards' parameters and use Ableton to set it up.
You can customize MIDI key-mappings in Ableton for all types of operating systems, whether Mac OS or Microsoft Windows.
Before you proceed to your MIDI mapping creation, you must first configure the MIDI ports on the software's preferences.
You must enable the Track and Remote's input port to receive and map MIDI data while the Remote Output switch offers visual feedback from the controller.
Configuring these MIDI ports may also vary depending on your MIDI tool's actual setup, so it's best to check your device first.
Once you have completed the configuration process, you can start creating your MIDI key-mapping setup.
Here's a step-by-step guide on how to map your MIDI keyboard:
Turn on the MIDI map mode using CTRL + m on Windows and CMD + m if you are using Mac.

Choose the function that you wish to map or edit.

Move the corresponding knob or slider from your MIDI controller according to your required setup.

You have now completed the mapping of the first control.

Repeat the process as necessary for each control that you want to set up.

You can now exit the map mode after completing your key-mapping setup.
How Do I Use Ableton Without a MIDI Controller?
Most musicians use several gears to create their music. Some digital audio workstations are challenging to use if they have no external controller.
Fortunately, Ableton allows you to create music even without external hardware. All you need is to install the music software on your laptop.
You must also understand the software's interface and learn some hotkeys when producing your music, even without external controllers.
The top and middle row of your laptop or computer keyboard represent one musical note for each letter.
The letters A, S, D, F, G, H, J, and K on your laptop keyboard's middle row are for the standard notes or chords, representing the white piano keys.
On the other hand, the letters W, E, T, Y, and U on the top row represent sharp notes or the black piano keys.
Z and X are for transposing the octave, and C and V are for changing velocity.
Why Can't I Hear My MIDI in Ableton?
Some musicians will encounter technical issues or configuration concerns when using Ableton for the first time, whether new or professional.
One of the most common errors that they encounter are not hearing any sound in Ableton. When this happens, you might want to check some of your settings.
First, click on Live > Preferences > Audio Tab and look for the instrument where the sound should come from.
Choose the built-in audio output if the sound should come out of your headphones or computer speakers.
If you intend to produce the sound out of your audio interface, you must choose that option.
You must also check if this output needs a downloaded driver.
Second, click on Live > Preferences > Link MIDI, then review your controller instrument settings.
You should see your device from the list of instruments if it is connected properly.
Review your Remote and Track settings. You must turn on the Track option if you want to listen to your recorded tracks.
When creating MIDI mappings for your tool's mod sliders or wheels with Ableton's MIDI button, turn on the Remote option.
If you can't still hear any sound, check if the controller is sending MIDI messages and that your referred instrument is appropriately set up in Ableton.
Conclusion
There are two main categories for MIDI keyboard controllers: the compact and the more sizable options with 25, 49, or more keys.
Our choices of the best MIDI keyboard for Ableton are a combination of both categories.
If you want a feature-packed device, we recommend the Novation 61SL MK3 MIDI keyboard controller.
On the other hand, if you are looking for a more compact and portable designF, you can never go wrong with the AKAI Professional MPK MK3 Mini.